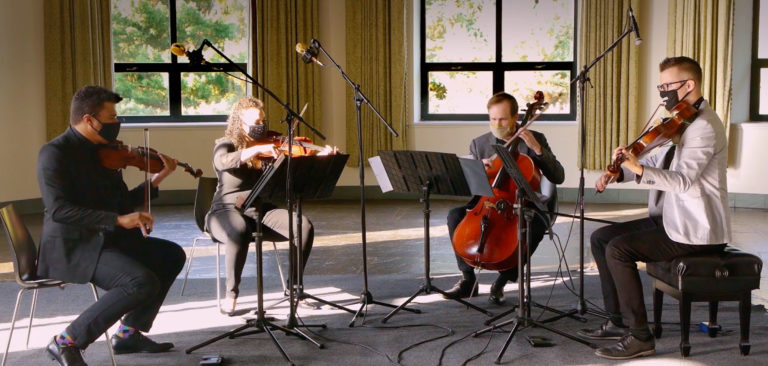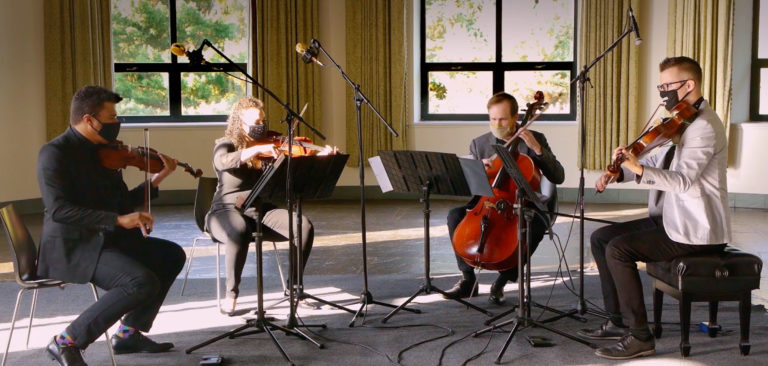 Performers:
Curtis Stewart - Violin
Jannina Norpoth - Violin
Nick Revel - Viola
Hamilton Berry - Cello
Setlist:
Hasaposerviko - Elektra Kurtis
"Sancta Femina" ~excerpt~ (2017) - PUBLIQuartet: (MIND THE GAP Project)
"Breakaway" ~excerpt~ (2013) - Jessie Montgomery: (b. 1981
This performance is the final in a series of three virtual concerts that bring together artists who have established relationships with Wave Hill as past performers or who were scheduled to perform before the pandemic shutdowns. Filmed in Wave Hill's historic Armor Hall, the PUBLIQuartet.
Refresh this page at 7pm on February 24 to view the concert.
Applauded by The Washington Post as "a perfect encapsulation of today's trends in chamber music," and by The New Yorker as "independent-minded," the GRAMMY-nominated PUBLIQuartet's modern interpretation of chamber music makes them one of the most dynamic artists of their generation.
PUBLIQuartet has served as artist-in-residence at top institutions including the Metropolitan Museum of Art and National Sawdust and has appeared at a wide variety of venues and festivals, from Carnegie Hall and the Newport Jazz Festival to The Late Show with Stephen Colbert. PUBLIQuartet's commitment to supporting emerging composers inspired their innovative program, PUBLIQ Access, which promotes emerging composers and presents a wide variety of under-represented music for string quartet—from classical, jazz and electronic, to non-notated, world and improvised music. Other unique projects include MIND|THE|GAP, a series of group-composed works developed by PQ to generate interest in new music while also engaging traditional classical music audiences.

What's happening at Wave Hill