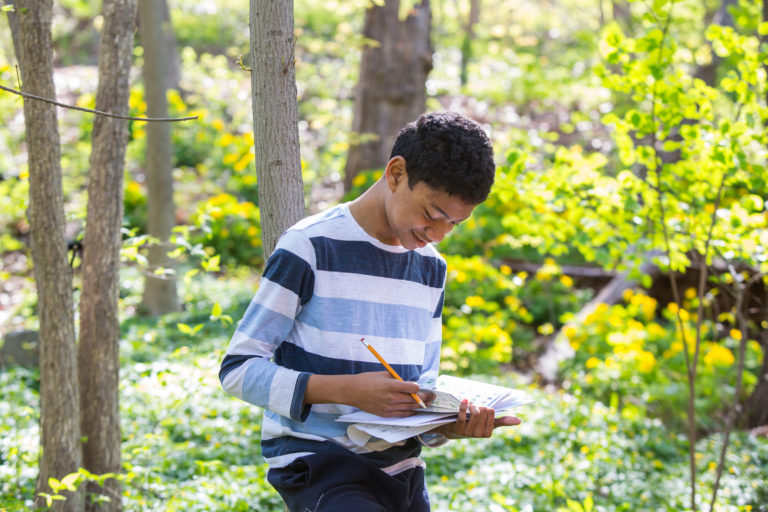 Middle and High School Programs (Grades 6-12)
Learn with Wave Hill
Engage your class in a unique adventure at Wave Hill, during which we will explore the sciences, humanities and arts through active engagement with the natural world. Skilled educators work individually with each class to provide rich experiences for all.

Time of programs: 10-11:30AM
Maximum class size: 30 students
Program fee: $150; 20% discount for Title I schools
Special Needs: All programs can be adapted to suit the particular learning styles of your students. Please communicate your class's needs upon booking so that we may provide the most engaging program possible.
Reservations
All groups require a reservation in advance. To make a reservation, please contact:
Update on Spring 2021
Currently, we are only offering virtual programs this spring, but we hope to be able to offer in-person programs again soon! Check here for updates or contact us to be added to our email list for announcements. See our Virtual Field Trip offerings to make a reservation for an educator-led virtual program.
Seasons offered: Fall, Spring and Summer at Wave Hill
In this program for budding artists and naturalists, students create simple journals and use them to look closely at the natural world. Through art and writing exercises, students develop their observational and descriptive language skills as they connect with Wave Hill's inspiring gardens and woodland.

People and the Palisades: A Geological Journey
Seasons offered: Fall and Spring at Wave Hill
How did our landscape come to be the way it is, and what role do people play within it? Explore the origins of the Palisades and other local natural features in geological time, learn about the dynamic processes that formed them and discover their uses. In this interdisciplinary program combining geology and social studies, students apply what they learn in an engaging dramatization of the historic effort to preserve the Palisades.

Seasons offered: Fall and Spring at Wave Hill
Learn about woodland ecology and all the components of a healthy woodland ecosystem. Explore Wave Hill's woodland through a lens of ecological restoration. Then, collect and analyze data related to a community science project in order to understand how ecosystems change over time, and how we can help maintain the health of New York City's precious natural areas.

Con Edison STEM Days Out: Urban Forest Ecology
Seasons offered: Fall and Spring at Wave Hill
Through a partnership with Con Edison, we are able to offer this exciting, fully-funded program for middle school students in New York City and Westchester Public Schools. This two-hour, hands-on program explores Wave Hill's woodland through the lens of the urban wildlife and the diversity that exists in New York City's many green spaces. Through map and site exploration, students learn the importance of forests, gardens and other green spaces for the many species that inhabit our city. Students explore how wildlife species with different adaptations exploit their ecosystems, learn how to assess the health of an urban woodland and discover why having diverse green spaces is necessary to support urban biodiversity.
Seasons offered: Fall, Spring and Summer at Wave Hill
Fee: $40 per class; 20% discount for Title I schools

Guide your class on an independent exploration of Wave Hill's gardens and grounds. Prepare for your visit by downloading the attached PDF, which offers guidelines and two activities for your class to enjoy.