2021 Gardeners' Party
Celebrating Louis Bauer
Thursday, September 30

Evening Schedule

5:00PM – Cocktails in the Gardens
6:45PM – Picnic Dinner Pick Up
Perkins Visitor Center
7:00PM – Tribute & Toast to Louis Bauer
Seated Picnic Dinner
Louis' Plant Giveaway
Great Lawn
Event held rain or shine.
Valet Parking • Metro-North shuttle
service available
Proof of vaccination required for attendance.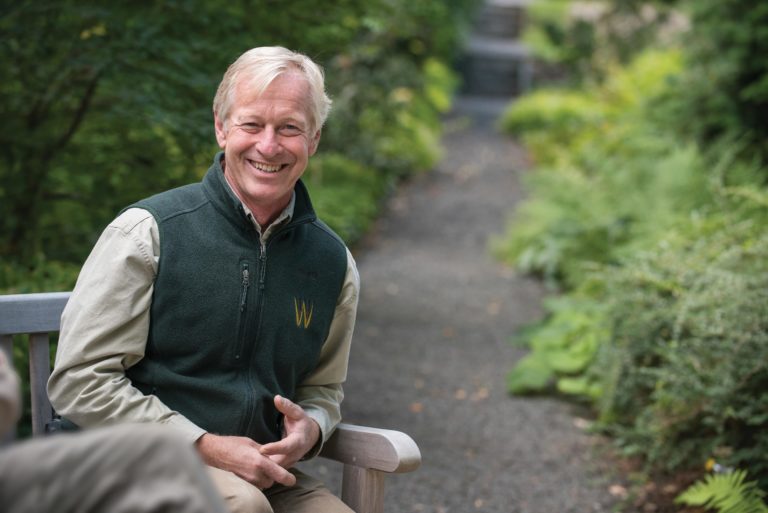 Wave Hill's Gardeners' Party celebrates Louis Bauer. For nearly two decades, Louis has dedicated himself to Wave Hill, first arriving in 1994 to work under Marco Polo Stufano, and returning in 2014 as Director of Horticulture. He epitomizes the distinctive style of gardening Wave Hill is known for—intimate, adventurous and plants first! Under Louis' inspired leadership, Wave Hill remains at the forefront of American horticulture; his impact will last long into the future.
Enjoy cocktails in our world-renowned gardens while you meet and mingle with Wave Hill's gardeners, horticultural experts and this year's John Nally interns. Place your bids at our online auction, featuring one-of-a-kind garden items and experiences you will only find at Wave Hill!
As the sun sets, join us for a picnic dinner and a toast to celebrate Louis Bauer. Louis will also give away his favorite plants from Wave Hill's gardens. Guests will have their pick!

In-Person Ticket Sales are Now Closed
Thank you to our generous sponsors and supporters:
UNDERWRITER
Anonymous
BENEFACTORS
Almstead Tree, Shrub & Lawn Care
Sarah and Geoffrey Gund
Jennifer P. Speers
Audrey and Richard Zinman
PATRONS
Peter and Sofia Blanchard
Eleanor Briggs
Lisa and Michael Cader
Lu Hamlin
Patricia Jonas
Michael Riley and Francisco Correa Mendoza
Susan and Robert Morgenthau
Nancy Foster Perkins
Ellen Petersen
Janet and Gilbert Spitzer
Judy and Michael Steinhardt
Beatrice and Leighton Welch
NONPROFIT/BUDDING GARDENERS
Landcraft Garden Foundation
Sleepy Cat Farm
FRIENDS
Page Ashley
Mrs. Coleman P. Burke
Barbara Giordano and Sean Kelly
Thomas Krizmanic
Carol and Tom Martin
Janet Mavec
Karen Meyerhoff
Katie Michel
John Oakley-Higgins
Frances and Wallace Palmer
Katie Ridder and Peter Pennoyer
Lynne Silver
Edward A. Ames and Jane S. Sokolow
As of 8.9.21
The Friends of Horticulture Committee
Janet Mavec, Chair
Eleanor Briggs • Susan P. Burke
Lisa Cader • Ann Coleman
Cathy Deutsch • Page Dickey
Jane Garmey • Maggy Geiger
John Gwynne • Lu Hamlin
Myra Hecht • Patricia Jonas
Fred Landman • Pepe Maynard
Susan Morgenthau • Stephen Orr
Melissa Ozawa • Frances Palmer
Katie Ridder • Francis Schell
Lynne Silver • Beatrice Welch
Marco Polo Stufano, Director of Horticulture Emeritus
Steven Conaway, Assistant Director of Horticulture