A Seasonal Display Packed With Plants
Planting beds border the outdoor dining area of The Café, displaying spring and summer seasonal horticultural delights. Spring-blooming bulbs are followed by color-themed arrangements of annual flowers and dramatic tropical plants.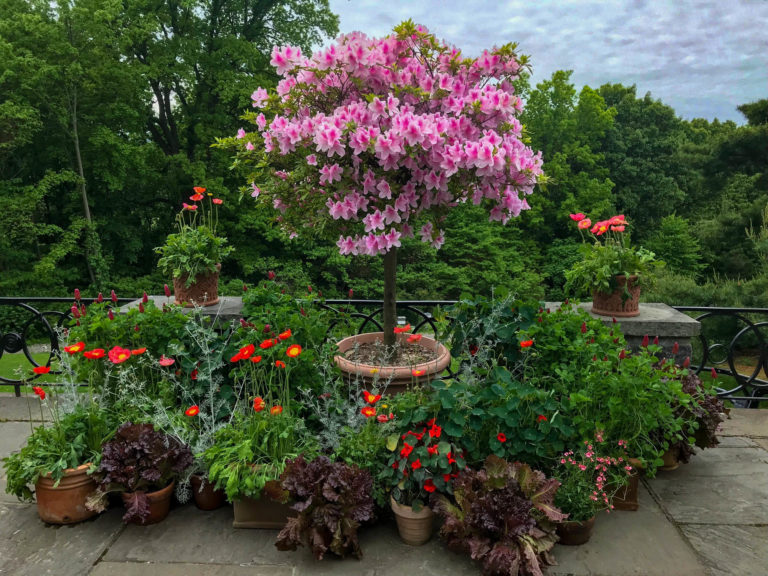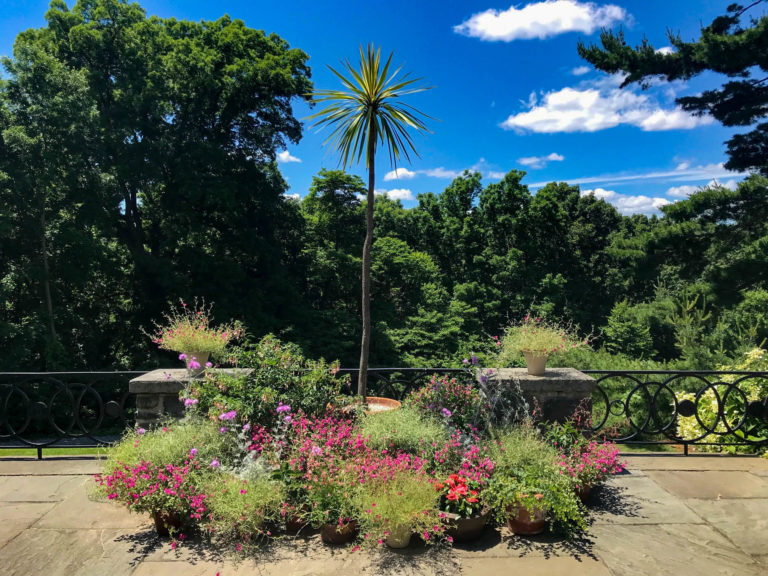 Height is an Asset in this Narrow Garden
The Kate French Terrace features a myriad of tropical foliage plants and annual flowers growing in clay pots and narrow beds along the perimeter on three sides of the space. In this narrow garden area, height is an asset utilized to maximize the bed footprint. Without variation in height, the beds here might emphasize its surprisingly small size.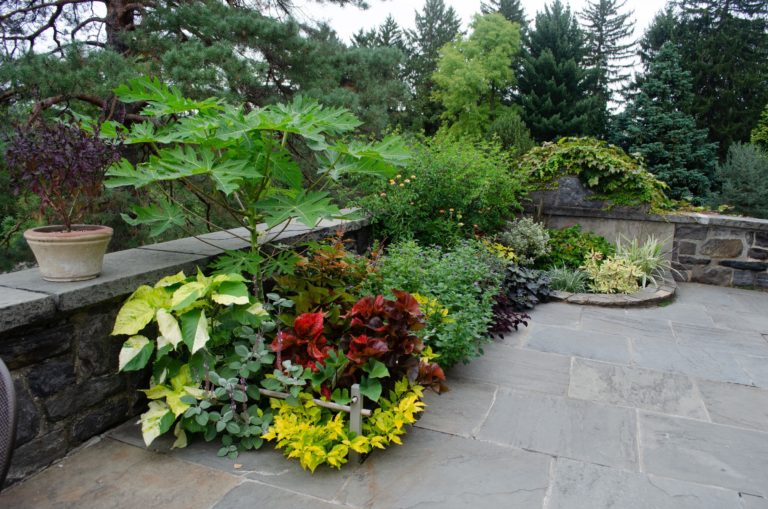 Spillers, Thriller and Fillers
Drawing inspiration from a classic horticultural concept of container gardening, these beds feature plants that fall into three categories: filler, thriller and spiller. The spillers are plants at ground level that may spill beyond the bed; thrillers are typically the tallest and showiest plants; and fillers are everything in between that varies in heights and textures.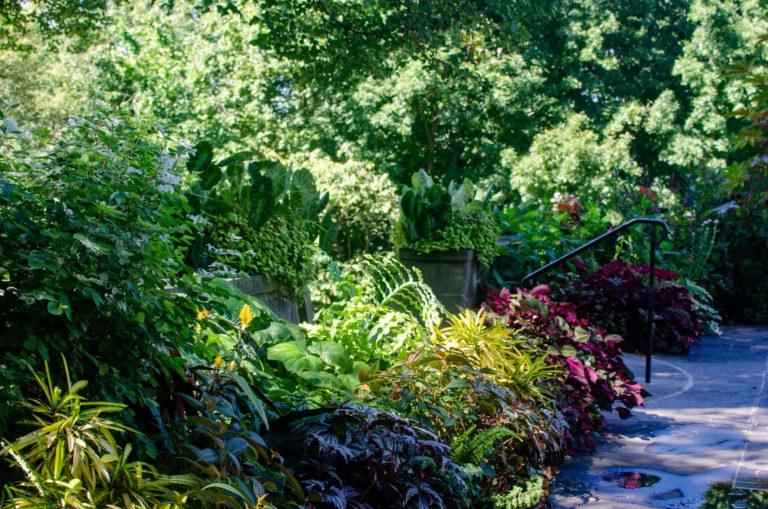 A Design Guided by Annuals
In the narrow beds and containers in the center display, find annuals grown from seed or propagated from last year's plants. These plants are not the largest in this garden area, but many are the showiest. Annuals have one season to put on growth, flower and set seed before frost kills them off. Some of these plants are actually perennial in their warmer southern homes, but are treated as annuals in New York City's milder climate.
Annuals are fast-growing, with many demands. Gardeners are constantly editing to produce the freshest display. Dead-heading—pinching to encourage branching—results in more flowers. Lots of watering keeps these demanding plants healthy.
Springtime Bulbs
Summer is the busiest time in this garden area, but every spring hundreds of spring-flowering bulbs and biennials brighten up the space.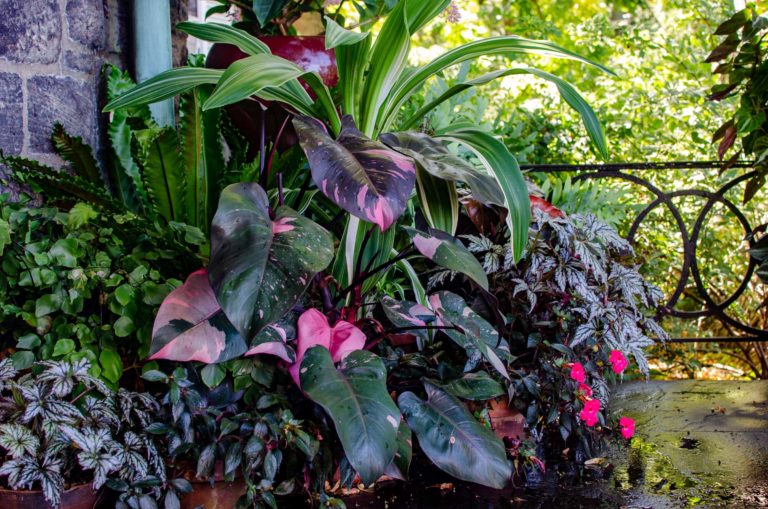 Tropical House Containers Move Outside for Summer
The Kate French Terrace has varying degrees of sun and shade. In the corner near the main entrance back into The Café, a collection of shade-loving foliage plants flourish. Pulled from the Tropical House collection, philodendrons and ferns with varying textures and colors light up this shaded corner. Leaving these plants in their containers guarantees optimal, personalized care.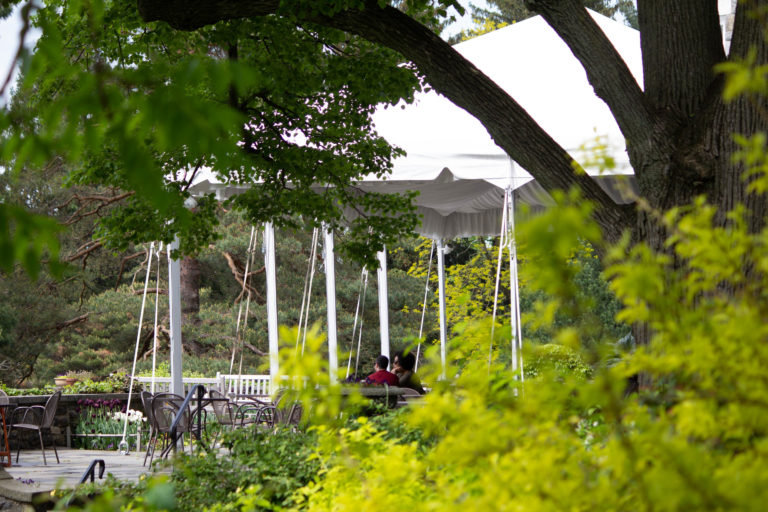 Café in the Garden
The Kate French Terrace also hosts outdoor seating for The Café. It is partially shaded by a tent which is also used for weddings and conferences. Facing northwest, the terrace offers a variety of sunlit space—visitors enjoy refreshing cold beverages amongst colorful foliage or find shade near the pergola that is canopied by a Concord grape.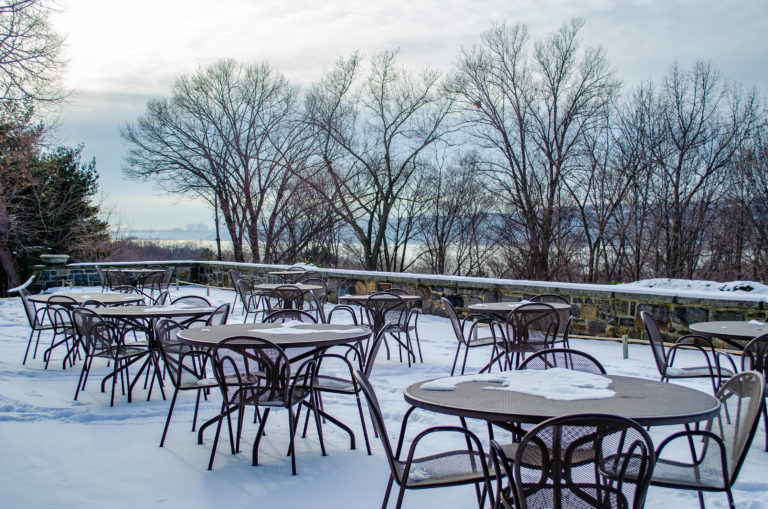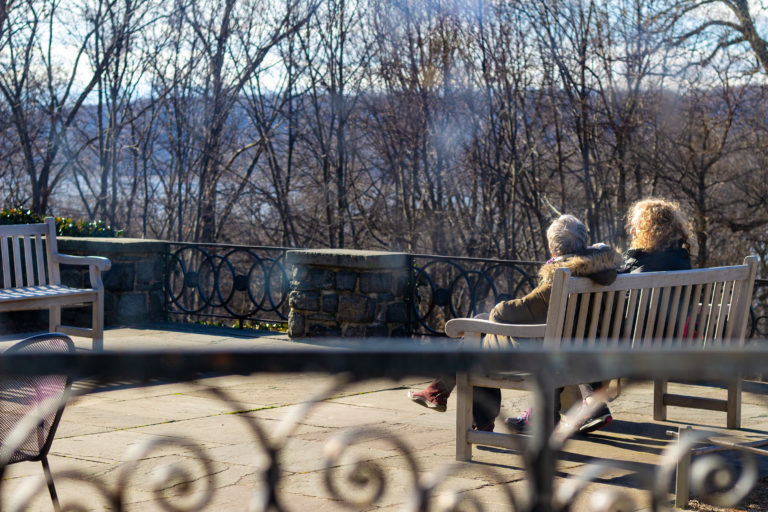 Cool Views
During the colder months, the garden beds on the Kate French Terrace sleep quietly. Spring bulbs planted the autumn previous are awaiting the warmer weather. A year-round space, visitors are even seen out here in deep winter, sipping hot beverages while admiring the bird feeders at the north end.
Who is Kate French?
The Kate French Terrace honors the legacy of Kate French, Wave Hill's fifth Executive Director, who led the institution from 1990 to 2017. One focus of her 17-year tenure was expanding visitor services, including establishing The Cafe at Wave Hill and ensuring that the terrace, later named after her, would be fully accessible.