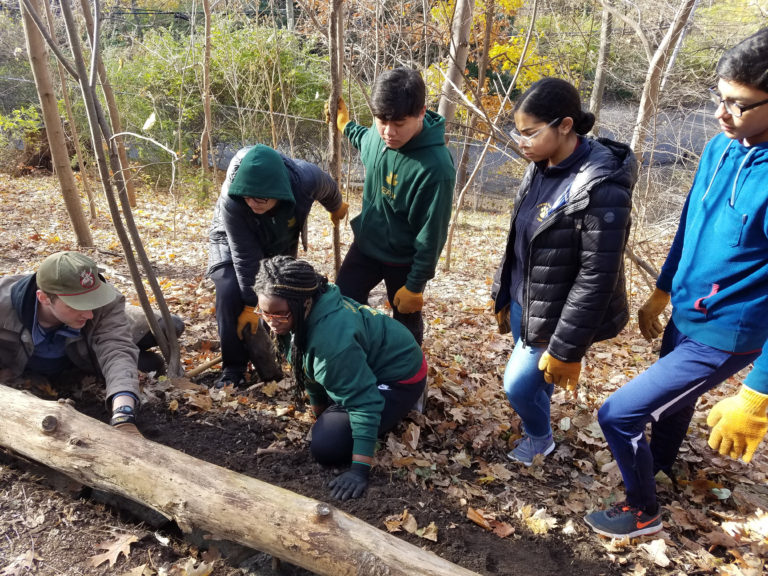 Woodland Ecology Research Mentor for High School Students
Woodland Ecology Research Mentor for High School Students
Research-driven Mentorships
Wave Hill is seeking working scientists to mentor students in our Woodland Ecology Research Mentorship (WERM), a unique and immersive 14-month paid internship program for motivated New York City high school students to engage with ecological restoration and science research in the city's natural areas. Students spend approximately ten months with Wave Hill staff doing formal and informal coursework, fieldwork and training in ecology and geographic information systems (GIS). WERM interns are then placed with mentors to design and carry out a research project. The research project, which will be based on the research of the mentor, will be completed during summer 2023. Wave Hill staff closely supports mentors throughout the course of the project. Guided by our team, WERM interns work independently on days that they are not meeting with their mentors.
How to Apply
If you are interested, please email a cover letter and resume to the email address below. Applications received by March 31, 2023, will be given preference.
Responsibilities
Serve as a Science Research Mentor to a group of two to four high school students.
Work with students to design a research project relating to the ecology of NYC natural areas, and connected in some way to your own research.
Commit approximately 90 hours to the program. This includes mentoring time and contact time with students, as well as prep, communication with Wave Hill staff and attending planning meetings and trainings.

About 35 hours between March and June: Mentors will engage in mentorship training and planning sessions, introduce their research to students, and take preliminary steps with their groups for the research process.
About 55 hours between July and August: Mentors will meet with mentees at least eight times, making sure the project is moving along, reviewing skills, methods and concepts and introducing your field of science.
When not meeting with students, mentors must ensure that students are prepared to work independently on parts of the project.
It is expected that mentors will communicate actively with Wave Hill staff regarding students' progress, performance expectations and schedules.
Requirements
Must be an active scientist, researcher or field technician involved with natural areas in and around NYC. A strong preference will be given for Bronx and northern Manhattan research sites.
Master's Degree in a field related to ecology, biology, conservation or GIS preferred. A graduate student or experienced researcher/field technician participating in ecological research will be considered.
Willingness and desire to work with urban youth; experience in educational settings a plus.
Compensation and Duration
Compensation for each mentor: $4,100. The duration of the assignment is March 2023 through August 2023,
Diversity, Equity and Inclusion at Wave Hill
Wave Hill is an equal opportunity employer. All qualified applicants will receive consideration for employment without regard to race, color, religion, sex, disability, age, sexual orientation, gender identity, national origin, veteran status, or genetic information. Wave Hill is committed to providing access, equal opportunity, and reasonable accommodation for individuals with disabilities in employment, programs, and activities. To request a reasonable accommodation, contact humanresources@wavehill.org.