Guidelines for Visual and Performing Arts
The Arts Program at Wave Hill presents the work of contemporary artists who explore the dynamic relationship between nature, culture and our site through exhibitions in Glyndor Gallery Wave Hill House, and the Sunroom Project Space, and through the Winter Workspace Program and generated@wavehill. Visual Artists may apply online to the New York Community Trust Van Lier Fellowships, Sunroom Project Space and General Opportunities (See deadlines below as not all programs are currently available). Performing Artists are invited to submit materials on a rolling basis to be considered for our concert and live arts series. Program descriptions and selection processes are noted below.
Wave Hill is accepting applications for the two open calls. As a result of rescheduling of this year's Sunroom Projects due to COVID-19 closures, we are only offering open calls for two New York Community Trust Van Lier Fellowships and General Opportunities.
2021 New York Community Trust Van Lier Fellowship
Eligibility:

Live in one of the 5 boroughs of New York City

Emerging artist - age 30 or younger (born 1991 or after)

From historically underrepresented populations

Demonstrate financial need

Have completed college and not currently enrolled in a degree-granting program

Demonstrate artistic and career potential

Not represented by a commercial gallery

Not have been a Van Lier Fellow in another organization
Info Session: Thursday, September 17, 12-1 pm
RSVP to: visualarts@wavehill.org with 2021 Van Lier Info Session in the subject line.
This one-year fellowship, administered on behalf of the Edward and Sally Van Lier Fund of the New York Community Trust, is awarded to two New York City-based artists, who are age 30 or younger (born 1991 or after) and not currently enrolled in a degree-granting program nor been a Van Lier Fellow in another organization. The fellowship provides emerging artists from historically underrepresented populations with mentorship opportunities through regular contact with the curatorial staff. In addition to mentorship, the fellowship also provides professional development through meetings with artists and arts professionals to prepare and promote their projects and to define career paths over the course of the program (January-December 2021).
Each New York Community Trust Van Lier Fellow receive a $10,435 stipend (which includes a $8,000 honorarium and additional stipends for studio rental, transportation for the residency and professional development), studio space during the six-week Winter Workspace Program (February 16 –March 28, 2021); and a solo show in the Sunroom Project Space (September 18 – October 30, 2021). (See floor plans and images of the Sunroom Project Space below.)
Current Van Lier Fellows are Salvador Muñoz and Tiffany Jaeyeon Shin (2020). Past Van Lier Fellows include Emily Oliveira and Duy Hoàng (2019), Ashton Agbomenou and Yelaine Rodriguez (2018), Doreen Garner and Ariel Jackson (2016), Julian Chams and Beatrice Glow (2015), Tammy Nguyen and Alexandra Phillips (2014), Onyedika Chuke and Francisco Donoso (2013), and Nova Jiang and Cameron Rowland (2012).
A jury composed of curatorial staff, an outside curator, and former New York Community Trust Van Lier Fellow will convene to review submissions and select artists for the 2021 New York Community Trust Van Lier Fellowships
Interested artists are strongly encouraged to visit Wave Hill's website and look at our programming before applying. Wave Hill's garden and grounds (outdoors only) are open by pre-registering for tickets. Please visit wavehill.org for more details.
Please review the guidelines carefully. If you do not meet the requirements of the Van Lier Visual Artist Fellowship, then we encourage you to apply for General Opportunities open to all artists.
Questions: Email visualarts@wavehill.org.
Deadline: Friday, October 9, 2020 (11:59 PM)
Glyndor Gallery
Two or three thematic group exhibitions are curated for the spring, summer and fall in Wave Hill's Glyndor House. Some of the themes under consideration for 2020 include soil, biodiversity, and an American Society of Botanical Artists juried, member show. Artworks are borrowed or new works are created for exhibitions. The gallery occupies three rooms and other ancillary spaces on the main floor of the Georgian Revival house. Exhibitions generally combine painting, sculpture, works on paper, installation, photography and some video. The rooms are flexible with excellent natural light but cannot be fully darkened.
In particular, Wave Hill is accepting applications for the exhibition Eco-Urgency: Artists Make the Case, an expanded collaboration with Lehman College Art Gallery, at galleries in both locations, planned for July through November 2021. Eco-Urgency features artists focused on critical issues affecting ecosystems and biodiversity. Some working with scientists and naturalists, artists address the need to establish a cooperative relationship with nature, one that is rooted in respecting the earth's vulnerability and acknowledges the systems that contribute to global loss of habitat and species. The artists adopt approaches that draw on critical analysis, observation and research that is manifested through objects, videos and performative actions that encourage public engagement and a deepened awareness.
Learn more about the theme and related virtual programming.
Wave Hill House
Artists exhibit 2-D work on the walls of common areas in Wave Hill House for a period of 4 to 9 months. Artists will be selected to display a body of work in the café and reception area, and for small solo shows in the tea room. Paintings, drawings, prints and photographs that engage with themes related to nature will be considered for these spaces. Exhibitions are scheduled through 2020.
Winter Workspace Program
From January to March, the galleries are turned over to artists to use as studios for six-week sessions. We encourage artists who are interested in studying our plant collection and responding to the natural setting. Artists have an opportunity to share their practice with visitors through participatory workshops and open studios. This program is available to artists living in New York State and offers workspace, not living space. A nomination process is used to select artists for this program in addition to artists applying through General Opportunities.
generated@wavehill
Curators invite an artist to create a temporal project for the site through this program.
Deadline: November 30, 2020
Applications not being accepted for 2021
The Sunroom Project Space is a venue for New York-area emerging artists to develop a site-specific project as a solo exhibition in the windowed Sunroom or Sun Porch at Wave Hill. Due to the COVID-19 pandemic, Wave Hill is honoring the commitment to the 2020 Sunroom Project Space artists and will be postponing some exhibitions to 2021. Thus, we will not be holding an open call for the program this year.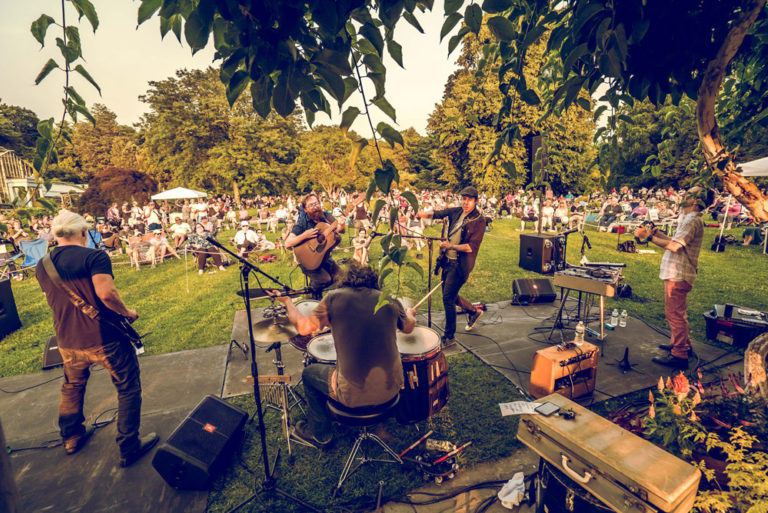 Wave Hill has a rich tradition of performing arts indoors and out. Our indoor concert series takes place monthly from October to April in Armor Hall. Performances are acoustic with limited capability for amplification. The capacity for Armor Hall is 175 people. Artists with projects that address the natural world are encouraged to apply.
Wave Hill also has two outdoor concert series—Sunset Wednesdays happen on summer evenings on Wave Hill's Great Lawn and Sonic Experiences are on Thursday evenings in August. Both provide audiences an opportunity to experience new music in different locations within the garden. Live sound and limited backline is provided for outdoor concerts.
Due to the high number of submissions we receive, we respond only to those artists whose work fits the programs being planned. All unsolicited performing arts proposals must be sent through our submissions form.