Alpine House: Springtime at High Altitudes
Alpine House: Springtime at High Altitudes
April 14, 2022
Take the steps past the Herb & Dry Gardens and peer into the T.H. Everett Alpine House for a little of springtime at high altitudes. The Alpine House and the adjacent Terrace and Wall are packed full of alpine plants, as well as some complimentary non-alpine plants.
By the way, spring isn't the only time the Alpine House and surrounding alpine collection are notable. Every month there is something to enjoy.
April's highlight is two groups of mountaintop alpines: lewisia, which is native to mountains located on the west side of the Great Continental Divide, and alpine-type primula, native to the Swiss Alps.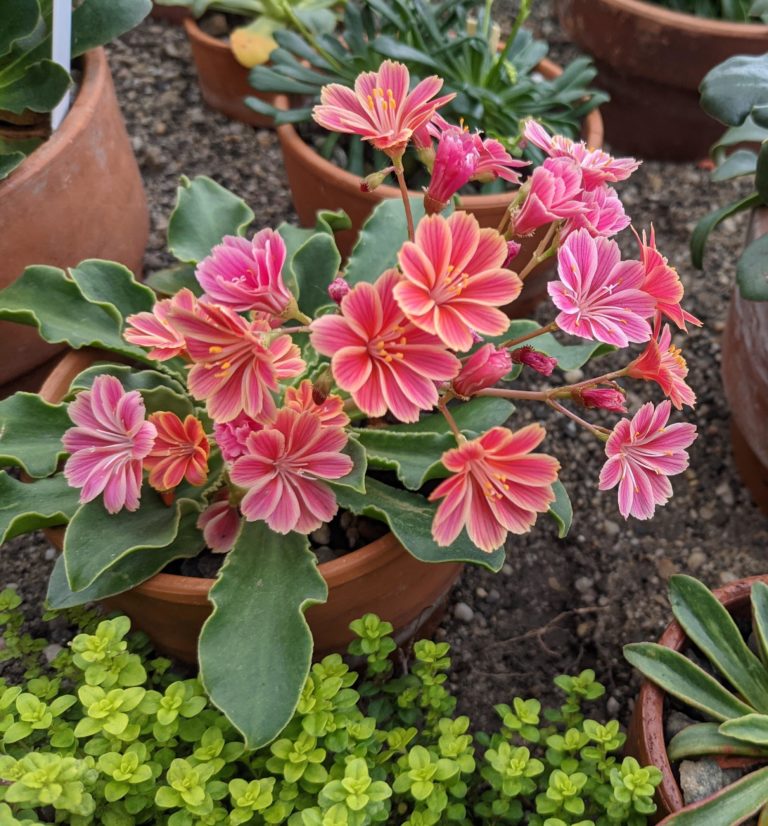 Lewisia care is so complex that only the most resilient species are available in cultivation. At Wave Hill, our gardeners have mastered lewisia culture by implementing key horticultural techniques that mimic these plants' mountainous habitats. The most important element of care is observing a summer dormancy, a mechanism that aids plant survival during hot and drought-like conditions by dehydrating foliage and halting growth. In summer, all the glass roof panels of the Alpine House are removed except the corner with the Japanese maple.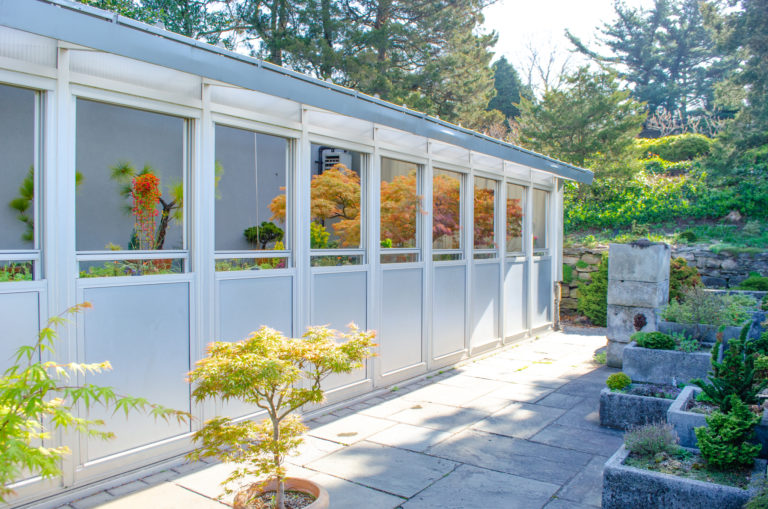 This corner is cooler and shadier, a preferable climate for dormant lewisias. As part of their dormant stage, plants are not watered for many months, but do not completely dry out. Huge root systems are contained within terra cotta pots called long toms, sunk deep into moist, sandy soil of the bench where they live. Dormancy is broken in mid-winter with a watering of fresh snow that mimics snow-melt on a springtime mountaintop. Lewisias bloom in early spring with succulent-like flowers; a favorite species in our collection is Lewisia cotyledon commonly known as the Siskiyou lewisia.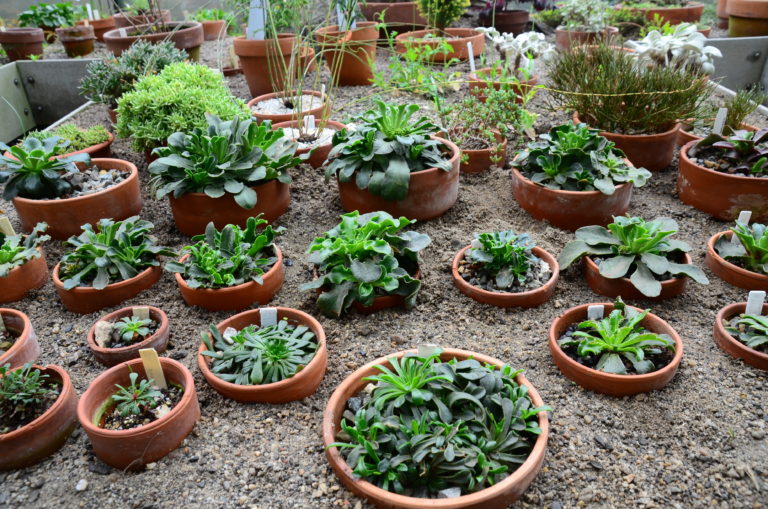 Primulas are highly cultivated for their colorful flowers, which range from brown to purple, chartreuse to white, and even edging on metallic-like shades of gold and silver! There are hundreds of species within the genus Primula, but to make things easier we group them by environmental needs—there are alpine-type, forest-type and tropical-type primulas. All of the primulas in our Alpine House are, yes, you guessed it, alpine-type!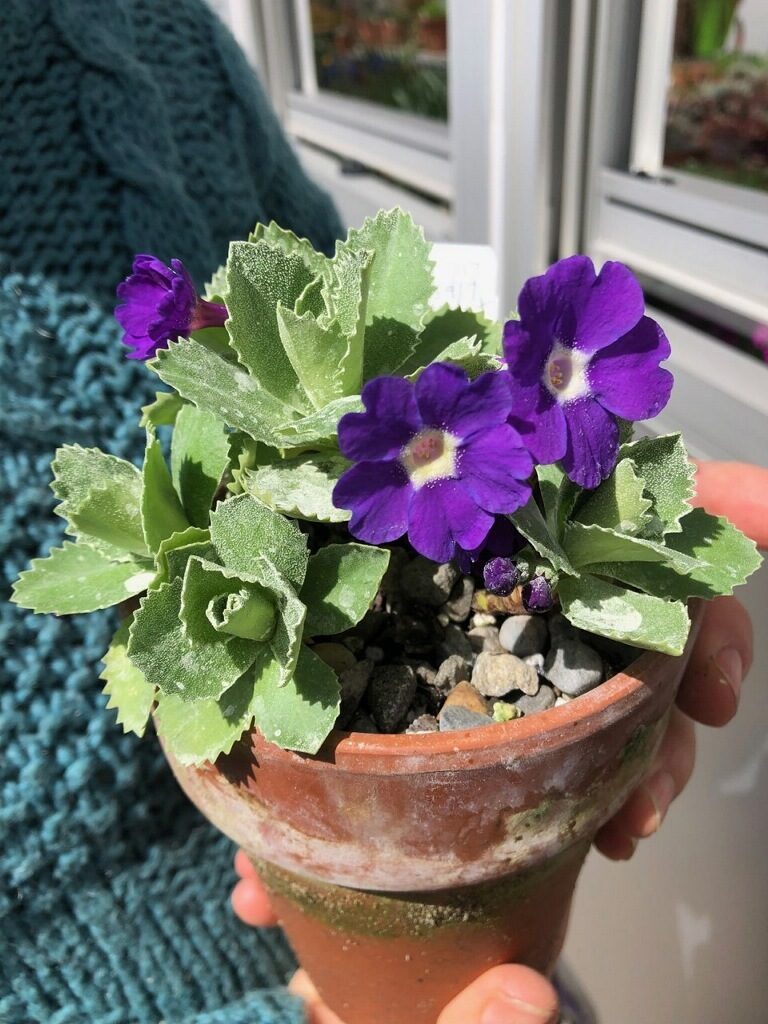 Indigenous to the rocky mountainsides of Europe, this type of primula has a specialized characteristic that helps it cope with harsh sunlight. A type of sunscreen, epicuticular wax called farina, protects the leaves, flower scapes and petals of many alpine-type primulas. Farina is a wax secreted by small hairs located on the surface of the plant. Sometimes appearing as a powdery metallic substance, it can easily be rubbed or washed off—so please look with only your eyes.
Our gardeners are extra careful when watering primroses when farina is present: one water droplet will cause the waxy coating to "bleed." In nature, farina is constantly washed away by rain, but our gardeners try to retain it for as long as possible since it is quite attractive!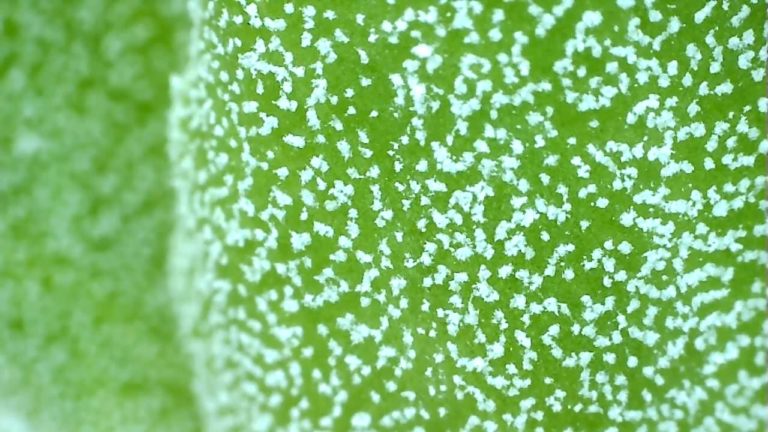 Jess Brey,
Ruth Rea Howell Senior Horticultural Interpreter