Thanks to its placement near the Perkins Visitor Center, Wave Hill's Paisley Bed gets an outsize amount of attention for a modest curlicue.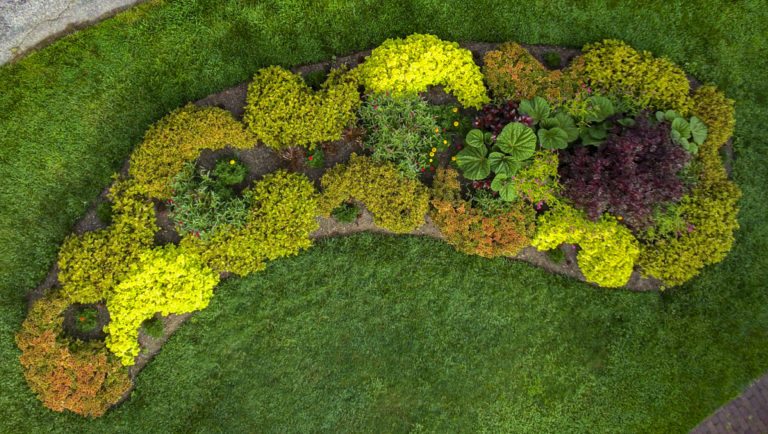 As Nature into Art: The Gardens of Wave Hill (Timber Press, 2019) explains, "In this bed, Wave Hill began an exploration of aesthetic frontiers." In Senior Director of Horticulture Louis Bauer's hands, the planting of annuals there has become "increasingly daring, or at least unconventional."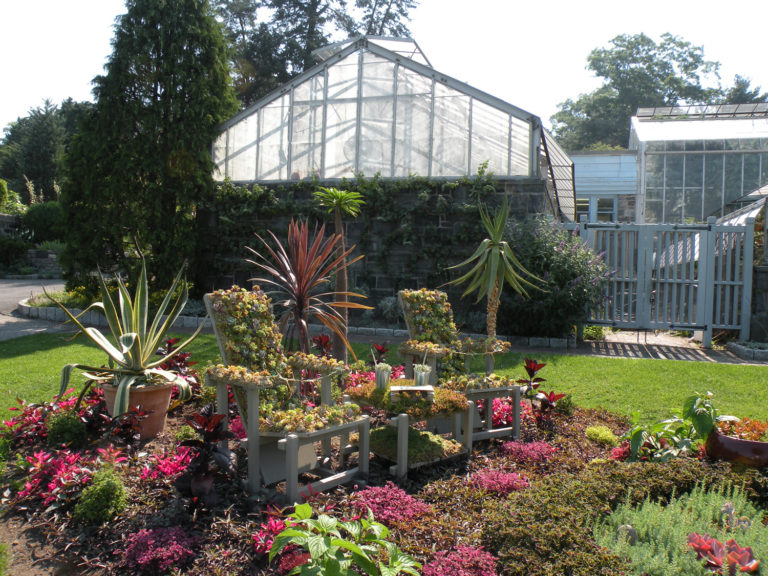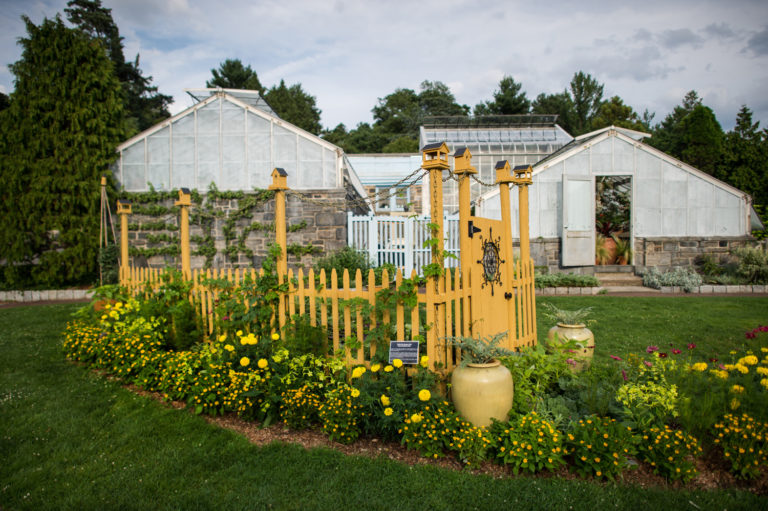 This summer is no exception. Like so many, this spring Louis Bauer's mind was dwelling increasingly on the vital movement that swept through the country in late May with the horrifying death of George Floyd at the hands of the police in Minneapolis. As Juneteenth approached, he was already making a selection of black plants to fill the bed.
For this bed he used three cultivars of sweet potato vines with black foliage, both the heart-shaped leaf and the cut-leaf forms (Ipomoea batatas cultivars). Around the perimeter is a ring of Hemigraphis repanda, though he believes that the sweet potato plants, having more vigor, may soon overtake the border.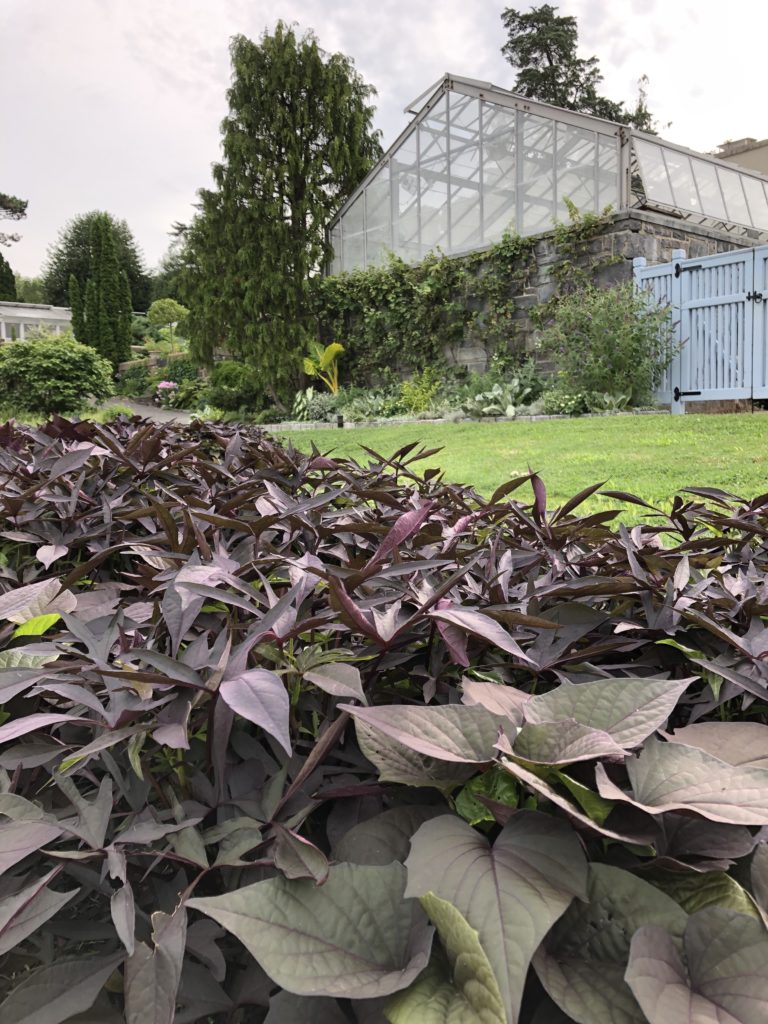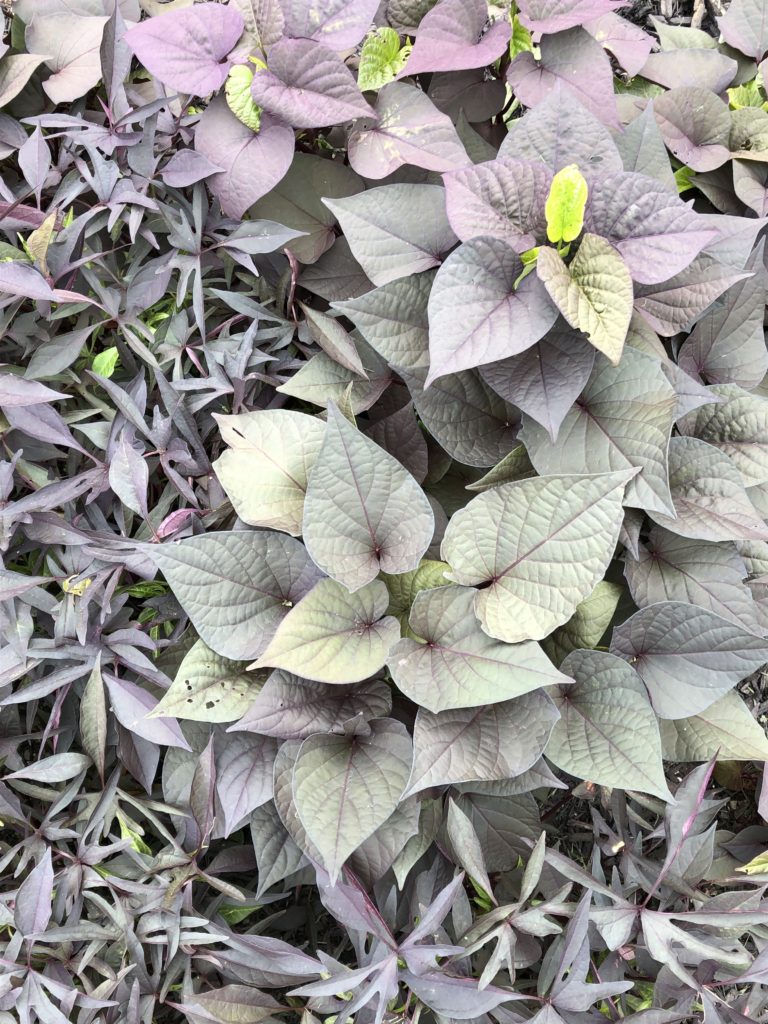 "We could have made an elaborate dark-themed bed," he explains, "but I thought as a spontaneous gesture, simplicity worked better. So we scrapped the more usual elaborate scheme by late March or early April, and came up with the black leaves idea in early June, using starter plants from Augusta Hill Nursery in New Jersey."
Responding to the tenor of the times seems to be becoming a tradition in this imaginative little space. In late March 2017, around the time that Bauer would usually begin planning out the bed for the coming summer and fall, he had what he thought of as a "global cast" for the selection that summer: 17 plants from Asia, the Americas and African continents, all from countries with majority Muslim populations. It was a way, he felt, to call attention to the fact that at a time when immigration to the U.S. from those countries was closed, plants like amaranth, elephant ear, date palm, the castor bean plant and ornamental sage all originated from one or more of those same parts of the world.
The Paisley Bed will continue to flourish through the summer and well into fall. We hope that each time you visit, you will appreciate, as we do, this evocative acknowledgement that Black lives matter, everywhere for all of us.