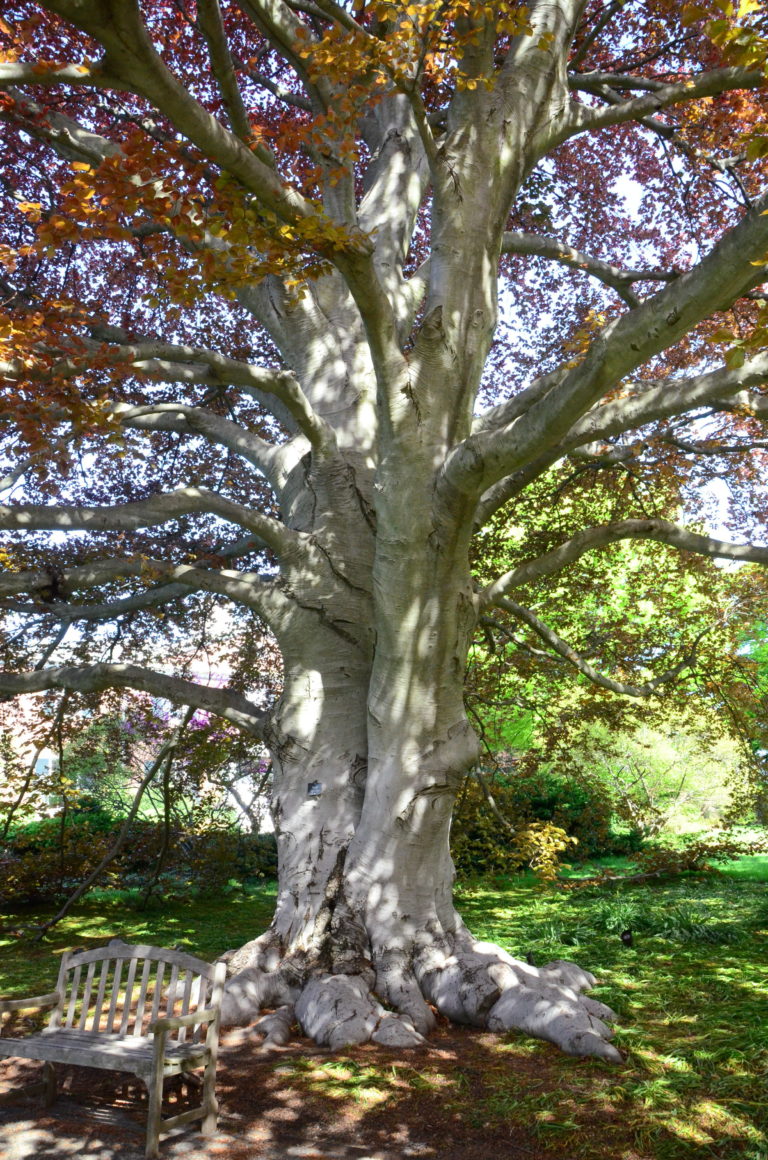 Some Great Trees of Wave Hill
Some Great Trees of Wave Hill
April 26, 2023
Wave Hill's gardens include some of the largest and most unusual trees in all of New York City. A few even predate the establishment of Wave Hill as an estate in the 1840s. Follow the numbering on the map below to locate each tree highlighted here.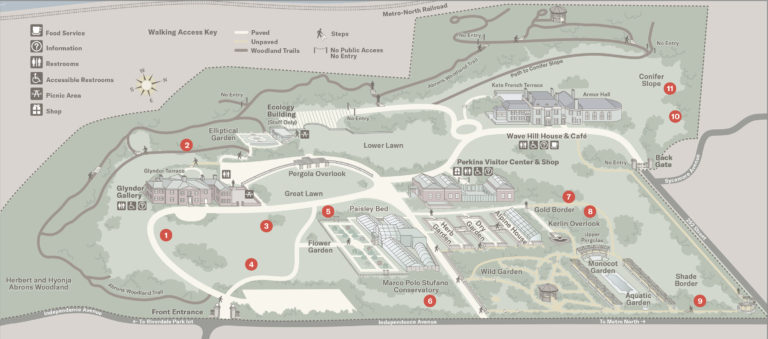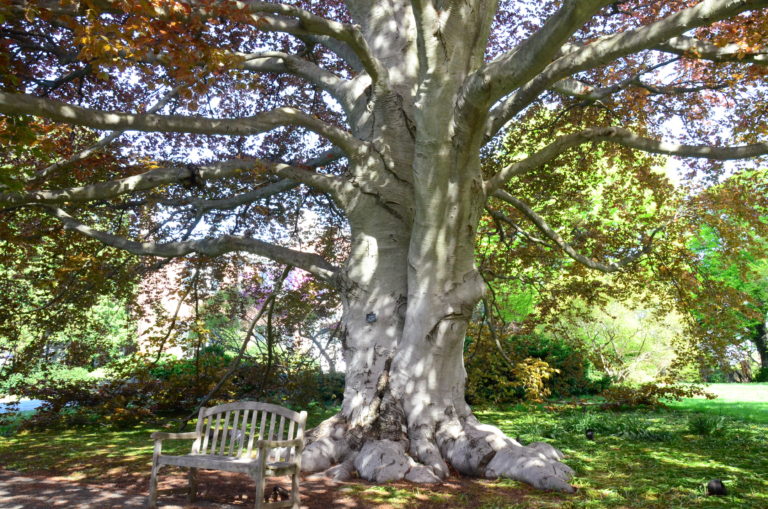 There are many European beech trees throughout Wave Hill. Some of them were planted in the late 1800s or early 1900s when Wave Hill was still a private family-owned estate. Today, these giant trees receive resiliency care to bolster their immunity against a portfolio of diseases and pests. The largest of the European beeches is a copper form in front of Glyndor Galley.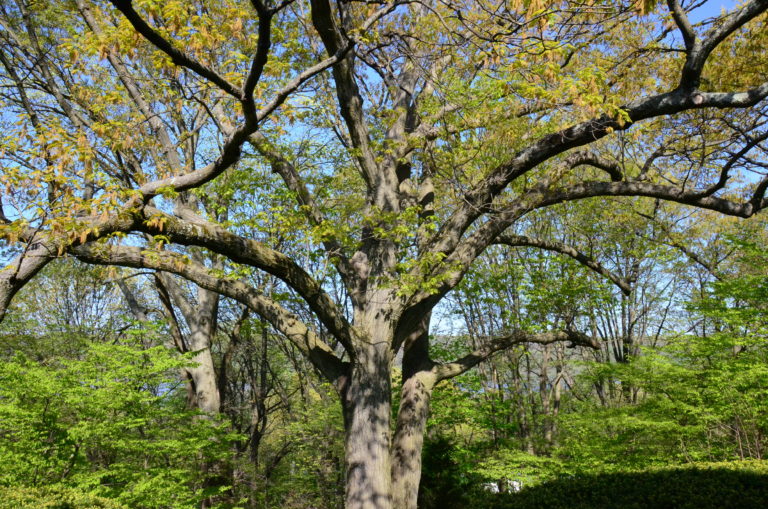 Seemingly tucked behind the Glyndor Gallery, on a steep woodland hill lies a massive red oak tree. This red oak may be the oldest tree at Wave Hill. The main branches stretch out quite gracefully despite their huge size. They spread horizontally, a sign that this tree has seldom had to stretch up and over other trees for sunlight.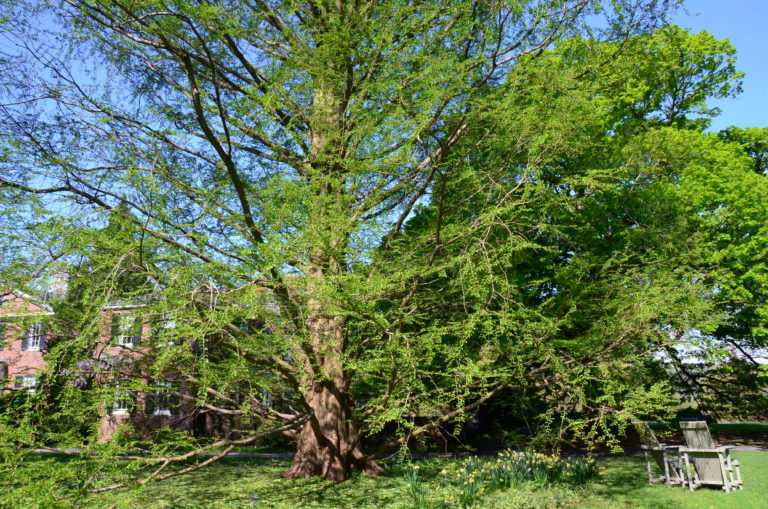 This dawn redwood is a tall, stately tree that welcomes visitors as they first arrive at Wave Hill's Glyndor Gallery. Although it is a conifer, the dawn redwood is deciduous, meaning that its soft green needles change to a coppery brown color in autumn and eventually fall to the ground. This tree's reddish bark and angular branches make it striking in winter.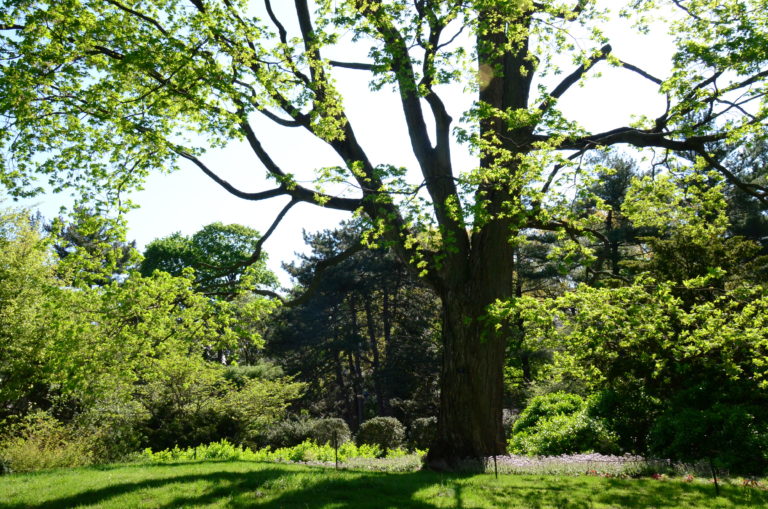 Sugar maples have slender upright branches and a sturdy trunk with bark that peels outward as if the whole tree is at the mercy of tension. You won't find the plated bark on young trees, as it develops with age. The limbs of our sugar maple, an old and venerable one, punctuate the view and offer support for our annual Junior Arborist event during Arbor Weekend, when children are hoisted up into the tree.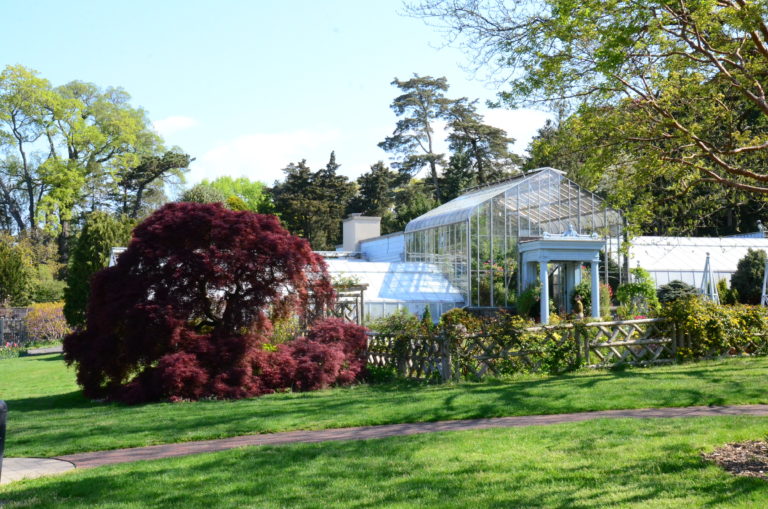 Anchoring the corner of Wave Hill's Flower Garden is a large and robust dissected Japanese maple. This maple is renowned for its delicate foliage and interesting, mounded growth. The striking color and shape of the tree is an important factor for the design of the garden, and it provides a beautiful accent to Wave Hill's view of the Hudson River and the New Jersey Palisades. When the leaves drop in the fall the tree's intricate, twisting branches are revealed, providing a marvelous structure in the garden.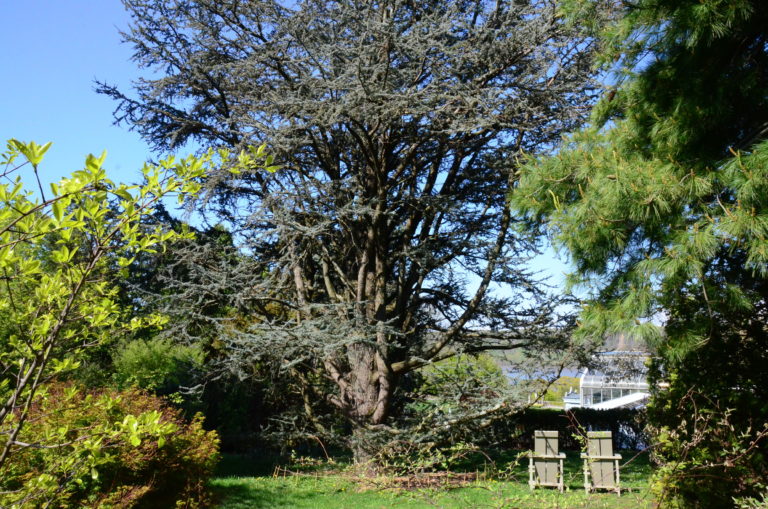 This Atlas cedar has blue-gray needles and long, sweeping branches. The blue color is produced by a waxy covering on the clusters of short needles. Aside adding a lovely color, the wax also protects the needles from drying out and makes the tree more resistant to damage from New York City's harsh winters. This tree is central to a secret garden that is seemingly tucked behind the Flower Garden and overlooks the Visitor Parking Lot.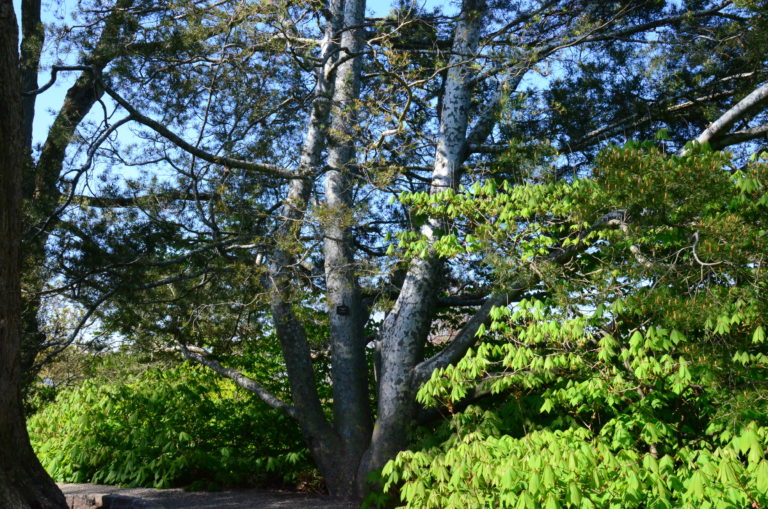 This lacebark pine is planted along a shady gravel path that allows visitors to inspect its intriguing characteristics up close. As the lacebark name implies, this conifer features interesting bark texture. As the tree grows, jigsaw puzzle-shaped pieces peel away, exposing a paint scene composed of green, yellow, purple and grey. This marvelous specimen is quite large for such a slow-growing species. Its multiple trunks divide into twisting branches that spread wide over the landscape.
Wave Hill's elm is one of the oldest American elms in New York City, and it is precious to the gardens. We actively manage Dutch elm disease annually, sometimes having to surgically remove branches infected with the disease's tell-tale wilt symptoms. With careful attention, the tree should be able to survive and hopefully thrive for many years to come. Viewable through a "window" between the Shade Border arbor pillars, the majestic American elm is best viewed from afar.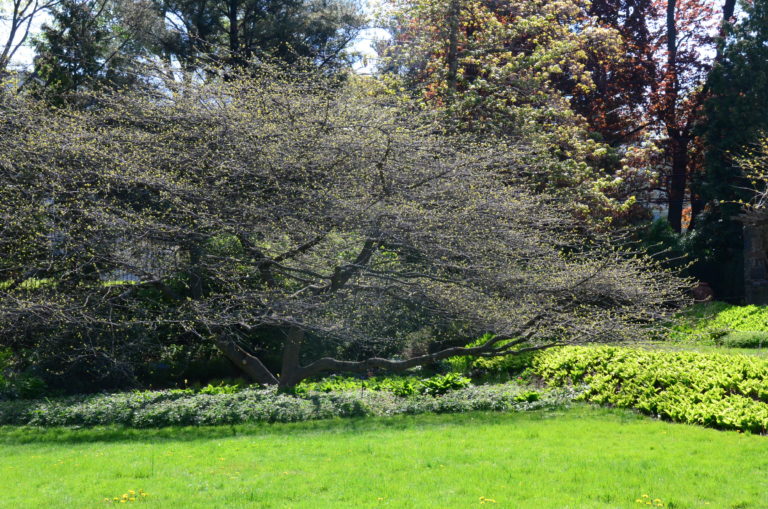 The Shade Border at Wave Hill is one of the newest garden areas at Wave Hill, created a couple of decades ago when there were towering beech and oak trees to shade out the area. This black tupelo was included as a bookend to the Shade Border. Its prostrate, low-growing habit marries the Shade Border with the hillside. Tupelos have deep-green, glossy leaves in the summer, which turn in autumn to colors of blazing oranges, scarlet reds, and even deep purples.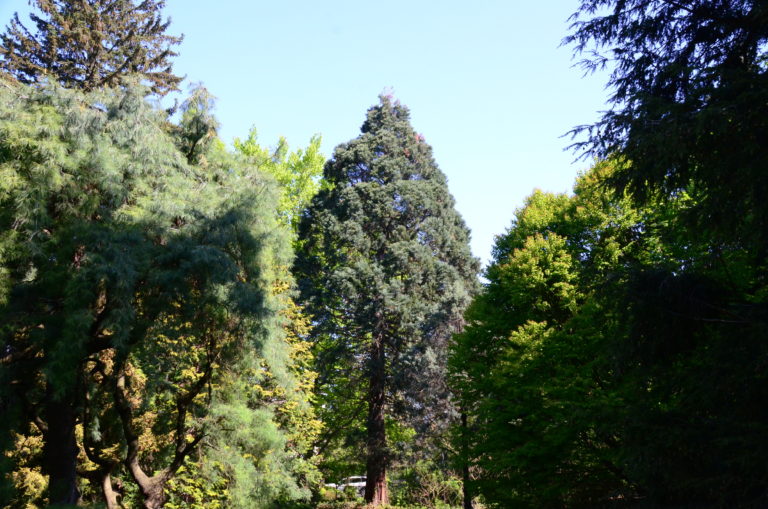 Wave Hill's Conifer Slope rests on the north side of Wave Hill House, along the property line. Placement of this sloping garden is an addition to the already present line of Norway spruce trees (Picea abies) planted by the Perkins family estate as a way to block the view of neighboring properties. (The Perkins family, the last private owners of the property, donated it to New York City in 1960.) Today, this Conifer Slope collection includes many unique specimens that showcase the diversity and beauty of this plant group. Our giant sequoia has blue-gray needles and is slightly more adaptable to our local climate.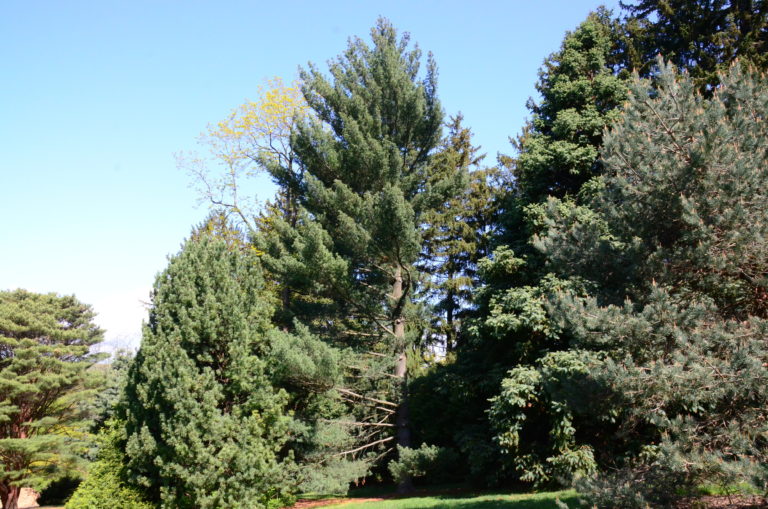 Also in the Conifer Slope is a unique, cultivated variety of our common eastern white pine named 'Torulosa', featuring twisted needles throughout. The long, slender, contorted needles give the tree a soft texture from afar. This ornamental feature is prized even if the needles fall from the tree! Curly dried needles from 'Torulosa' white pine are raked up and used as garden mulch for special plantings at Wave Hill.
This guided experience of some of our greatest trees was developed for an IMLS/MANY supported program called Great Trees; watch the full virtual program on our YouTube channel at Great Trees of Wave Hill.
Jess Brey,
Ruth Rea Howell Senior Horticultural Interpreter