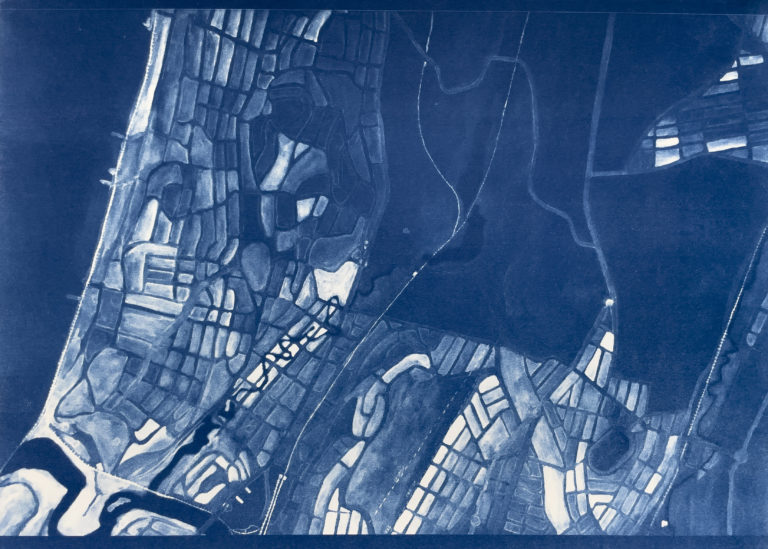 When
Where
Wave Hill House, Mark Twain Room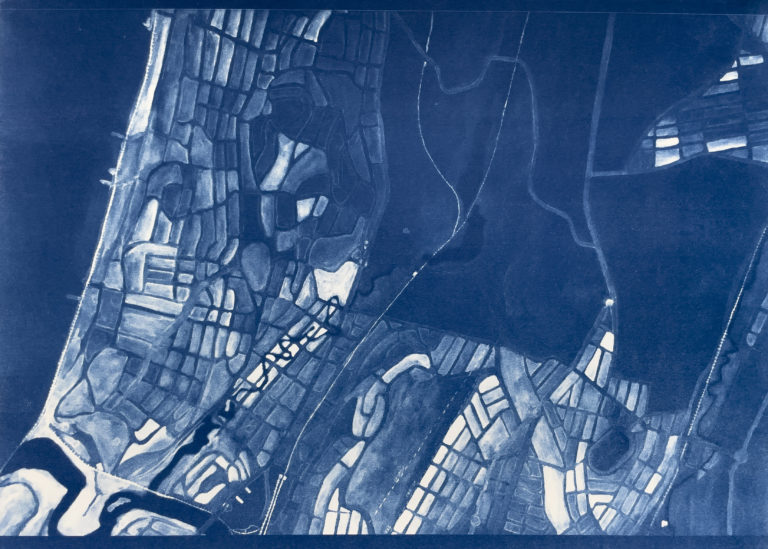 Join artist Maya Ciarrocchi and Director of Arts and Chief Curator Gabriel de Guzman for a conversation about Ciarrocchi's exhibition Muscota, Mosholu, Tibbetts Brook, on view in Wave Hill House. They will discuss the artist's recent cyanotype prints on silk and works on paper, which use historical narratives, as well as embodied and locative mapping, to uncover buried pasts while investigating ecological issues due to urban development. Ciarrocchi's large-scale prints depict the shifted trajectories of New York City waterways and their lost histories as well as the shorelines now inaccessible to city residents.
"Meet the Artist" is an ongoing series of conversations between exhibiting artists and the curatorial team at Wave Hill. This program provides an opportunity for Wave Hill visitors, the artist's community and others to learn more about an artist's creative process and themes within their work.
Registration is encouraged, online or by calling 718.549.3200 x251.
Questions? Please email us at information@wavehill.org or call the telephone number and extension above.
Maya Ciarrocchi

Maya Ciarrocchi

Maya Ciarrocchi is a Bronx-based interdisciplinary artist working across media in drawing, printmaking, video and performance. She has exhibited her work nationally and internationally and in such New York City venues as Abrons Arts Center, Anthology Film Archives, The Bronx Museum of the Arts, The Chocolate Factory, Equity Gallery, Kinescope Gallery, Microscope Gallery and Smack Mellon, among others. She has received residencies and fellowships from the Baryshnikov Arts Center, Bronx Museum of the Arts, LABA: A Laboratory for Jewish Culture, Lower Manhattan Cultural Council, MacDowell, Millay Arts, New York Artists Equity, UCross and Wave Hill. Her projects have received funding from the Bay and Paul Foundation, Bronx Council on the Arts, Foundation for Contemporary Arts, Jerome Foundation, Mertz Gilmore, Franklin Furnace Fund and the Trust for Mutual Understanding. Ciarrocchi earned an MFA from the School of Visual Arts, New York, NY, and a BFA from SUNY Purchase, Purchase, NY.

Learn more about the artist at www.mayaciarrocchi.com.

Photo: Joanna Eldredge Morrissey

Gabriel de Guzman

Gabriel de Guzman

Gabriel de Guzman is Director of Arts & Chief Curator at Wave Hill, where he oversees the visual and performing arts program, including changing exhibitions in Wave Hill's art gallery spaces and on the grounds, outdoor music and dance performances and indoor concert series in Armor Hall. From 2017 to 2021, he was Curator & Director of Exhibitions at Smack Mellon, where he organized group and solo exhibitions featuring emerging and under-recognized mid-career artists whose work explores critical, socially relevant issues. Before joining Smack Mellon, de Guzman held a previous position at Wave Hill, as Curator of Visual Arts, organizing solo projects for emerging artists, as well as thematic group exhibitions that explored human connections to the natural world. As a guest curator, he has also presented shows at Dorsky Gallery Curatorial Programs, BronxArtSpace, Dyckman Farmhouse Museum, Rush Arts Gallery, En Foco at Andrew Freedman Home, the Affordable Art Fair New York, Northern Manhattan Arts Alliance, and the Bronx Museum's 2013 AIM Biennial. Prior to Wave Hill, he was a curatorial assistant at The Jewish Museum. His essays have been published in Nueva Luz: Photographic Journal and in catalogues for the Museum of Arts and Design, the Arsenal Gallery at Central Park, Kenise Barnes Fine Art, and the art institutions mentioned above. He earned an M.A. in art history from Hunter College and a B.A. in art history from the University of Virginia.
More from Meet the Artists: Maya Ciarrocchi, Amina Ross, Deep Pool