Bold tropicals & a tranquil pool
Situated just north of the Wild Garden, these two spaces share nothing with the naturalistic plantings and winding paths there. Here, a formal setting of neatly trimmed hedges and symmetrical stone pergolas provide the framework for a lush display of monocots and a rectangular, shallow pool. Come summer, the monocots are lush and intriguing, and the water garden a rich display of aquatic plants.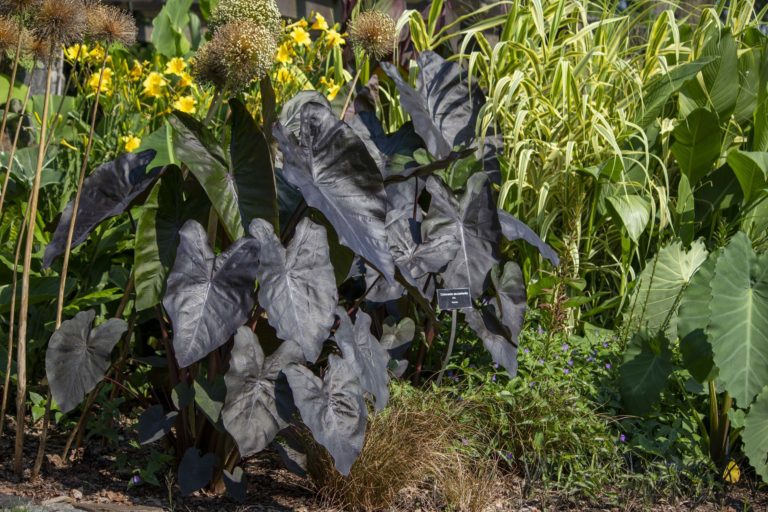 A member of the arum family, Colocasia esculenta 'Black Magic', commonly known as taro, is a tuberous, stemless perennial that makes a big, monocot kind of statement.
Monocots
Monocotyledons represent one of two types of flowering plants—the other are dicotyledons—and describe plants whose seeds contain one single leaf—dicots have two.
Founding Director of Horticulture Marco Polo Stufano devised several teaching gardens in this area in the early years of Wave Hill's being a public garden—asuccotash garden one year and a planting of a single plant family, the composites (Compositae/Asteraceae), another. But it was a monocot planting that seemed especially appealing to most visitors. Funding, provided by the Rossbachs, a local family, allowed for the construction of the stone retaining walls and the patio between the two beds.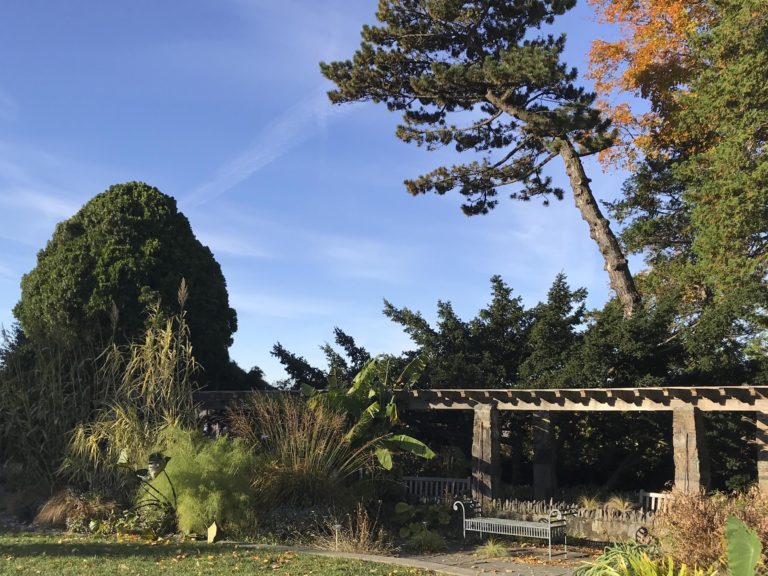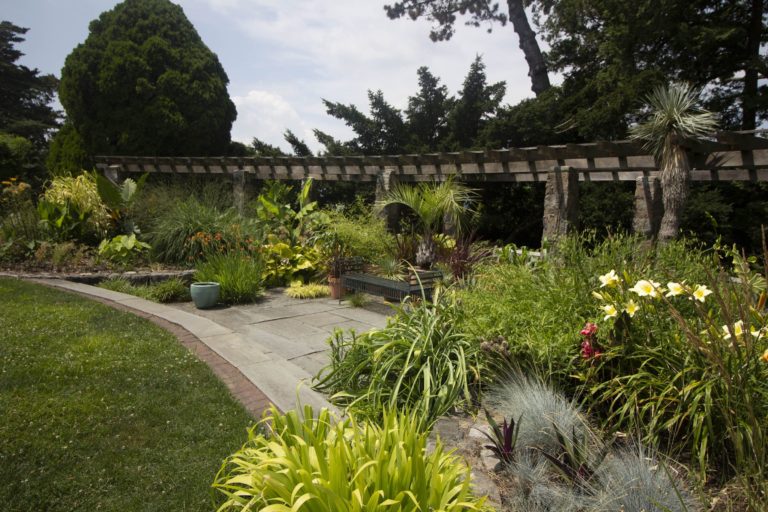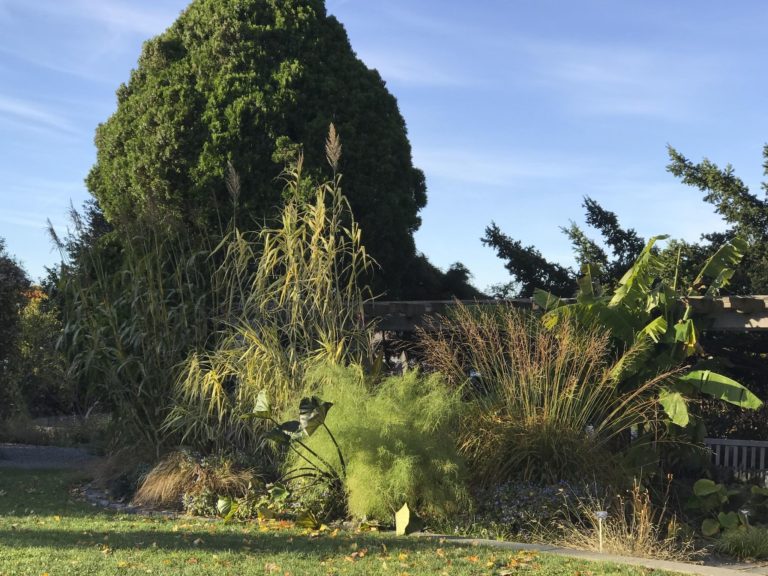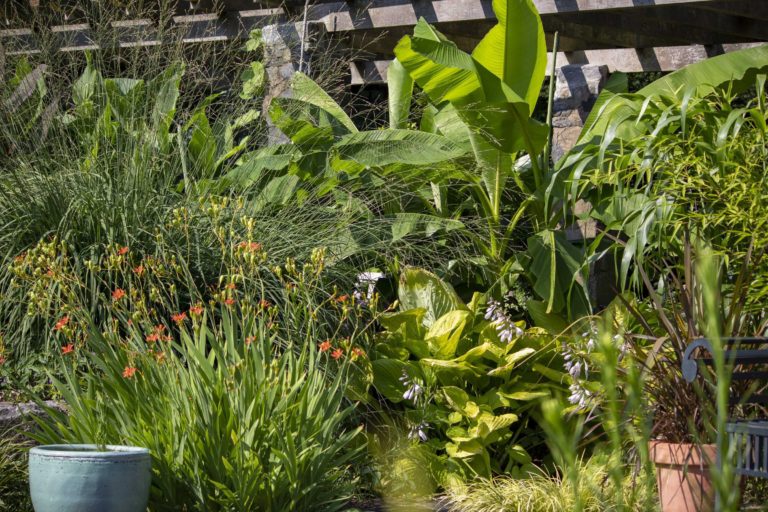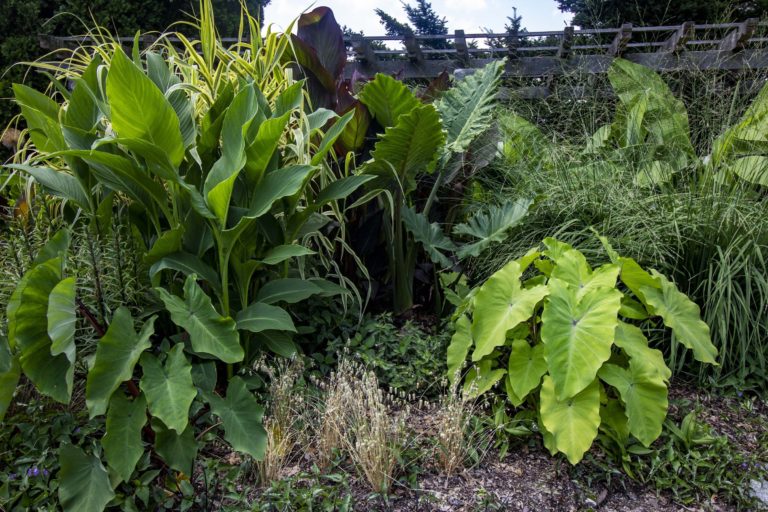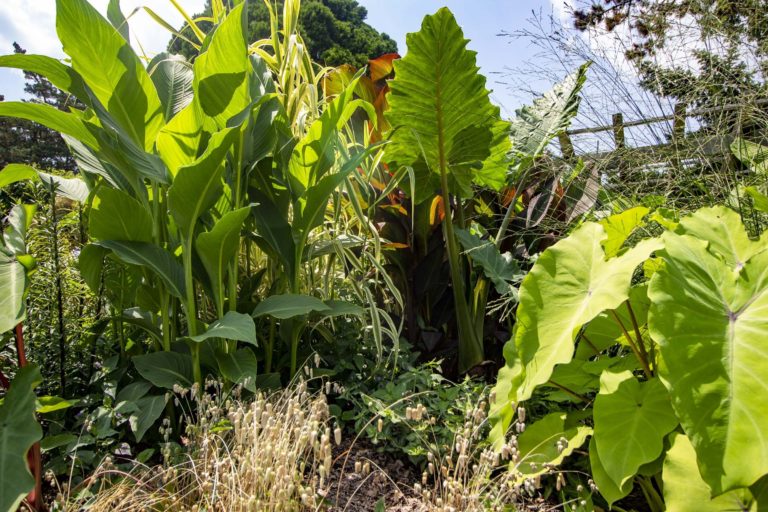 From a quiet, empty space in winter and into spring, the Monocot Garden transforms itself into a dramatic destination in summer and fall.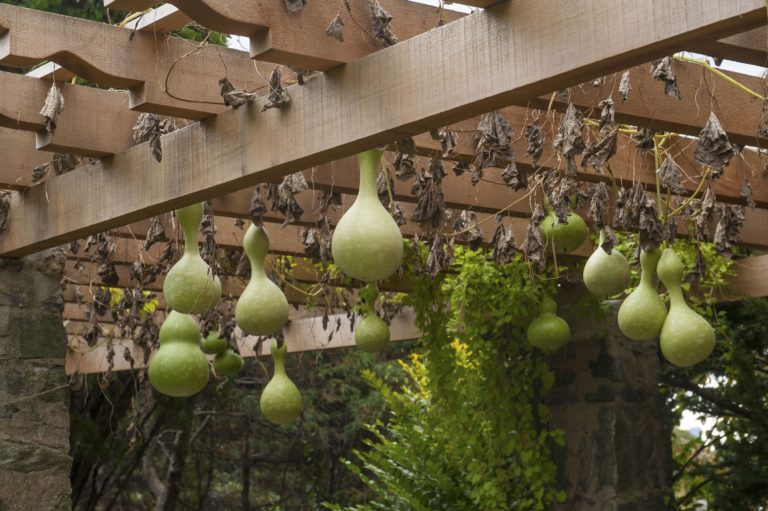 In fall, several kinds of gourds dangle from above.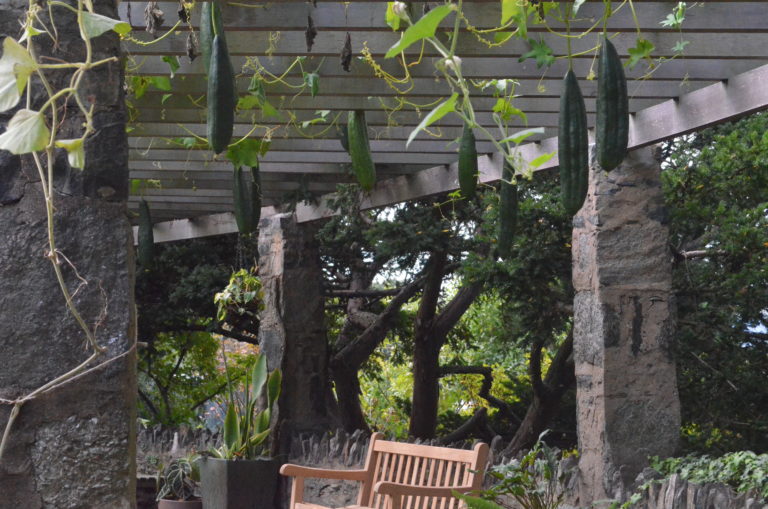 Loofah (Luffa aegyptiaca), looking like huge cucumbers, are the source of the natural scrubbing sponge, though ours are grown for ornamental purposes only.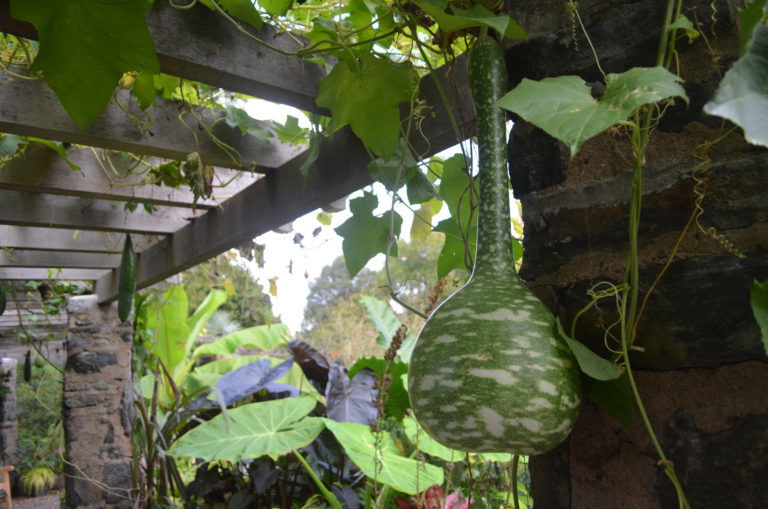 Nearby are some examples of Lagenaria siceraria 'Speckled Swan', an attractive cultivar of the calabash gourd.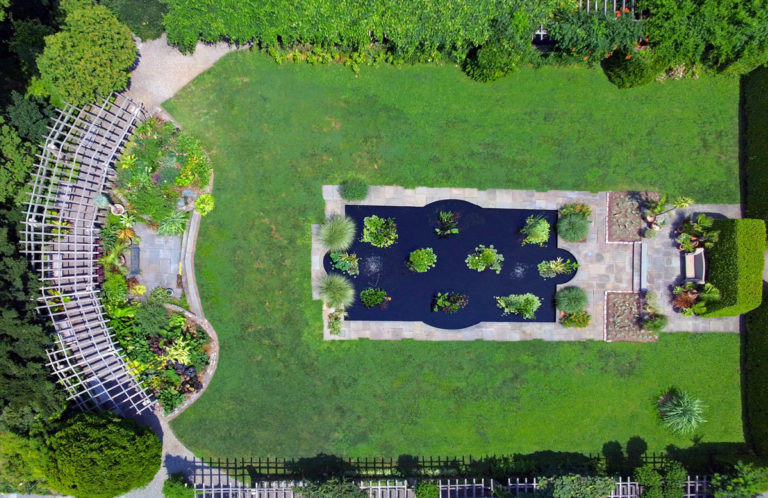 Aquatic Garden
The pool, measuring 40 by 25 feet is flanked by long pergolas on its north and south sides, providing a strong architectural element to this space.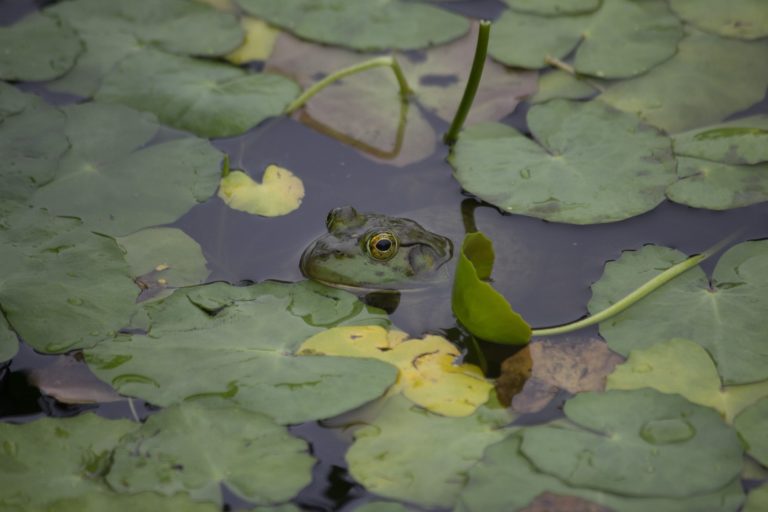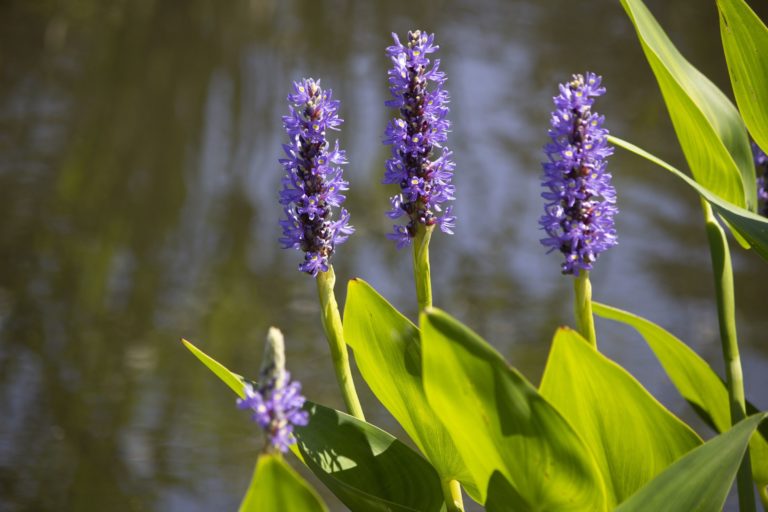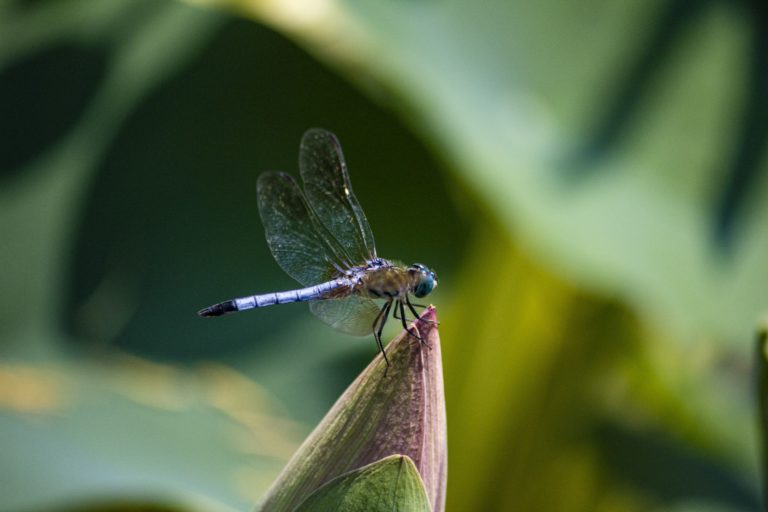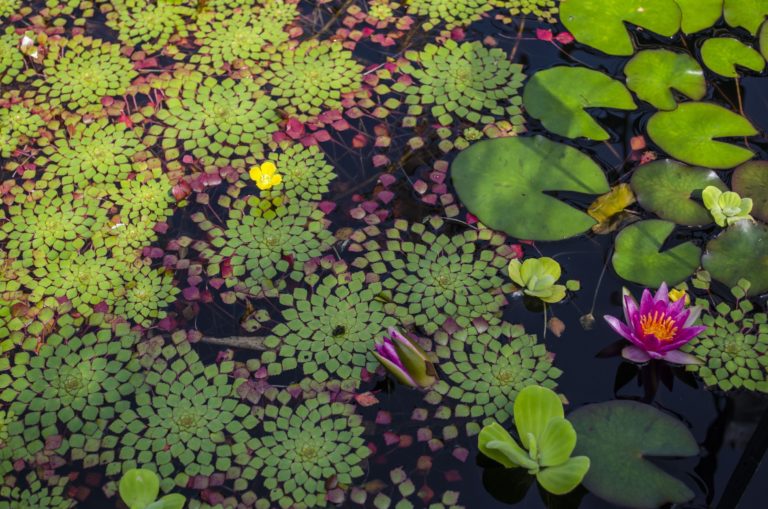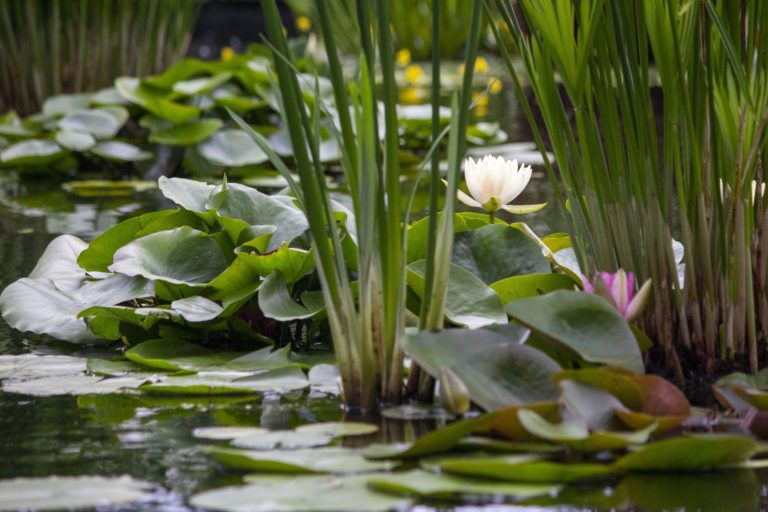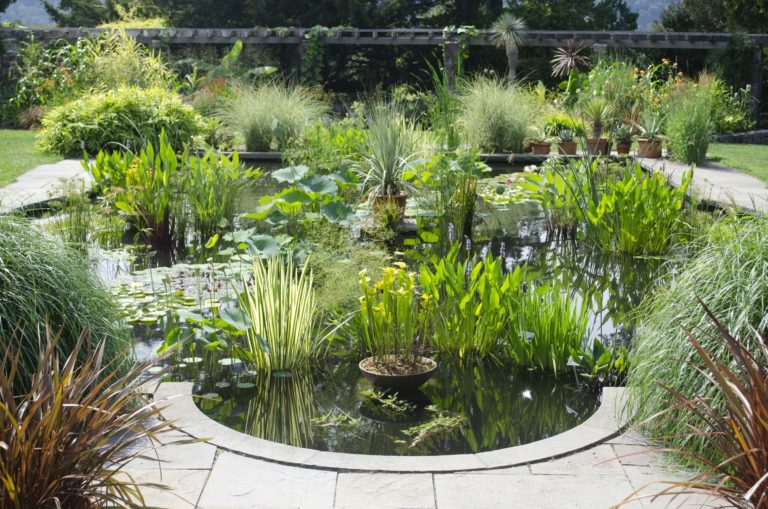 Potted Plants, Inky Water
In the warmer months, potted plants from the Marco Polo Stufano Conservatory play an import role around the edge of the pool. Aquatic plants, both hardy and tropical, are rooted into soil-filled containers. These are immersed in the water and positioned, either on the concrete floor or raised on cinder blocks, according to their growth habit. A harmless dye tints the water black and results in a glossy, reflective surface that helps to inhibit the growth of algae—and for the resident frogs and fish offers a little protection from visiting herons.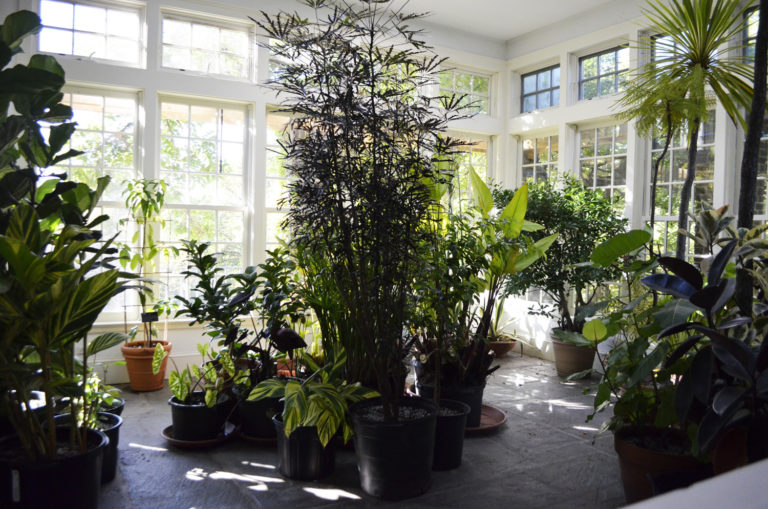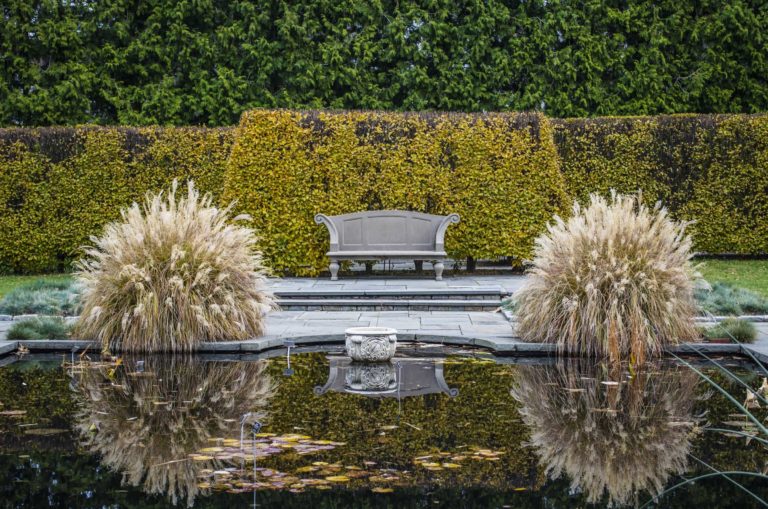 Along the east side of the Aquatic Garden, opposite the Monocot Garden, a high-backed bench provides a place to contemplate the stage before one. Behind the bench is an opening in a long , tall hedge of hornbeam, leading to a long allee running from the Shade Border to a path along the back side of the Wild Garden.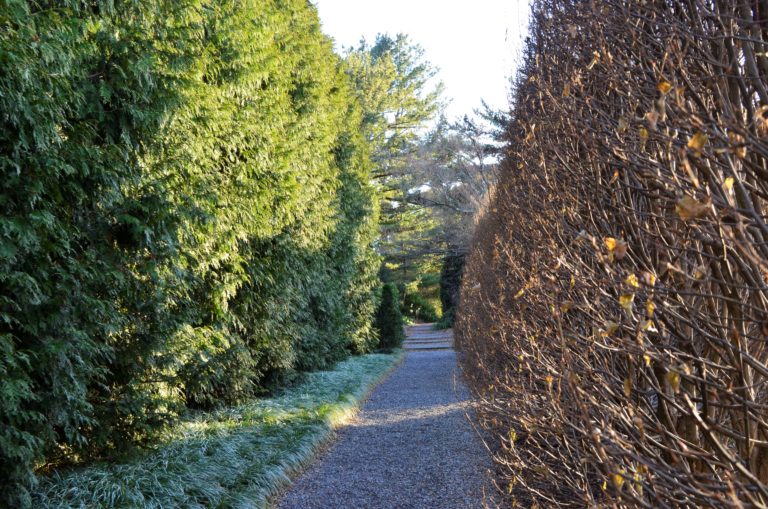 The hornbeam hedge, on the left, seen from the path leading north to the Shade Border.