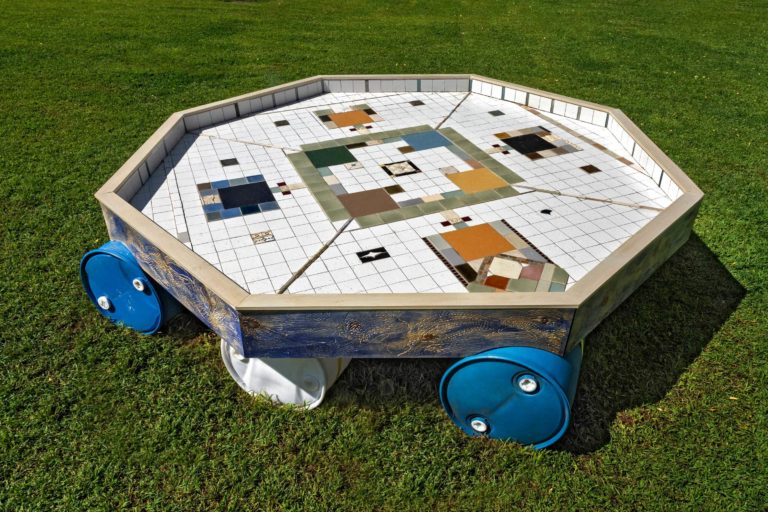 Iranian-born, Brooklyn-based artist Bahar Behbahani takes a poetic approach to using water and garden imagery to help us connect to "invisible stories—the physical or spiritual traces and patterns on nature which our ancestors left us." The installation—All water has a perfect memory.—explores Wave Hill's Herbert and Hyonja Abrons Woodland, an eight-acre wooded slope with a half-mile trail ambling through it.
Behbahani's installation revives generated@wavehill, a program that invites artists to create temporal artwork engaging with Wave Hill's site and programs. Past generated@wavehill projects have included both visual and performing arts commissions. Future projects will highlight different aspects of Wave Hill and expand opportunities for arts programming that engage with the gardens. These significant installations integrate new directions in Wave Hill's strategic plan intended for the next seven years.
As part of her generated@wavehill project, Behbahani tracked the underground water systems within the garden's ecosystem, and led workshops to prompt discussion about local and global water concerns. To undertake the tracking, the artist has collaborated with several groups of Wave Hill interns and students. Forest Project and Woodland Ecology Research Mentorship interns are all active in the woodlands; Wave Hill's Art, Community and Environmental Stewards (ACES), CUNY Corps and Bloomberg interns work at the garden's weekly Family Art Project. Students and interns researched eight of the world's contested rivers—including the Hudson―identifying native and non-native plants and logs that are part of erosion control in the woodland. The ACES interns act as stewards of the project throughout the fall. They have developed images and stories to be incorporated into the octagon's carved panels and also will be part of a zine they are producing. A brochure and map will also be created that includes an essay by writer Lilly Wei.
A reference to the Mississippi River, All water has a perfect memory. comes from a phrase in Toni Morrison's essay The Site of Memory: All water has a perfect memory and it is forever trying to get back to where was. The focal point of the installation is an octagonal pool mounted on plastic barrels, suggesting a floating raft to be used for an emergency move to the river. It is located on the Conifer Slope, leading to the woodland's northern entry point. Each side of the raft references a conflicted river―the Euphrates, Ganges, Hudson, Karun, Mississippi, Nile, Rio Grande and Wouri. The pool's interior is surfaced with tiles sourced from construction projects. While the pool's structure represents symmetry and balance in a multicultural and spiritual habitat, the barrels on which the raft is mounted introduce the element of uncertainty. A second component of the installation focuses on the gazebo located midway through the woodland, transforming it into a site for meditation and infusing it with recordings of sounds associated with the eight contested rivers. Finally, a portable, eight-panel partition will be introduced at the Family Art Project on September 21 and 22. It will be used for storytelling, either in the intimate space of an octagon or opened wide as a backdrop.