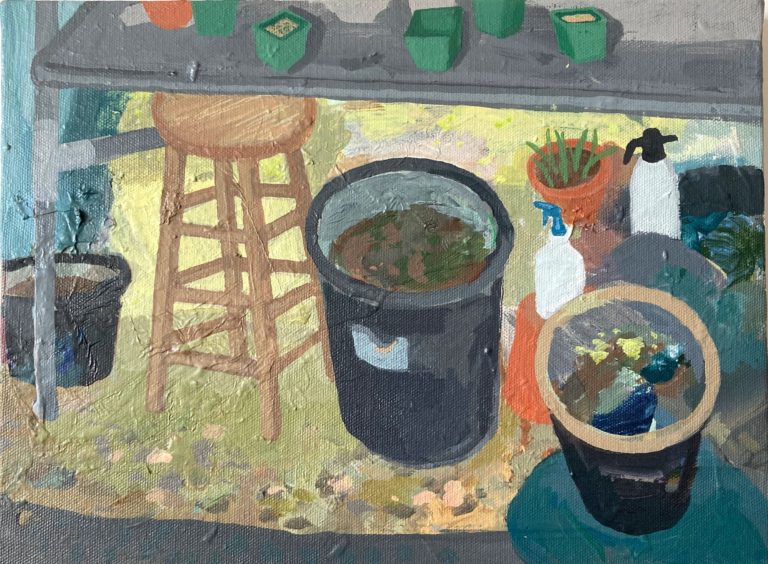 When
Where
Meet at Perkins Visitor Center
Price
$25, including admission to the grounds. Wave Hill Members save 10%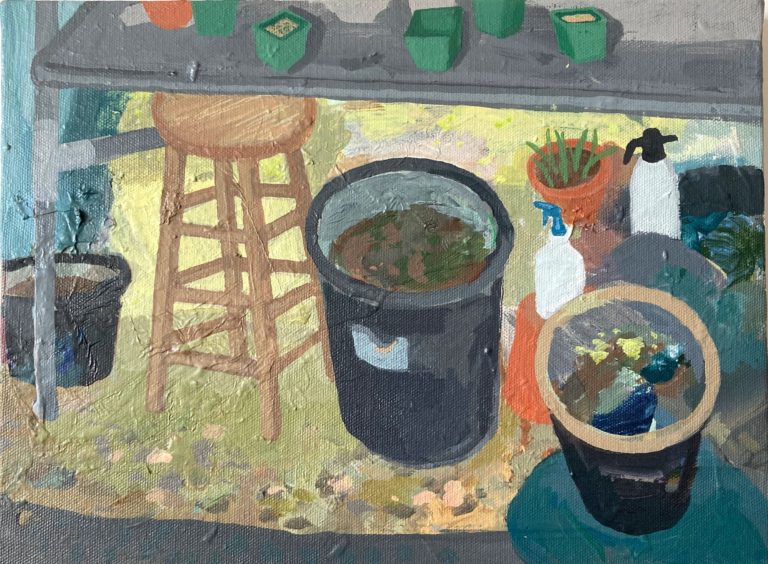 Rebecca Allan's current exhibition, Cultivating Eden, explores Wave Hill as a site where art and horticulture are intertwined. Join Allan and Gardener Sandra Schaller for a special two-part tour that allows participants to get a glimpse of the creative practices of both the artist and the gardener. In the first half of the program, go behind the scenes of the Alpine House, which is typically only accessed from a frontal view, to see the diminutive plants up close and observe Schaller's workspace and process. In the second part, go on an artist-led walk-through of the exhibition and hear from Allan about how her visits to Wave Hill inspired her to create a series of paintings that reference the labors of the gardeners and their spaces.
Advance registration encouraged, online or at 718.549.3200 x251. Program size is limited. Day-of registration based on availability and not guaranteed.
Questions? Please email us at information@wavehill.org or call the telephone number and extension above.

Program size is extremely limited. The route to the Alpine House follows a mixed-material pathway with varying elevations, and the Alpine House itself is not wheelchair-accessible. The ground floor and lower level of Wave Hill House are wheelchair-accessible. There is an accessible, ground-level entrance at the front of the building with a power-assist door. The restroom on the ground level is all-gender and ADA-compliant. Additional ADA-compliant restrooms are available on the lower level, which can be accessed by an elevator.
Photo: Adi Talwar

Rebecca Allan

Rebecca Allan

Rebecca Allan is a Bronx-based artist, horticulturist and writer whose work is informed by her longstanding interest in botany and land conservation. Exhibiting in the United States and abroad for more than 25 years, she has been awarded residencies at the Camargo Foundation in Cassis, France; Hermitage Artists Retreat, Sarasota County, FL; Monson Arts, Monson, ME; Virginia Center for the Creative Arts, Amherst, VA; Dorland Mountain Arts Colony, Temecula, CA; and Centrum Foundation, Port Townsend, WA. In 2018, she established her design firm Painterly Gardens. Dedicated to the dialogue between the arts and environmental stewardship, Allan is a Board Member of the Kentucky Natural Lands Trust. She earned an MFA in painting from Kent State University and is certified in sustainable garden design by the New York Botanical Garden.


Sandra Schaller

Sandra Schaller

Sandra has been a member of the Wave Hill team since 2019, when she joined as a Nally Intern. She holds a degree from the Art Institute of Fort Lauderdale and following a 30-year career in marketing, she decided to pursue a career change where she could best leverage her eye for aesthetics and design whilst working with plants. She enrolled in the certificate program at the New York Botanical Garden, focusing on Horticulture for Sustainable Gardening. She currently oversees the Alpine House, Wild Garden and Lavender Border. She is eager to build the collection of true alpines to continue to improve space's quality as an inviting and inspirational destination for visitors. Her favorite gardening task is to create definition within a garden bed, either by adding to existing plants or through editing.
What's happening at Wave Hill