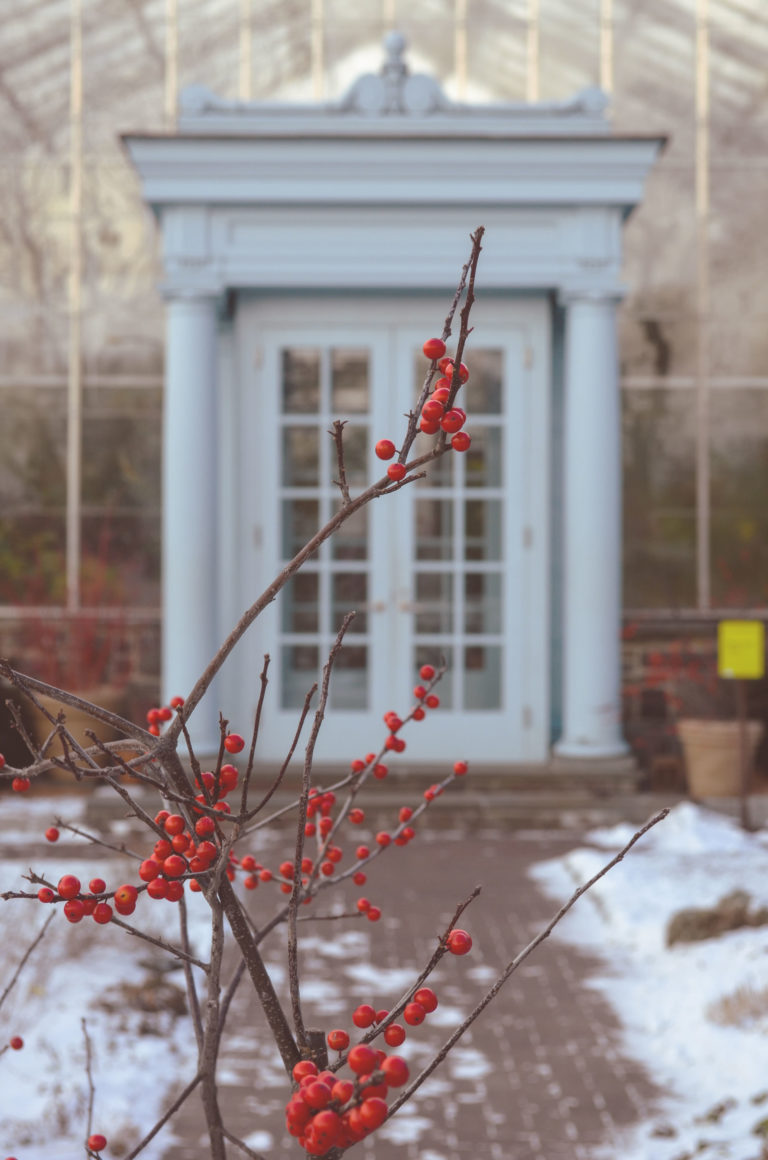 Come Home for the Holidays at Wave Hill, Sat, Sun, Dec 3, 4. Let the garden, beautiful and intimate in winter, fill you with the joy of the season—and the holidays.
Our popular Wreath Workshop moves to a cozy new location in Glyndor Gallery, surrounded by the outstanding botanical art on display in the 25th Annual International with the American Society of Botanical Artists (ASBA), opening Nov 19. Create one-of-a-kind wreaths featuring greens and other natural materials harvested from the gardens by the Wave Hill Gardeners. Be sure to make your plan to attend now—registration is required. More creativity is offered at the Family Art Project, where participants are invited to create edible ornaments for the Wildlife Tree, set to stand in the Paisley Bed before the weekend.
In festively dressed Wave Hill House, the Artisan Market is back and open 12–4PM both days, with a warming menu in The Café—and a Wave Hill Members-only shopping hour Sunday at 11AM. Young Bronx musicians will add lively music in Wave Hill House, with two half-hour sets presented in partnership with the Bronx Arts Ensemble, performed each day. On Saturday, Mezzo-soprano Linda Collazo performs with guitarist Oren Fader. On Sunday, enjoy a performance by the Celia Cruz Performing Arts High School String Quartet.
At the Market: Jewelry, Spirits and More
Visit Wave Hill's favorite handcrafted jewelry makers, Megan Patrice Riley, Susan Rogers and Oblik Atelier, each with a different sense of spectacular style. For stunning scarves and accessories, our two favorite vendors are back, Designer Women's Scarves by James Paul Cheung--cashmere perfection--and amazing prints on silk from textile artist Jessie Zhaou JessieZhao. Sample spirits from Hudson Valley, including staff-favorite Hetta Glogg, Coopers Daughter Spirits and, new to us this year, Le Mone , which offers a light aperitif just right for the holidays.
We welcome additional new hand-chosen vendors this year, including Saltbox Press's amazing letter press stationary and calendars, Silda's Jam' s naturally sweetened with New York State maple syrup, Virginia Jane's Homestead with Hudson Valley jams and syrups. To spice things up a bit, we also have Hook and Arrow Hot Sauce .
Complementing the Market, The Shop's team of experts will help you find the right gifts for everyone on your list. Look for toys, bath and body products and the best baubles in town!
What's happening at Wave Hill