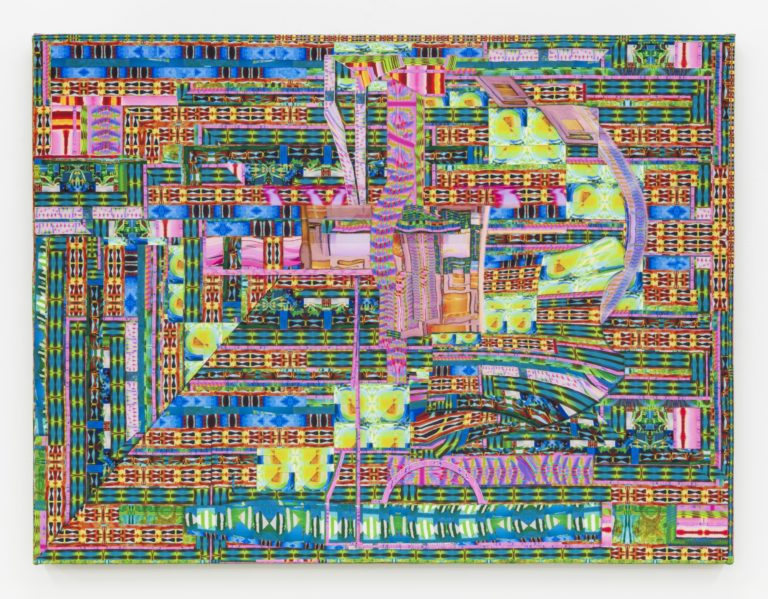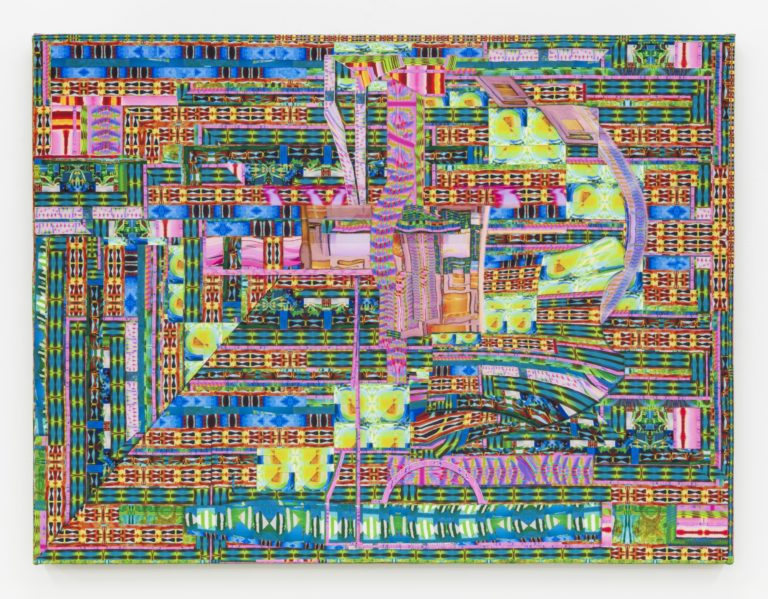 On view in Wave Hill House, Tap Root is an exhibition of recent fabric pieces and works on paper by the artist duo LoVid, an ongoing collaboration between Tali Hinkis and Kyle Lapidus that dates back to 2000.
LoVid embraces rapidly shifting technologies, ranging from the early-aughts circuit-bending and Net Art to today's digital culture and Web3 (blockchain technology). LoVid incorporates audiovisual performances, video and immersive installations to explore the ways in which technology mediates and permeates our relationships with the natural world and each other.
Just before the global shutdown of the COVID-19 Pandemic, LoVid participated in the 2020 Winter Workspace residency at Wave Hill. Here, they began to develop a body of fabric and photo collage works that address new relationships to bodily labor and draw connections between craft, horticulture and digital processes. Foregrounding tactility and the handmade, these works bear snippets of landscapes, greenhouse interiors and succulents, which are modulated and remixed with colors inverted and then overlaid with brightly quilted fabrics. In whimsical interplay, images of plant life are transformed into abstraction and pattern. Taking on a new material language, the works continue to explore elements of their digital-born creation: through manipulation and mediation, the works translate lo-fi and glitch aesthetics onto natural imagery.
PUBLIC PROGRAM: Meet the Artists, Sat, Oct 14, 2023, 12PM
LoVid

LoVid

LoVid's work has been exhibited, performed, screened and presented internationally at venues including: RYAN LEE Gallery, Postmasters Gallery, bitforms, BRIC, Smack Mellon, The Jewish Museum, Museum of Modern Art, New Museum, The Kitchen, SPRING/BREAK Art Show, Klaus von Nichtssagend Gallery, Anthology Film Archives, and Issue Project Room, all in New York City; Parrish Art Museum, Water Mill, NY; Real Art Ways, Hartford, CT; Good Children Gallery, New Orleans, LA; Honor Fraser, Los Angeles, CA; And/Or Gallery, Pasadena, CA; The Science Gallery Dublin; Daejeon Museum, South Korea; Netherlands Media Art Institute, Amsterdam; ICA London, UK; and International Film Festival Rotterdam, Netherlands. LoVid's projects have received support from organizations such as Wave Hill, The Robert Rauschenberg Foundation, Graham Foundation, UC Santa Barbara, Signal Culture, Cue Art Foundation, Eyebeam, Harvestworks, Wave Farm, Rhizome, Franklin Furnace, Turbulence.org, New York Foundation for the Arts, Lower Manhattan Cultural Center, Experimental TV Center, New York State Council of the Arts, and Greenwall Foundation. LoVid is an Art Blocks Curated artist and their videos are distributed by Electronic Arts Intermix.