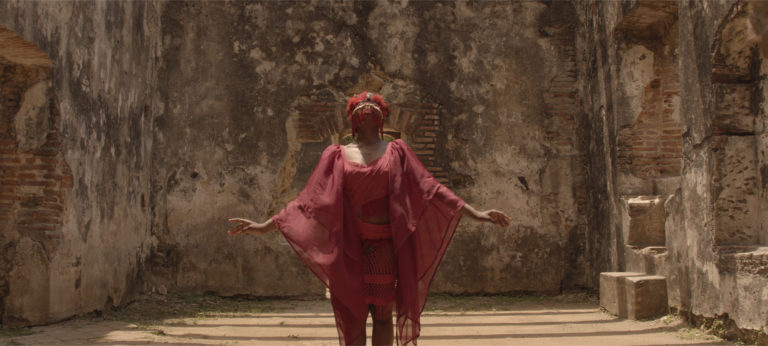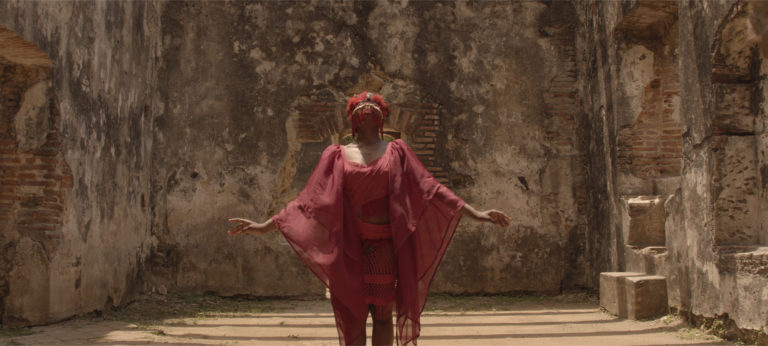 Join us for a gallery walkthrough of the exhibition This Place We Once Remembered featuring works by former Winter Workspace artists-in-residence who draw from lived experience and historical records to conjure memories that move between ancestral pasts and speculative futures. Exhibiting artists Dana Levy and Yelaine Rodriguez discuss their works on view as they relate to the permeable nature of memory, both on an individual and historical scale. Following the walkthrough, the artists will screen related video and film projects. 

In the first screening, Levy presents three generations of family in This Was Home (2016): the artist's maternal grandfather, the artist's father and the artist herself as they return to their childhood homes in Sosnowiec, Poland; Cairo, Egypt; and Atlanta, Georgia, respectively, with each chapter contributing to the age-old history of Jewish wanderings. The second screening will present EBBÓ (Sacrifice), a short 2021 film directed and produced by Rodriguez that expresses and reinvents Afro-Caribbean religious, aesthetic and musical heritage. Based on the 1998 opera-oratorio by Cuban composer Louis Aguirre and librettist Rafael Almanza, the film is centered on the story of Queen Apetebí who, in refusing to sacrifice her fantastical pet bird to Orula, her protector Orisha and master of divination, brings on the destruction of her kingdom and her own demise. 

The screening will be followed by a Q & A. 

Registration encouraged but not required, online or by calling 718.549.3200 x251. 

Questions? Please email us at information@wavehill.org or call the telephone number and extension above.  

Glyndor Gallery is wheelchair-accessible. There is an accessible, ground-level entrance at the front of the building with an elevator that provides access to the gallery level. The Sunroom Project Space can be accessed with an ADA-compliant ramp. The restroom on the gallery level is all-gender and ADA-compliant.
Dana Levy 

Dana Levy 

Born in Israel to Egyptian and German parents, Levy was raised in the United States, Israel and the United Kingdom; she currently lives and works in New York, NY. She has had solo and group exhibitions at such venues as Saint Louis Art Museum, MO; Israel Museum, Jerusalem; The Wexner Art Center, Columbus, OH; Center for Contemporary Art, Tel Aviv; Fridman Gallery and Nicelle Beauchene Gallery in New York, NY; 12th Berlin Biennale for Contemporary Art, Germany; The Bass Museum, Miami, FL; Kadist, San Francisco, CA; Videonale Bonn, Germany; and Screen City Biennale, Stavanger,  

Norway. Levy participated in the Winter Workspace residency at Wave Hill in 2014. She earned an MA in Electronic Imaging at Duncan of Jordanstone College of Art, Dundee, Scotland, and a BA from the University of the Arts London, Camberwell College of Arts.

Photo: Zac Hacmon. Courtesy of the artist.

Yelaine Rodriguez 

Yelaine Rodriguez 

An Afro-Dominican artistic scholar, educator, independent curator, cultural organizer and writer, Rodriguez lives and works in the Bronx, NY. Rodriguez has exhibited in various venues in the U.S. and internationally, including El Museo del Barrio, Photoville, American Museum of Natural History, and Wave Hill, all in New York City; Mexic-Arte Museum, Austin, TX; El Centro León Biennial XXVII, Dominican Republic; Sur Gallery & Critical Distance Centre for Curators, Canada; Wereldmuseum, Rotterdam, Netherlands; and La Escocesa, Barcelona, Spain. Residencies include an Innovative Cultural Advocacy Fellowship from the Caribbean Cultural Center African Diaspora Institute, New York, NY; The Latinx Project Curatorial Fellowship at New York University; and the Bronx Museum's AIM Program. She was a Van Lier Fellow/Winter Workspace artist-in-residence at Wave Hill in 2018. Rodriguez earned a BFA from Parsons School of Design and an MA from New York University.

Photo: Elia Alba. Courtesy of the artist.
What's happening at Wave Hill