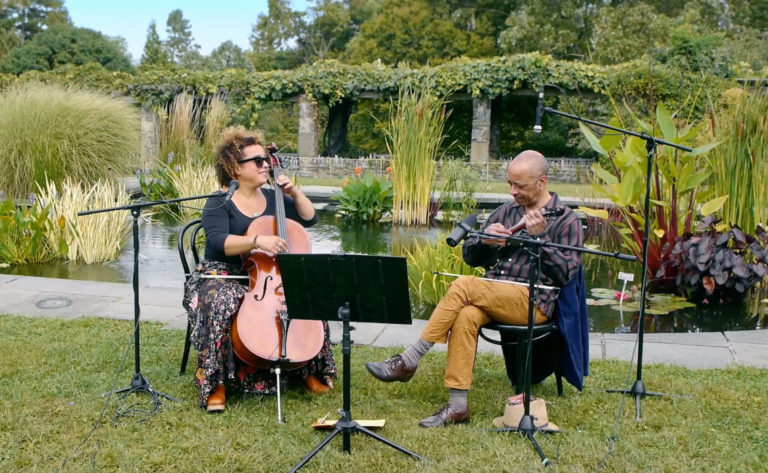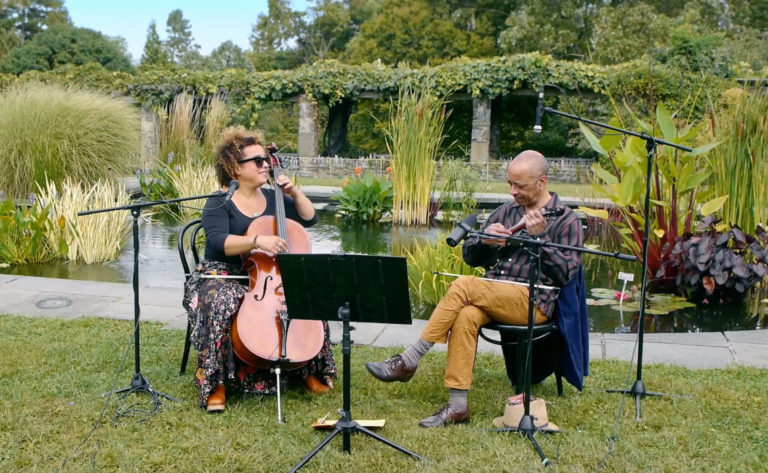 Performers:
Charlie Burnham - Violin, Vocals
Marika Hughes - Cello, Vocals
Setlist:
Black Girl/Motherless Child - Traditional - Arranged by Charlie Burnham
Water Above You - Charlie Burnham
Bicycle Boy - Marika Hughes
Kush - Nasheet Waites, Marika Hughes
Don't Ask - Charlie Burnham
Waltzing Maria - Charlie Burnham
This performance is the second in a series of three virtual concerts that bring together artists who have established relationships with Wave Hill as past performers or who were scheduled to perform before the pandemic shutdowns.
Refresh this page at 7pm on February 10 to view the premiere of Marika Hughes and Charlie Burnham in the Aquatic Garden.
Charlie Burnham

Charlie Burnham

Charlie Burnham is an American violinist and composer. His imaginative sound transcends genres and takes influence from the deepest cuts of the bluegrass, delta punk, free jazz, blues, classical and chamber jazz repertoire. Known for his work with James "Blood" Ulmer, Charlie has become a first call for many experimental music units and has worked with Cassandra Wilson, Steven Bernstein, Susie Ibarra, Peter Apfelbaum, Henry Threadgill, Ted Daniel, Medeski, Martin & Wood, String Trio of New York, 52nd Street Blues Project, Hidden City, We Free StRings, Improvising Chamber Ensemble, and the Kropotkins. As a songwriter and composer, Burnham's original music is other-worldy, personal, and a hand-held expedition through open roads and dark alleys.

Marika Hughes

Marika Hughes

Marika Hughes is a native New Yorker, a cellist, singer, a storyteller on The Moth. She grew up in a musical family – Marika's grandfather was the great cellist Emanuel Feuermann, and her parents owned a jazz club, Burgundy, on the Upper West Side. As children, she and her younger brother were both regulars on Sesame Street, and attended the beloved Manhattan Country School. Marika continued her education in the double degree program at Barnard College and the Juilliard School, graduating with BAs in political science and cello performance, respectively.
What's happening at Wave Hill