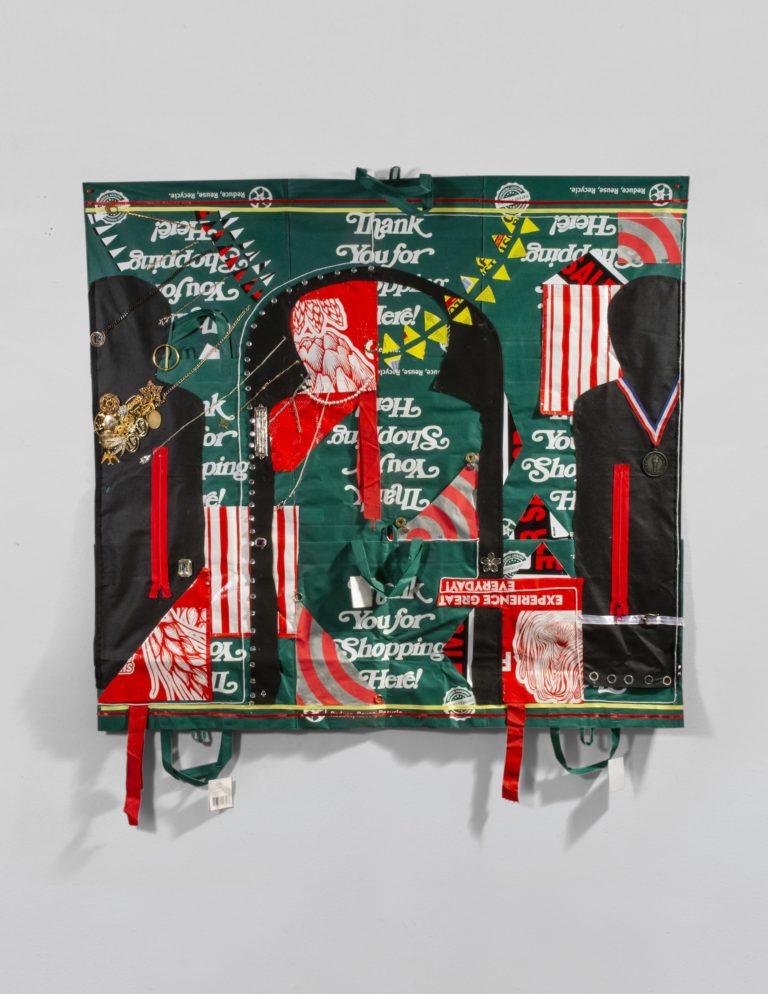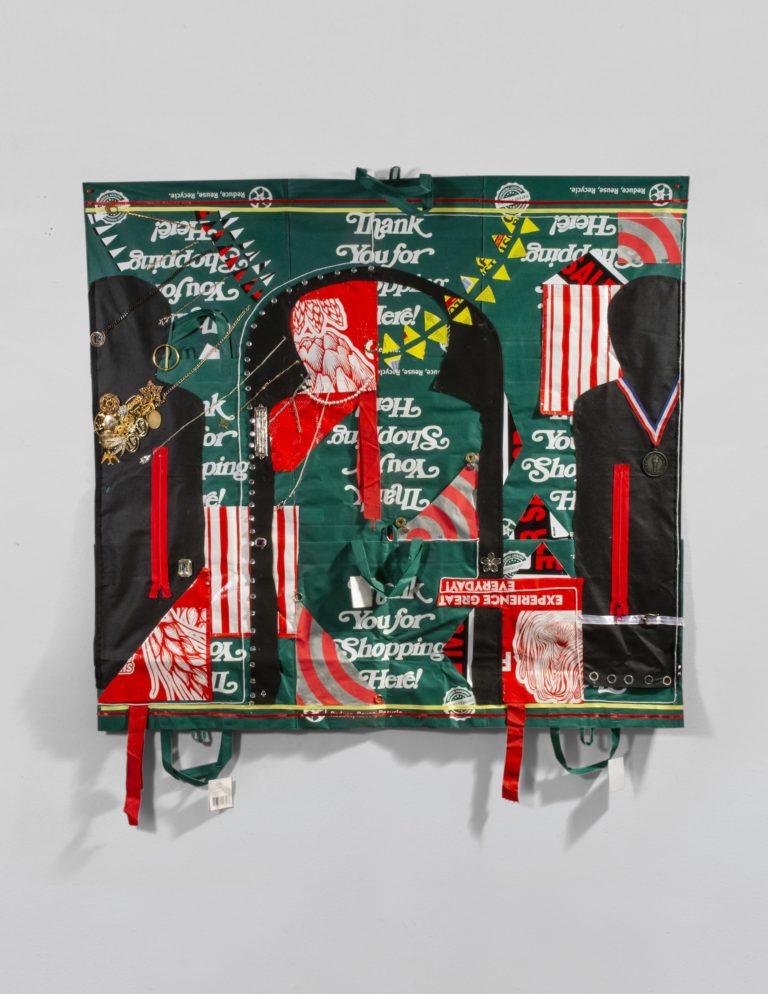 What We Leave Behind features intergenerational artists Michael Kelly Williams, Dennis RedMoon Darkeem and Estelle Maisonett, who work with found materials to transcend the mundane and overlooked. Made up of debris sourced in and around the city, their work is intertwined with the urban fabric and the communities that they represent. All three artists have strong ties to the Bronx. Darkeem and Maisonett were born and raised in the borough, and Williams had a studio in the South Bronx for 13 years, and taught art classes in Bronx public schools for more than 20 years until his retirement in 2016. The discarded objects that they use as art supplies speak to connections with both personal and collective histories, suggesting shifting perceptions of value, use and disuse, longevity and ephemerality, all of which form a portrait of the culture that accumulated and consumed these goods.
Working with materials that some would consider rubbish, these artists show their concern for the environment by removing this debris from the waste stream. Williams creates sculptures and works on paper inspired by music, literature, nature and the art of the African diaspora, driven by such concepts as the spiritual in art, environmental issues, equality, justice and Afrofuturism. In his sculptural assemblages, installations and collages, Darkeem blends indigenous practice and urban culture to guide the viewer toward an understanding of their connections to history and to reflect on the ways that the past, present and future intertwine. Maisonett uses found objects, photographs and fabric to create life-size collages that document her lived experiences. Repurposing garments and materials, she creates environments that feature figures whose bodies are absent but implied through clothing to examine notions of identity, sense of place, consumerism and material culture.

This exhibition is organized by Gabriel de Guzman, Director of Arts and Chief Curator, and Eileen Jeng Lynch, former Senior Curator of Visual Arts. The curatorial concept for the exhibition was initiated with Jesse Bandler Firestone, former Assistant Curator. Cecilia Lu, Curatorial Assistant, has provided additional curatorial and production support.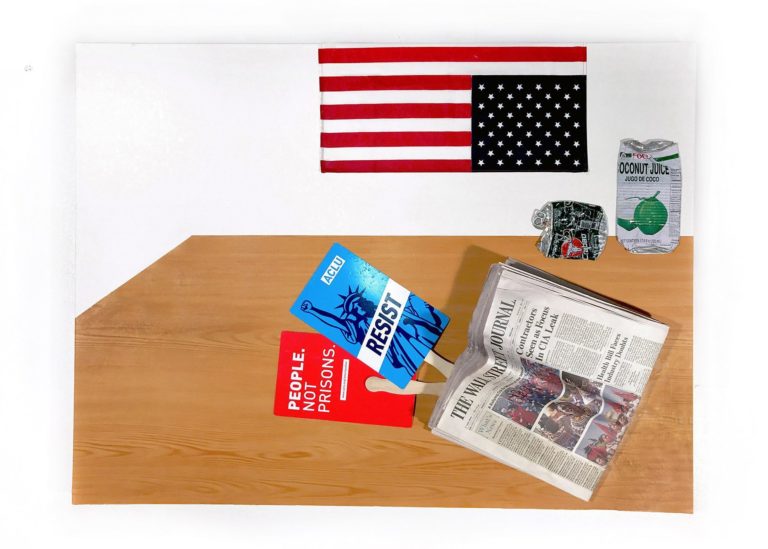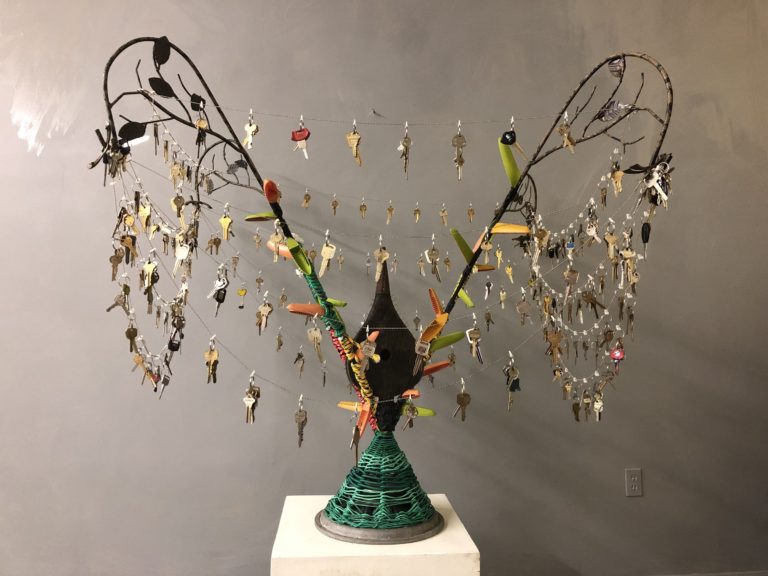 Estelle Maisonett

Estelle Maisonett

Bronx-born interdisciplinary artist Estelle Maisonett draws from her upbringing and Puerto Rican-Mexican ancestry to investigate socio-cultural associations to identity, race, class, gender and sexuality. Maisonett's work has been exhibited at The Bronx Museum of Arts, chashama, Silent Barn, Field Projects, BronxArtSpace, El Barrio ArtSpace at PS109, Latchkey Gallery, Longwood Art Gallery, The Andrew Freedman Home, Hostos College, The School of Visual Arts and SUNY Purchase College, among others in New York. Maisonett is also an arts community worker, lecturer, and educator in schools, nonprofit organizations and community run spaces in New York City. She received her BFA from SUNY Purchase College and is pursuing her MFA at the Yale School of Art.

Dennis RedMoon Darkeem

Dennis RedMoon Darkeem

Dennis RedMoon Darkeem is an interdisciplinary artist and art educator who lives and works in the Bronx. He is a member of the Wind Clan within the Yamassee Yat'siminoli tribe. Darkeem is inspired to create artwork based on the familiar objects he views through his daily life and travels. Since devoting himself as a professional artist in the early 2000s, his work has developed in a way that incorporates social critique and political issues that affect contemporary life. Darkeem has exhibited his work at the Museum of the City of New York, Brooklyn Museum, Bronx Museum of the Arts, Wave Hill, Smack Mellon, Rush Arts Gallery, Pelham Art Center and many other art and educational venues. He has received fellowships and awards from the New York Foundation for the Arts, NYC Teachers Foundation, the Marko Roth Scholarship and the Price Waterhouse Fellowship. Darkeem is the founder of Redmoon Arts Movement, a non-profit that provides resources to Bronx youth preparing for a career in the arts.

Michael Kelly Williams

Michael Kelly Williams

Michael Kelly Williams grew up in Detroit, Michigan, where he attended Cass Technical High School. He graduated with a BFA in printmaking from the University of Michigan and an MFA in sculpture from Brooklyn College. He went on to study and teach in New York City at Robert Blackburn's Printmaking Workshop. Williams was also an educator with the New York City Department of Education system in the Bronx for many years. His work has been exhibited nationally and internationally in China, Morocco, Canada, India and Japan. Williams has had residencies at The Studio Museum in Harlem, Materials for the Arts, Long Island City, and Wave Hill. He received the first Robert Blackburn Printmaking Workshop Legacy Publishing Fellowship at the Elizabeth Foundation and was awarded a Pollock-Krasner Grant. Williams's work can be found in several museums and art institutions, such as The Schomburg Center for Research in Black Culture, New York, NY; The Library of Congress, Washington, DC; The Detroit Institute of Arts, Detroit, MI; and the Philadelphia Museum of Art. He has been commissioned for numerous public art installations, including the MTA Arts & Design Intervale Subway Station in the Bronx, as well as PS82 Hammond School in Queens, NY.

Also on view September 10–October 16 at FiveMyles in Brooklyn is Michael Kelly Williams: A Retrospective.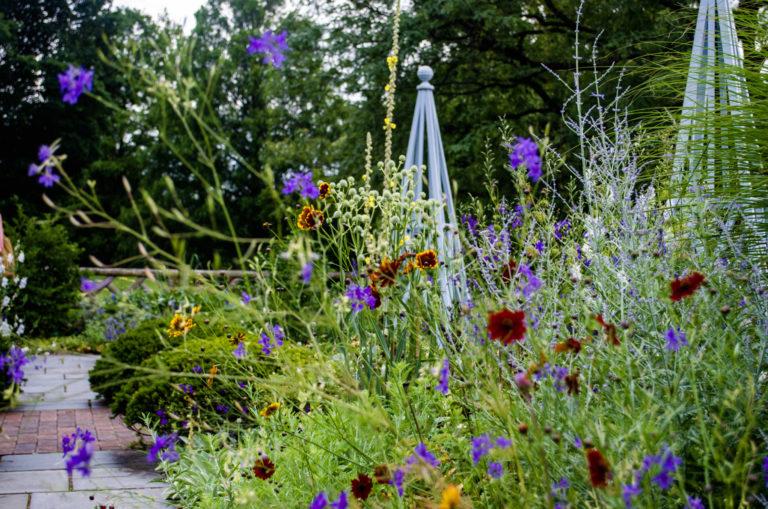 Support for the Visual Arts Program is provided by the Lily Auchincloss Foundation; Milton and Sally Avery Arts Foundation; National Endowment for the Arts; New York City Department of Cultural Affairs; New York Community Trust Edward and Sally Van Lier Fund; New York State Council on the Arts with the support of the Office of the Governor and the New York State Legislature; Pollock-Krasner Foundation; and by the Cathy and Stephen Weinroth Commissioning Fund for the Arts.