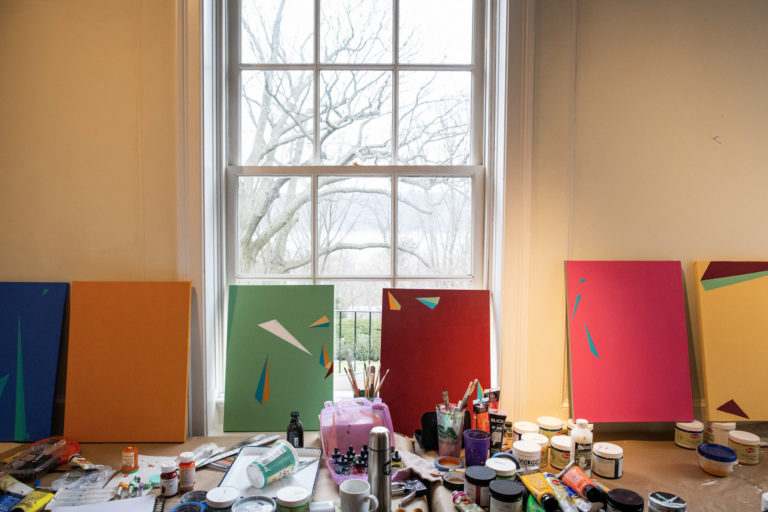 Price
Free
Register for Virtual Events to Meet with Artists
The Winter Workspace is a six-week program that provides artists each year with free studio space, a financial stipend and access to Wave Hill's living collection. Since it began more than ten years ago, the Workspace has supported more than 100 artists. During the Winter Workspace, artists have intimate access to the greenhouses and to horticultural and curatorial staff. Experimentation is encouraged and artists expand their practices while working onsite. Artists also engage with our audiences through our Drop-In Mondays and Open Studio events—currently virtual. See calendar for listings. At the core of the Winter Workspace is the recognition that creating art within the context of a garden is a unique experience.

Participating artists are Francheska Alcántara, Rachelle Dang, Sean Desiree, Emilie Gossiaux, Isaac Soh Fujita Howell, Carlos Jiménez Cahua, Yo-Yo Lin, Mary Mattingly, Dianne Smith, and New York Community Trust Van Lier Fellows Jake Brush and Katherine Miranda.

Session 1: January 4–February 13

Sean Desiree, Emily Gossiaux, Isaac Soh Fujita Howell, Carlos Jiménez Cahua, Yo-Yo Lin and Mary Mattingly
Session 2: February 16–March 28
Francheska Alcántara, Rachelle Dang, Dianne Smith, as well as New York Community Trust Van Lier Fellows Jake Brush and Katherine Miranda
Sean Desiree

Sean Desiree

Sean Desiree is a self-taught artist, builder and furniture-maker born and raised in the Bronx, now living in Albany, NY. They reflect on the built environment and create artworks, shelters and objects for the protection and safety of Black queer/trans folks. Combining wood from found pallets, materials from demolished buildings and discarded scraps, their 2D pattern-based works and 3D sculptures map various aspects of public space and provide sanctuary for themselves and their community to survive and thrive.

As a young person, Desiree traveled from Marble Hill public housing to Riverdale to attend school at PS 81 and MS 141. During the Workspace, they will retrace their commute, and explore the memories that are recalled and the differences they encounter between Marble Hill and Riverdale. These childhood memories and adult experiences will be translated into sculptural maps made of found objects, personal items, recorded sounds and elements from nature.

Emilie Gossiaux

Emilie Gossiaux

Emilie Gossiaux is an interdisciplinary artist from New Orleans, LA, based in New York City. Since 2010, when she lost her vision, Gossiaux relies solely on her sense of touch and her body's response to non-visual stimuli, and has developed a profound sensitivity to texture, spatial orientation and materials. She utilizes this heightened awareness to explore dreams, memories and multi-sensory experiences in her work.

Inspired by recent dreams of Wave Hill, Gossiaux will explore the garden through her body and senses. Using natural materials gathered from the grounds, Gossiaux sculpts objects that tactilely depict her dreams and conscious experiences in green spaces. Gossiaux will also study the garden through non-visual observation and translate her experiences into sketches that reflect her encounters with nature.

Isaac Soh Fujita Howell

Isaac Soh Fujita Howell

Through sculpture, painting and storytelling, Isaac Soh Fujita Howell explores how we interact with each other and cohabit with Earth. Howell's inquiries are inspired by lived experiences. including an apartment fire, visiting areas after natural disasters and his Japanese-American identity. In creating experimental works, Howell prototypes and hypothesizes new possibilities for ecologically minded urban design and human-to-human interaction.

Teasing out the social aspects of visiting the garden, Howell explores ways to prompt spontaneous social interaction. Researching plant lists provided by Wave Hill's horticulturalists, Howell will create a recipe for a tea that can be brewed from plants found in the gardens. He will also produce a series of sculptural furniture pieces designed for serving the tea and nurturing connections between other peoples, cultures and nature.

Carlos Jiménez Cahua

Carlos Jiménez Cahua

Carlos Jiménez Cahua was born in Lima, Peru, and lives in New York. Jiménez Cahua's work is centered on Indigenous people and culture of the Americas, particularly but not exclusively that of the Andean region where he is from. Using a range of mediums and methods of inquiry, Jiménez Cahua examines Indigenous artifacts, customs and traditions from Indigenous culture from pre-history all the way to present-day practices.

While at Wave Hill, Jiménez Cahua will embark on research through a series of open-ended gatherings, field trips and culinary events connecting people with the Indigenous history of the land they occupy. Through these connections, Jiménez Cahua hopes to inspire a deeper and more emotional appreciation for local ancestry, pre-colonial history and Indigenous people.

Yo-Yo Lin

Yo-Yo Lin

Yo-Yo Lin is a Taiwanese-American, interdisciplinary media artist who explores self-knowledge in the context of embodiment, disability and technology. Through data-mapping and visualization, Lin reveals and re-values the complex realities of living with chronic illness. Her lived experiences are often translated into 'memoryscapes,' immersive and multi-sensory installations that combine soundscapes and visual animations. By developing methodologies of self-reflection and rituals of care for chronically ill and disabled communities, Lin facilitates spaces for mapping intersectional trauma and building living archives of resilience.

Through a virtual workspace, Lin will continue developing her "Resilience Journals," a soft data-tracking tool that offers chronically ill and disabled folx a way to catalogue their emotional, psychic and physical experiences. The soft data is used to build new language around illness and trauma and, in turn, offer opportunities for collective advocacy. In addition to her "Resilience Journals," Lin will work with Wave Hill staff to explore what it means to have mediated access and intimate contact with the garden while not being physically present.

Photo: Zach Filkoff

Mary Mattingly

Mary Mattingly

Born in Rockville, CT, and living in Brooklyn, NY, Mary Mattingly's practice combines permaculture, horticulture and sculpture to model relationships between people and the land they occupy. Most of her projects invite interdisciplinary collaboration around local, environmental and social justice issues. Through site-specific interventions, Mattingly provides opportunities for public engagement, knowledge sharing and collective action.

Mattingly will continue to develop the "Ecotopian Library," a long-term project started in the fall of 2019. Inspired by ecological utopias, the "Ecotopian Library" catalogs multiple disciplines, cultures and community stakeholders in order to create a toolkit for questioning present conditions and offering alternate visions for the future. Through interactions with Wave Hill's staff and visitors, Mattingly will use the Workspace experience to generate an understanding of the role public gardens play today and in the future.

Francheska Alcántara

Francheska Alcántara

Bronx-based, Afro-Caribbean-Latinx artist Francheska Alcántara creates sculptures, installations and performances that investigate the intersections of Caribbean culture and diaspora; ritual, private and public space; and myth. Alcántara explores slippages in narratives of fragmentation and longing, seeking to generate inclusivity and deeper human connections.

Using Wave Hill's grounds as inspiration, Alcántara will create new installations examining the interplay of bodies and nature. Investigating refractions of light and air, their work seeks to engage various levels of awareness and psychological states. Alcántara will also examine material practice and engagement in the context of social distancing in the pandemic.

Jake Brush

Jake Brush

New York Community Trust Van Lier Fellow Jake Brush combines digital animations, glitches and physical sculpture to realize surreal, comic and critical reflections on how technology mediates our reality and lived experience. Through performance, Brush also uses their body to characterize political figures, local heroes and family members to create a world where nothing is sacred, but everything has meaning.

Through photography, video shoots, and digital processing Brush will begin to reimage the garden as a space caught between reality and desire. As Brush documents the garden and distorts these images, they will create an index of images and videos that will later be used in their Sunroom Project. In addition, Brush will be experimenting with new ways of displaying these works, including printing on metal substrates.

Rachelle Dang

Rachelle Dang

Rachelle Dang combines a practice based in sculpture and installation with research into Pacific colonial history, weaving personal narrative—including her familial history in Hawaii, where she was born and raised—with ongoing research into the ecological legacies of imperialism. Examining botanical sciences and forms of environmental and social control, Dang references the transportation of plants across oceans, reflecting on notions of displacement and complex journeys.

At Wave Hill, she plans to spend time in the conservatory studying tropical plants from Pacific and Caribbean regions and researching their histories. Through exploration of natural forms and archival images, Dang exposes violent colonial histories and makes connections between the land and body.

Katherine Miranda

Katherine Miranda

Mining their family history and lived experiences in the Bronx, New York Community Trust Van Lier Fellow Katherine Miranda creates 2D and 3D works that combine sentimental images, cultural signifiers and gathered materials. Through mixed-media works and installations, Miranda explores the nuances of living as a non-binary Latinx person in New York.

Honoring the painful but inspiring story of their grandparents' relationship, Miranda will work towards a structural shrine to honor their story. Referencing two specific photographs of their grandmother and grandfather sitting in a chair, Miranda will research and prototype a sculptural altar for both personal and collective reflection. During the workspace, Miranda will familiarize themselves with Wave Hill's history and visitors to glean inspiration for how to construct their Sunroom Project.

Dianne Smith

Dianne Smith

With a background in painting and sculpture, artist and educator Dianne Smith creates visual interventions that examine notions of identity, race and politics in the African diaspora. Engaging with the community and developing place-based installations, Smith's work provides multi-generational experiences.

At Wave Hill, Smith will investigate the Bronx, revisiting the South Bronx, where she grew up, and the areas surrounding Wave Hill. She will chronicle this exploration through a site-specific installation, sculpture and photography. In this new body of work, Smith juxtaposes the urban landscape and that of the gardens, inviting viewers to make connections between the various areas of the Bronx.