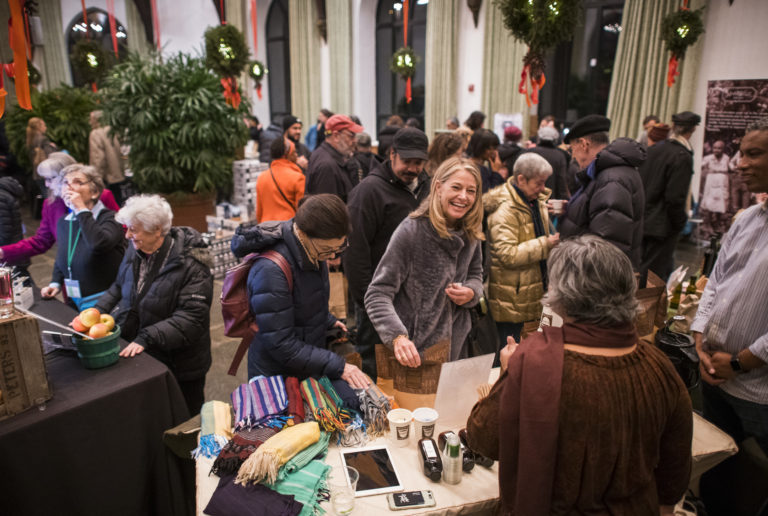 When
Price
Market entry free with admission to the grounds. Admission is free for Members
In festively dressed Wave Hill House, the Artisan Market is back and open 12–4PM, Saturday and Sunday, December 3 and 4! Support our local artisans while finishing your holiday shopping! Bothe the Mark Twain Room and Armor Hall are ASA-accessible.
Visit Wave Hill's favorite handcrafted jewelry makers, Megan Patrice Riley, Susan Rogers and Oblik Atelier, each with a different sense of spectacular style. For stunning scarves and accessories, our two favorite vendors are back, Designer Women's Scarves by James Paul Cheung—cashmere perfection—and amazing prints on silk from textile artist Jessie Zhao. Sample spirits from Hudson Valley, including staff-favorite Hetta Glogg, Coopers Daughter Spirits and, new to us this year, Le Mone, which offers a light aperitif just right for the holidays.

We welcome additional, new, hand-chosen vendors this year, including Saltbox Press's amazing letter-press stationery and calendars, Silda's Jam's, naturally sweetened with New York State maple syrup, Virginia Jane's Homestead, made with Hudson Valley jams and syrups.
Each purchase over $50 in the Shop at Wave Hill or our vendors will receive a raffle ticket for a wonderful array of prizes, including Holiday Tea for Two, a Wave Hill Family Membership, a behind-the-scenes tour of the Marco Polo Stufano Conservatory and so many more! As a special thank-you, Wave Hill Members receive two tickets for each purchase! The drawing will be on Sunday at 3:30PM, and the winner need not be present to win.
Enjoy a warming meal in our Cafe, and listen to holiday musical performances presented in partnership with the Bronx Arts Ensemble!

On Sun, December 4, 11–11:30AM & 12:30–1PM, the Celia Cruz Performing Arts High School String Quartet performs, with Gabriel Oberhofer and Sophie Kuliyeva on violins, Venus Rodriguez on viola and Serenity Laird on cello.

Photo: Joshua Bright

More from Home for the Holidays Weekend