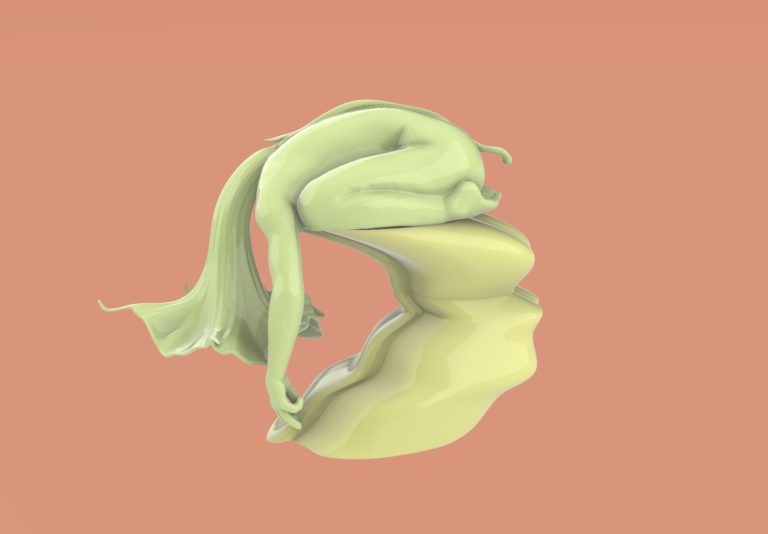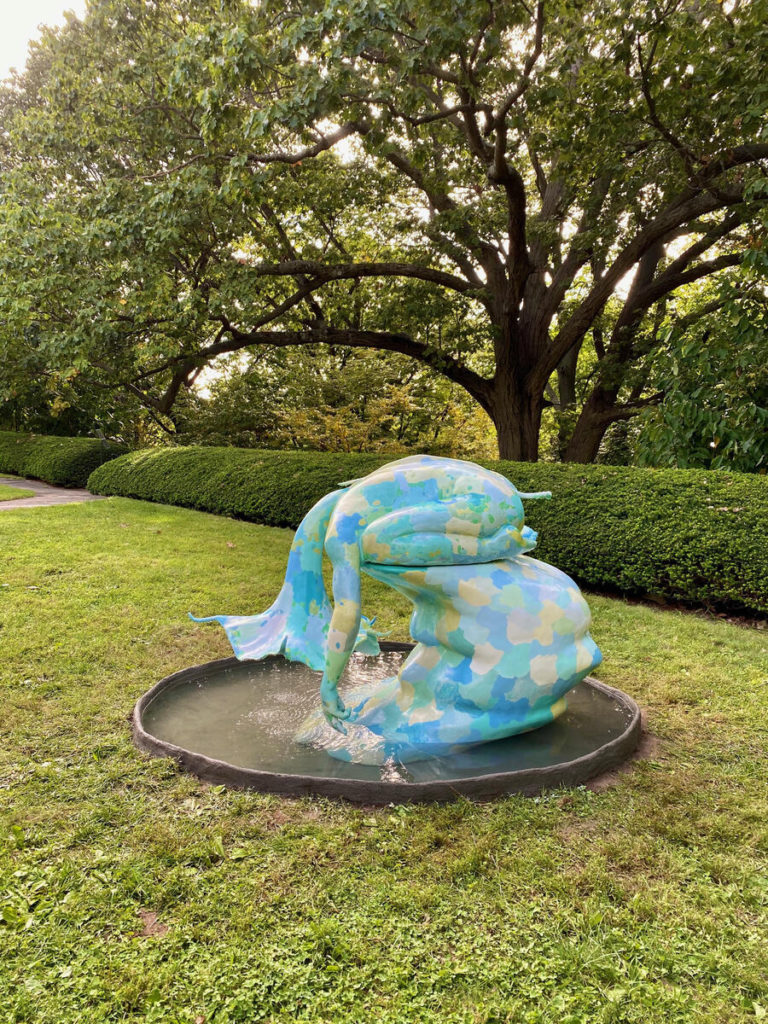 Meet the Artist: October 22, 2PM. See event details here.
Sited on the lawn behind Glyndor Gallery, Gracelee Lawrence's arresting sculptural fountain explores the relationship between the body, propagated plants and technology—connections between humans and the natural world—as well as the sociopolitical histories of gardens. On top of a pedestal is a mottled, yellow-green biocyborg comprising a human-like body lying over its knees, a single dangling arm, its head a flowering angel's trumpet (Brugmansia) drooping toward a basin of water, and a tail that resembles the plant's stem.
Lawrence's sculpture reinforces the idea of a garden as a cultivated space. In referencing a hermaphroditic flower, Lawrence's work touches upon gendered terms in gardens where the propagation of flowers is often feminized by human social constructs. The bell-shaped flower of the angel's trumpet is alluring in form, color and fragrance, but the plant is dangerous—poisonous if ingested. In the work, the flower hangs downward toward a water-filled basin as if the biocyborg reflects on its own mortality. Lawrence explains: "The flower itself represents a potential for agency over one's body, grief, sadness, and a confrontation with mortality. The potential for self-destruction, and concurrently ecological destruction, is omnipresent in this beguilingly soft form crying into the basin." In the context of the COVID-19 pandemic, reflections on mortality surface in unaccustomed ways.
Lawrence juxtaposes digital and physical fabrication in her process, commenting on how our realities can shift and become fragmented with the burgeoning use of technology in a capitalist-driven, material society. The work provides a hopeful, post-humanist perspective in which boundaries between human, animal, and technology are transcended.
Lawrence had a solo exhibition at Thierry Goldberg Gallery, New York, NY in 2019. She has participated in group exhibitions at Postmasters Gallery, New York, NY; Tiger Strikes Asteroid, Los Angeles, CA; and Wassaic Project, Wassaic, NY, among others. Lawrence is a Visiting Assistant Professor of Sculpture at the University of Albany. She is also the founder of Virtual Studio Visit Network (VSVN) on Instagram, a member of the collective Material Girls and a 2019 Jerome Fellow at Franconia Sculpture Park. Lawrence received an MFA from the University of Texas, Austin and an BA with honors from Guilford College, NC.
Meet the Artist: October 22, 2PM. See event details here.
The Sunroom Project Space is supported in part by the Milton and Sally Avery Arts Foundation and the National Endowment for the Arts. Additional support for the Visual Arts Program is provided by The New York Community Trust Edward and Sally Van Lier Fund; New York State Council on the Arts with the support of Governor Andrew M. Cuomo and the New York State Legislature; The Pollock-Krasner Foundation; Stavros Niarchos Foundation; and by the Cathy and Stephen Weinroth Commissioning Fund for the Arts.