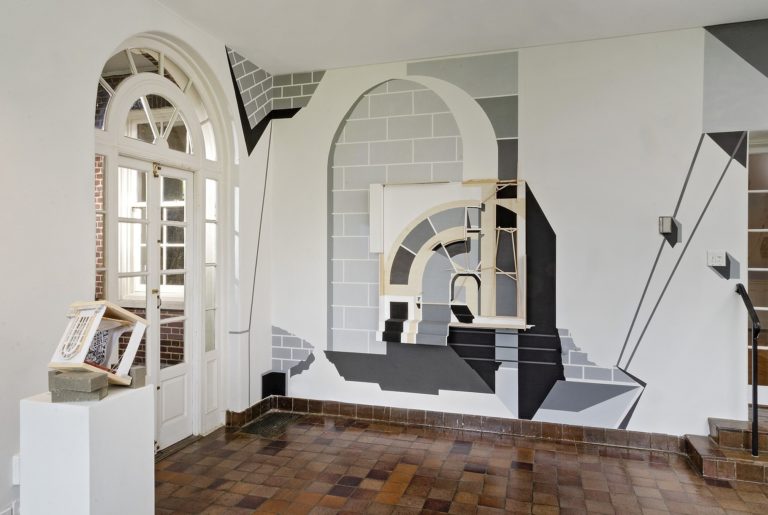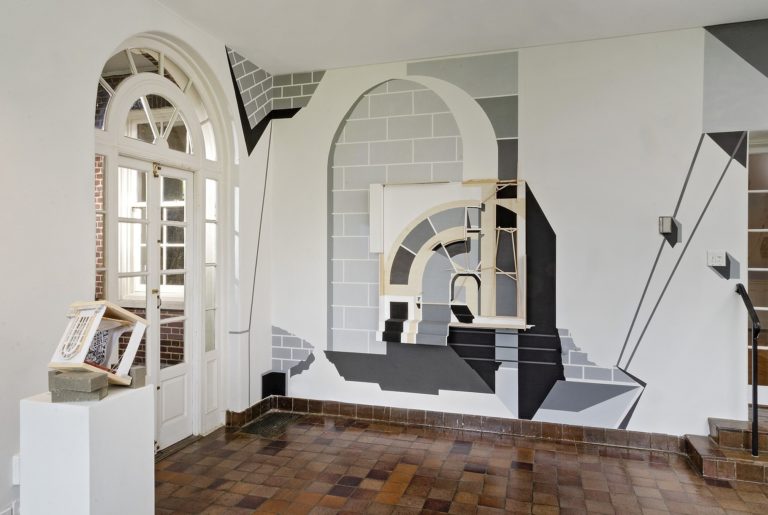 In the Sunroom, Amir Hariri creates multiple installations constructed of concrete, wood and other building materials—along with a wall drawing—that connect to his architectural research of the Bronx and Wave Hill. His project Fracturing Half Moon features the visceral and formal qualities of decay as a way to communicate history, memory and experience of particular sites. Using building deterioration as a metaphor, Hariri explores rapid technological and developmental transformations, as well as their social and ethical implications.
With a background in architecture and engineering, Hariri subverts traditional design by focusing on the transience and beauty of decay. For this project, he hones in on the Sunroom's distinctive arched windows, which function as links between inside and outside, and natural and human-made landscapes. With attention to the sources of light and shadows, Hariri fabricates three-dimensional wooden structures. A couple mimic the window frames and panes. Another is a silhouette of a window on a boarded-up section. Yet another shows a reflecting pool composed of brick, pavers and water. With these different stages of dilapidation and rebuilding, Hariri imagines and reimagines new structures forming from fragmentation—signs of failure and progress.
As Hariri's works are constructed from memory after he visits a site, he focuses on his impression of an experience. He cites French philosopher Gaston Bachelard's The Poetics of Space, which applies phenomenology to architecture—including lived experiences in buildings and nature as well as personal or emotional responses. Hariri recalls that his exposure to revolution and war as a teenager in Iran "have allowed [him] to draw parallels between building deconstruction and despair while exploring the resiliency of Iran's exiled inhabitants."
Hariri's solo exhibitions included Dimensional Interventions at Azarian Mccullough Gallery at St. Thomas Aquinas College, Sparkill, NY, as well as The Myth of Creation at the Cooperstown Art Association in Cooperstown, NY. Group shows have been held at Denise Bibro Fine Art, EFA Project Space, Children's Museum of Manhattan and Shirin Gallery in New York, as well as at TAG bxl, Brussels, Belgium, and Appleton Museum of Art, Ocala, FL. Hariri received his BS in Architectural Engineering from University of California San Diego, La Jolla, CA, and his MS in Engineering from Cornell University, Ithaca, NY.
Sunroom Project Space 2019

Wave Hill commissions a diverse group of emerging New York-area artists to create a new body of work or site-specific project for a solo exhibition in the Sunroom Project Space. The Sunroom provides an engaging setting for artists to contemplate, explore and ultimately transform the gallery using various materials and techniques. The seven 2019 artists represent a variety of approaches, including projects that relate to Wave Hill's grounds, history and architecture. They engage with the community by working with participants in our public education programs, and investigate the history of horticulture and botany in unique ways.