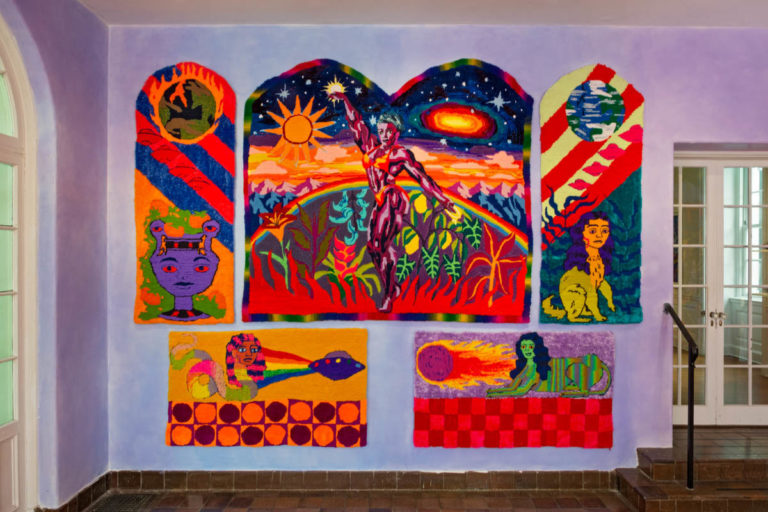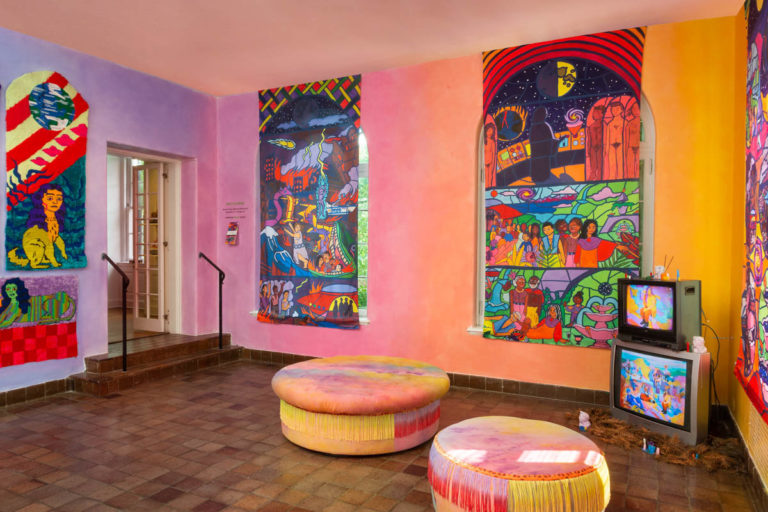 Emily Oliveira creates a vibrant installation using large-scale textile pieces, sculpture, and video to transform the Sunroom into a devotional space for a de-colonial, queer utopia. Inspired by the flora of Wave Hill during her 2019 Winter Workspace residency and by science fiction—particularly the writings of feminist authors Octavia Butler, Ursula K. Le Guin and Marge Piercy—Oliveira imagines an earth no longer constrained by capitalism. Reflecting on queer futurity and time travel, Oliveira constructs a narrative in which borders, binaries and hierarchies dissolve, and the worlds of the living and dead blend indistinguishably. Oliveira's installation broaches and reframes socio-political, cultural and economic topics that touch upon gender, class, race and sexuality.
The title refers to a world that has not yet occurred. Oliveira is drawn to science fiction because it "elasticizes our perception of the world as it is and, more importantly, as it could be." The artist illustrates a complex storyline in the translucent fabrics covering the light-filled windows, producing an ethereal, stained-glass effect. The textiles depict a narrative in which humans are rescued from an apocalyptic earth and transported to a paradisiacal future. When the humans return to earth, they strive to rebuild their home, only to discover that the distant "alien" utopia was, in fact, the future earth that they themselves are building. They must then travel back in time to rescue their past selves from the dystopian earth.|
A series of handmade rugs are installed to form an altarpiece that references both the space's arched windows and Catholic devotional art. Portrayed are a body-builder goddess and other mythological characters. Using textiles, the artist critiques the erasure of marginalized workers. Labor has the power to transform mass-produced materials into sacred objects and to transform the body in ways that subvert societal conventions of femininity. The artist's video A Vision of the Leisure-Dome focuses on the absence of labor—the artist and her friends lounge in a technicolor utopia. In our mortal reality, the power and ubiquity of capitalism seem inescapable, but Oliveira's paradise is free from these constraints. Oliveira quotes Ursula K. Le Guin: "Any human power can be resisted and changed by human beings."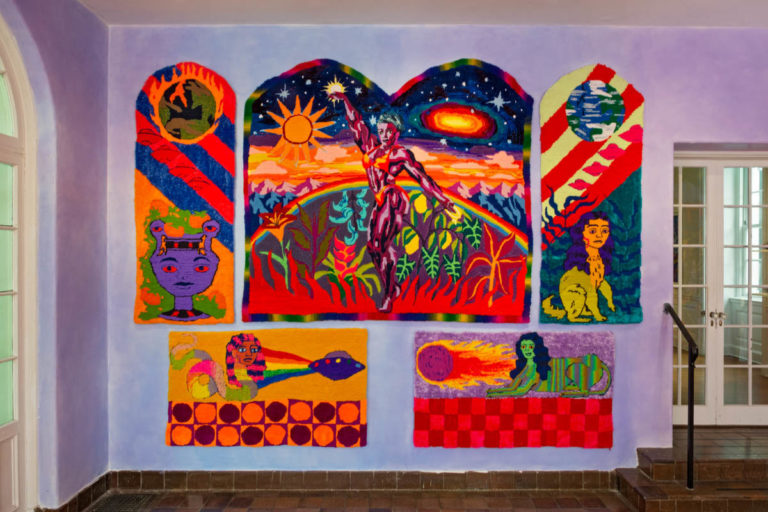 Sunroom Project Space 2019

Wave Hill commissions a diverse group of emerging New York-area artists to create a new body of work or site-specific project for a solo exhibition in the Sunroom Project Space. The Sunroom provides an engaging setting for artists to contemplate, explore and ultimately transform the gallery using various materials and techniques. The seven 2019 artists represent a variety of approaches, including projects that relate to Wave Hill's grounds, history and architecture. They engage with the community by working with participants in our public education programs, and investigate the history of horticulture and botany in unique ways.