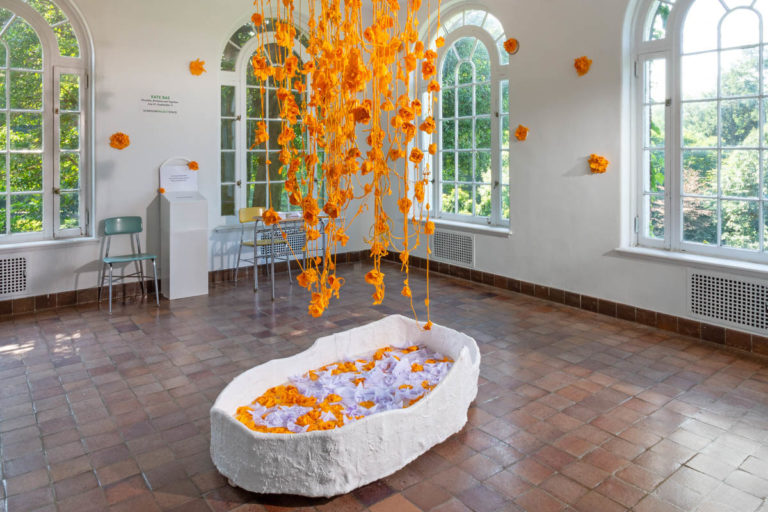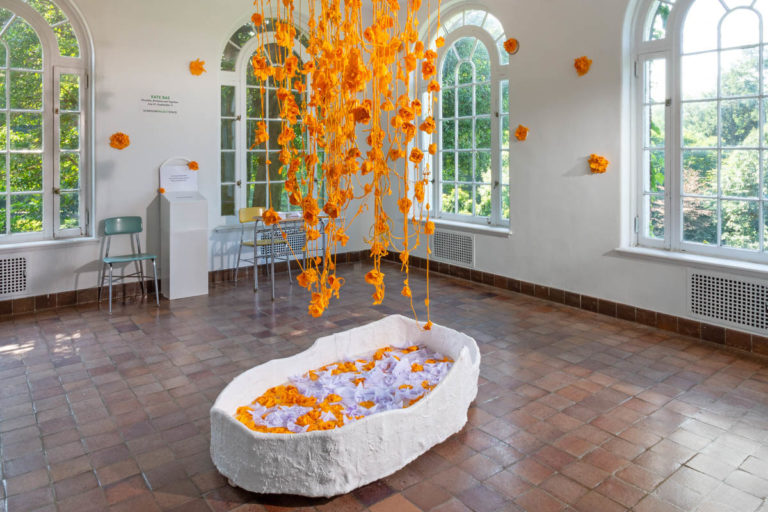 In the Sunroom, Kate Bae's immersive installation comprises flowers—created from acrylic paint—that drape from the ceiling and accumulate into a wishing well made by Bae, into which visitors are invited to reflect or float paper origami boats. The landscape evokes the ecosystem of Mount Halla on South Korea's Jeju Island. This mountain as well as North Korea's Mount Paektu are seen as holy symbols. Inspired by the possibility of amicable exchanges between South Korea and North Korea, Bae's work examines the resilience of people and nature through landscape.
The installation explores the artist's Korean background, history, border issues, peace and hope. Yellow Yuchae (canola) flowers bloom annually on Jeju Island, which developed a semi-matriarchal society in contrast to the patriarchal culture of the rest of the country. With the wishing well, Bae memorializes the 2014 tragedy of a ferry with 433 passengers (among them 325 high school students) on holiday that capsized as it traveled from Incheon, South Korea to Jeju Island, which is located furthest south. Two-hundred-ninety-nine of the students died, and yellow ribbons memorialized them and represented hope and support. Bae notes that although the dominant yellow brings up feelings of warmth, the color is tied to an eerie memory. The large piles of yellow flowers can be seen as a constant accumulation of new information and experiences for Bae as she struggles with a disconnect between her home country and the United States.
The abstract nature of the Korean language and ingrained Taoism also inform Bae's practice as well as her spirituality, which she carries into her labor-intensive process. Bae individually constructs each flower and leaf, employing paint and a medium—a unique formula that she produced. After they have almost dried, she carefully peels the painted forms and assembles the numerous, thin pieces, often intertwining them with lace. In stripping and revealing the various layers, Bae examines her own multifaceted identity.
Bae's work has been exhibited at Ground Floor Gallery, Brooklyn, NY; Trestle Gallery, Brooklyn, NY; Wausau Museum of Contemporary Art, Wausau, WI; Deiglan Gallery, Akureyri, Iceland; Visual Center for Contemporary Art, Carlow, Ireland; and Space One, Seoul, Korea, among others. She received her MFA from the Rhode Island School of Design, Providence, RI and BFA from the School of the Art Institute of Chicago.
Sunroom Project Space 2019

Wave Hill commissions a diverse group of emerging New York-area artists to create a new body of work or site-specific project for a solo exhibition in the Sunroom Project Space. The Sunroom provides an engaging setting for artists to contemplate, explore and ultimately transform the gallery using various materials and techniques. The seven 2019 artists represent a variety of approaches, including projects that relate to Wave Hill's grounds, history and architecture. They engage with the community by working with participants in our public education programs, and investigate the history of horticulture and botany in unique ways.