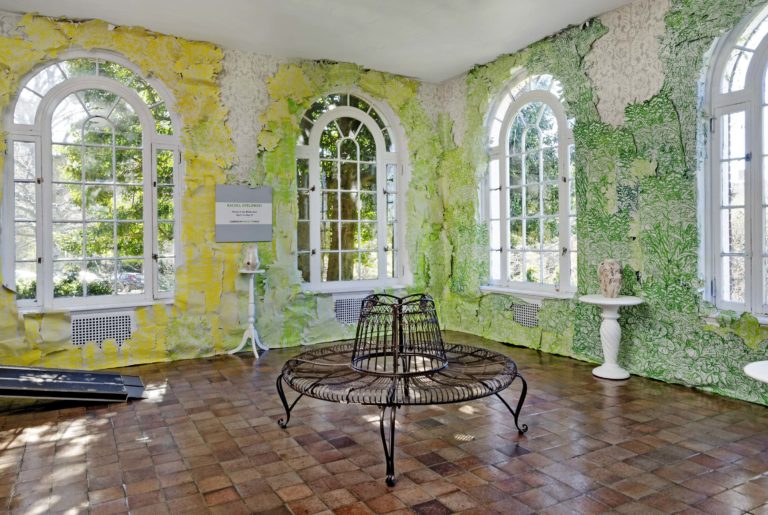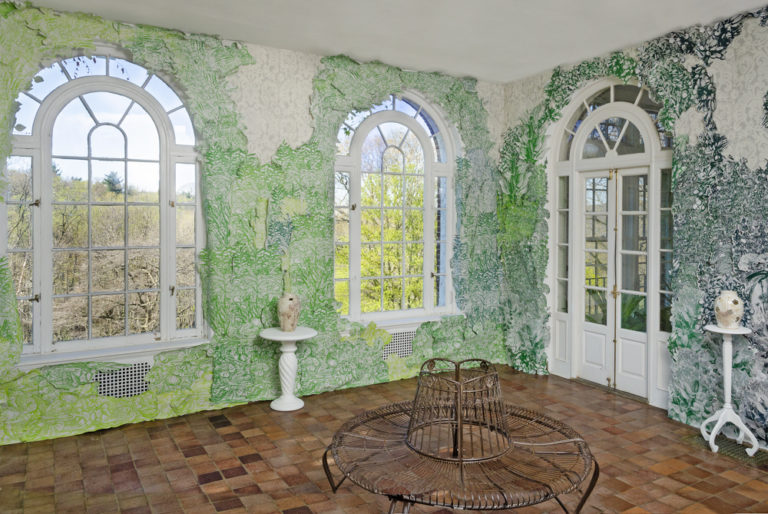 Rachel Sydlowski creates an installation addressing history and the natural world in Wave Hill's Sunroom. Parlor in the Wilderness comprises layers of historical wallpaper that serve as background for complex, screen-print collages of flora and fauna, architectural details and decorative motifs from Wave Hill, Inwood Hill Park and other surrounding green spaces in New York. Freestanding in the space are decorative objects made by Sydlowski and a wrought-iron, circular bench. Her project transforms the room into a collage of the past and present—a reconstruction and reinterpretation of traditional histories based on her research.
The color palette from the west to north walls of the Sunroom ranges from yellow to green to blue, addressing successive time periods. The yellow wall depicts prehistoric plants while the yellow-green wall focuses on agriculture, specifically corn, squash and climbing beans—three main crops of indigenous peoples in North America. The darker-green wall portrays rare plants and their aesthetic beauty, and the blue (north) wall features a contemporary environment filled with invasive and native plant species. Forms and details of Wave Hill's architectural features, as well as flora and fauna in various stages of growth and decay, are emphasized as part of each wall's tableau.
Investigating America's ecological and architectural histories, Sydlowski focuses on its changing landscape and its excesses, failures and rapid growth. In urban areas, cultivated gardens and public parks are accepted as nature—spaces for contemplation, meditation and escape. In this "domesticated nature," Sydlowski blurs the lines between familiar and unfamiliar, fact and fiction. She further explains, "Pedestrian objects or architectural structures may equally serve as harbingers of the past and as reminders of how some histories are forgotten or shift over time."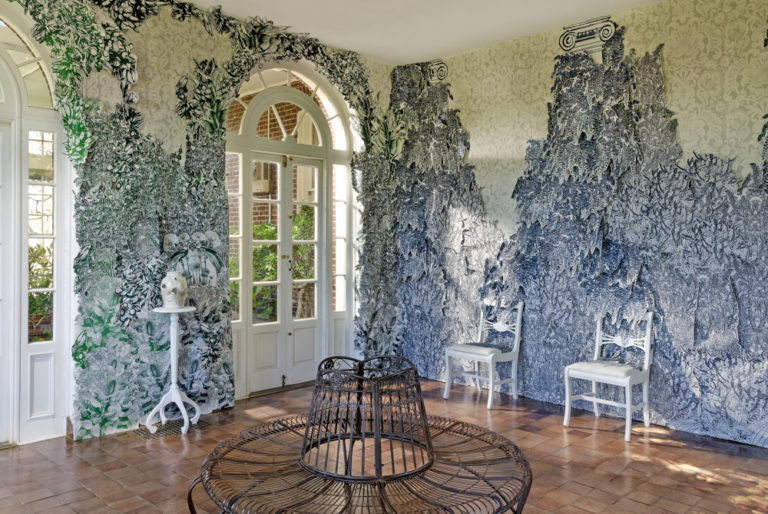 Rachel Sydlowski, "Parlor in the Wilderness", 2019, mixed media. Courtesy of the artist. Photo: Stefan Hagen.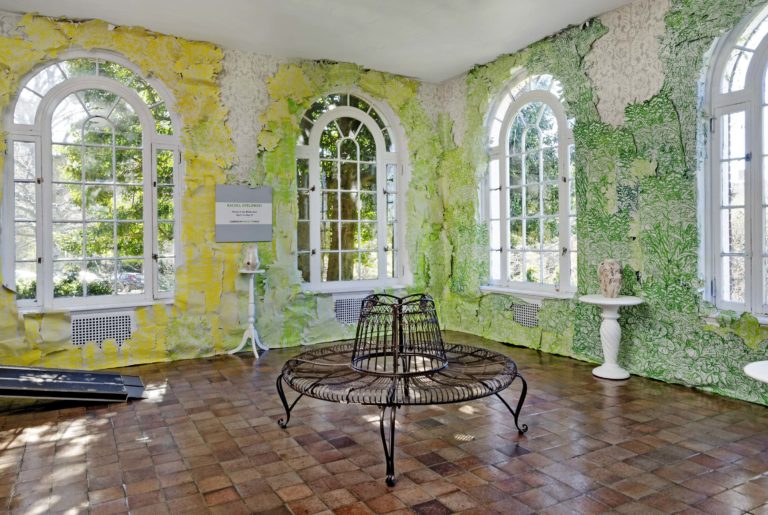 Rachel Sydlowski, "Parlor in the Wilderness", 2019, mixed media. Courtesy of the artist. Photo: Stefan Hagen.
Rachel Sydlowski is a visual artist and educator. A founding member of the collective Infinite Archive, her curatorial projects include Intersecting Editions at The Castle Gallery at the College of New Rochelle, New Rochelle, NY; History of the Present at OSilas Gallery at Concordia College in Bronxville, NY; and Infinite Archive, NYPL at the 115th Street Harry Belafonte Library, New York, NY. Recent group exhibitions in New York include Lehman College Art Gallery, The Morris-Jumel Mansion, The Bronx Museum of the Arts, The New York Public Library, Bronx River Art Center, First Street Gallery and Art Centro. She is currently serving as department chair of Art at Eastchester High School. Sydlowski earned her MFA from Lehman College, CUNY; MA in Art at City College, CUNY; and BFA from School of the Museum of Fine Arts at Tufts University, Boston, MA.
Sunroom Project Space 2019

Wave Hill commissions a diverse group of emerging New York-area artists to create a new body of work or site-specific project for a solo exhibition in the Sunroom Project Space. The Sunroom provides an engaging setting for artists to contemplate, explore and ultimately transform the gallery using various materials and techniques. The seven 2019 artists represent a variety of approaches, including projects that relate to Wave Hill's grounds, history and architecture. They engage with the community by working with participants in our public education programs, and investigate the history of horticulture and botany in unique ways.