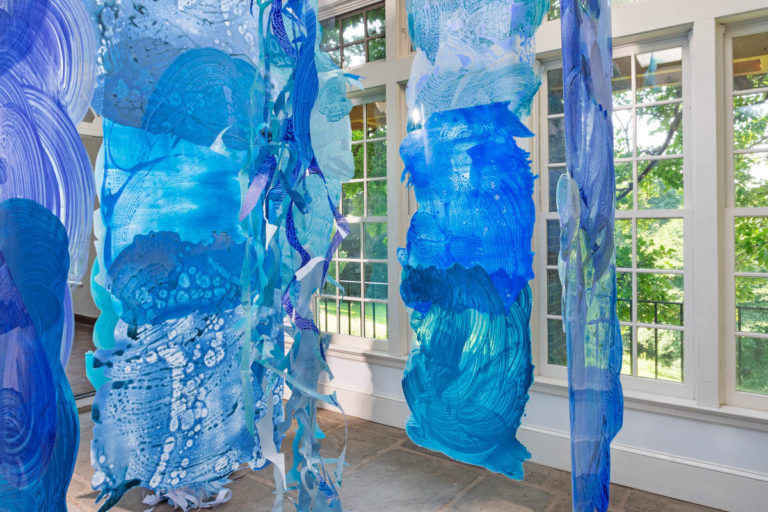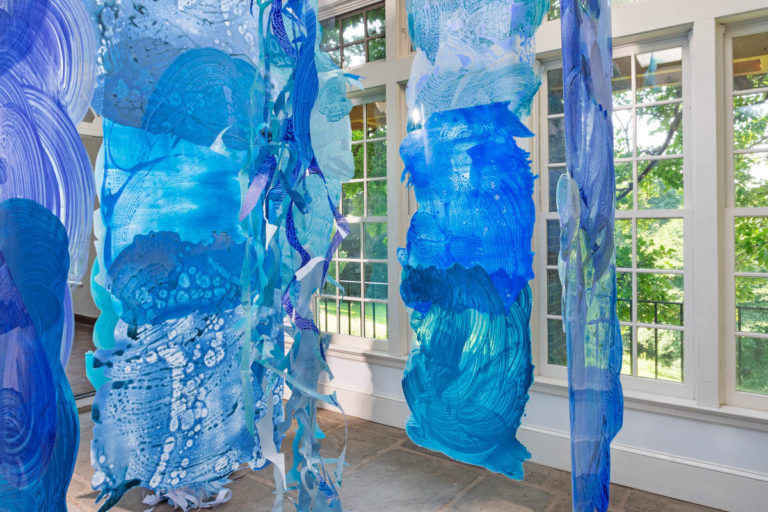 In the Sun Porch, Riad Miah creates a multi-part installation of suspended, double-sided, oil and acrylic paintings on Dura-Lar. He traces light throughout the calendar year to portray a sense of time, with each piece representing a single month. Incorporating the colors and atmosphere of the surrounding landscape, the work explores the artist's continued interest in light as a medium. Referencing art history and science as well as his personal narrative, Miah's installation examines mark-making and the metaphoric implications of shape and light.
Inspired by the sunlight and connections between the sky and water at Wave Hill, Miah focuses his palette on the different shades of blue that are seen in nature. He incorporates movements of this dispersed light throughout the seasons—broken down into months, days and hours. He depicts annual cycles composed of diffused, crisp and intense luminous energy. For instance, the January panel is blue-gray in color, and July's palette is azure and ultramarine with daubs of cyan—the color seen during the brightest part of a day when photographed. Miah utilizes these gestures of oil and acrylic to measure time and space—as if they represent instances or "isolated pockets." Miah explains, "Like the constructed calendar of time, my work is separated by moments. The colors that are used represent the changes in light through the months from the longest of days to the shortest at the end of the calendar year. The quality of light changes based on the weather and atmosphere."
The installation also incorporates hanging strands of hard and soft-edged remnants cut from the rectangular Dura-Lar panels, which are arranged in gradations from dark to light. They resemble tendrils of plants growing up to the ceiling, akin to the climbing vines on Wave Hill's grounds. For Miah, light over time represents what plants require to thrive. In this new body of work, he further explores the formal qualities of the mediums, taking into consideration the paints' viscosity, luminosity and fluidity. Each section comprises large gestures with concentrated areas of biomorphic shapes, created from eyedroppers, as if one is looking through a magnifying glass into living, changing forms.
Miah's work has been exhibited at LMAKgallery, Mayson Gallery, Sperone Westwater, Lesley Heller Workspace (now Gallery), The National Arts Club, and Rooster Gallery, all in New York, NY, as well as Montclair State University, Montclair, NJ; Simon Gallery, Morristown, NJ; Budapest Galéria, Budapest, Hungary; and Kathalieke Universiteit, Leuven, Belgium, among others. He earned his MFA from The Ohio State University, Columbus, OH and BFA from the School of Visual Arts, New York, NY.
Sunroom Project Space 2019

Wave Hill commissions a diverse group of emerging New York-area artists to create a new body of work or site-specific project for a solo exhibition in the Sunroom Project Space. The Sunroom provides an engaging setting for artists to contemplate, explore and ultimately transform the gallery using various materials and techniques. The seven 2019 artists represent a variety of approaches, including projects that relate to Wave Hill's grounds, history and architecture. They engage with the community by working with participants in our public education programs, and investigate the history of horticulture and botany in unique ways.