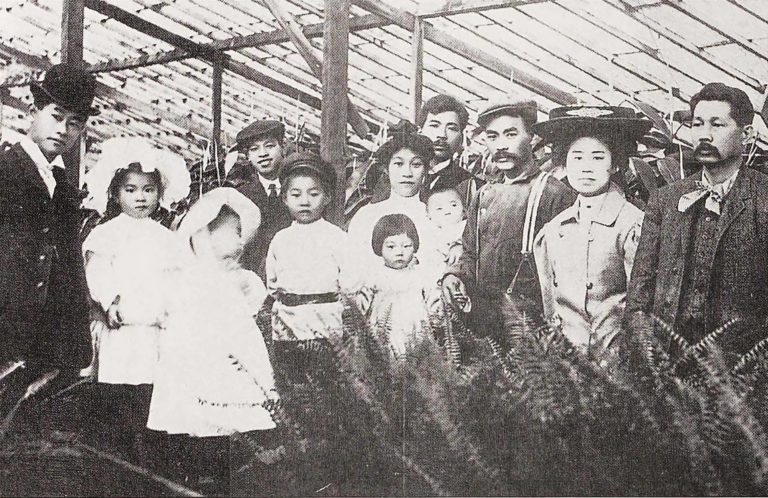 Online Registration is closed for this event. Please call 718-549-3200 x251 to register until 4PM on Tuesday, March 23.
A Zoom link will be sent to the email address used to register for this program Monday afternoon, March 22. The email will be sent from information@wavehill.org with the subject line: Zoom Link for Wednesday's Horticultural Lecture—Uprooted
For assistance with the Zoom link or any questions, please call 718-549-3200 x251.
Following the lecture, those who have registered will receive a link to a recording of the event.
No garden today is untouched by the legacy of Japan's gardening culture, not only in terms of the plants themselves, but especially the hard graft of Japanese immigrants who put down roots and built successful nurseries and cut-flower farms in the United States. The movement of Japanese plants through Japanese American nurseries and into our lives today is a story of political and economic upheavals, an echo of societal mores, and the perseverance and optimism of the quintessential, American immigrant experience.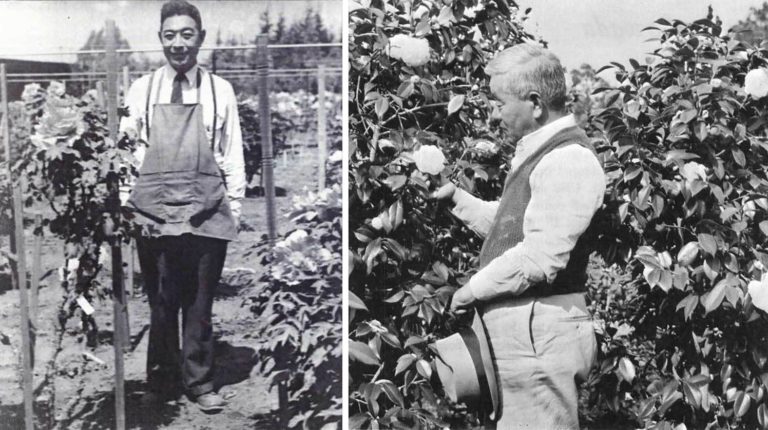 Pictured at left: Toichi Domoto with his famed tree peonies, at the Hayward Nursery. Photo: A Japanese-American nurseryman's life in California, floriculture and family, 1883-1992: oral transcript (1993). Pictured at right: Kosaku Sawada examining one of his camellia plants. Photo: Courtesy of George Sawada, American Camellia Society Yearbook 1969.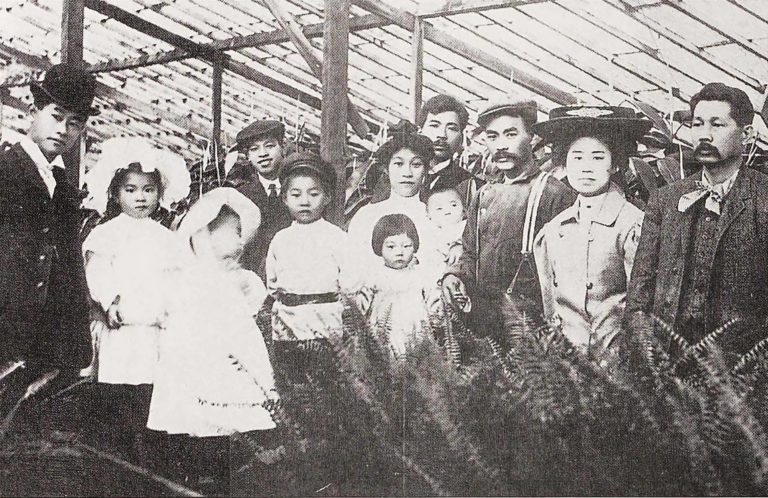 The Domoto family posing at their Oakland nursery. Photo: Courtesy of the Domoto Family.
Lecture Sponsorship
The generosity of Lecture Sponsors make this program possible and is crucial to helping keep tickets affordable for garden professionals, interns and enthusiasts. Please consider becoming a Lecture Sponsor today.
Eric Hsu

Eric Hsu

A horticulturist and writer who is interested in the narratives of people and their plants, Eric Hsu brings alive a collection of stories that resonate with our universal love of plants and those passionate about them. His work has been featured in The New York Times, The Plant Review (formerly The Plantsman), and on his blog "Plinth et al". Hsu studied the taxonomy of heather hybrids as the Royal Horticultural Society Fellow at University of Reading, UK, and the dispersal of plants in Tasmania and New Zealand at University of Tasmania, Australia. He is currently Chanticleer's plant information coordinator, overseeing plant records and teaching plant identification to interns. His urban garden continually suffers from scavenging squirrels.

Photo: Rob Cardillo
More from 2021 Horticultural Lecture Series