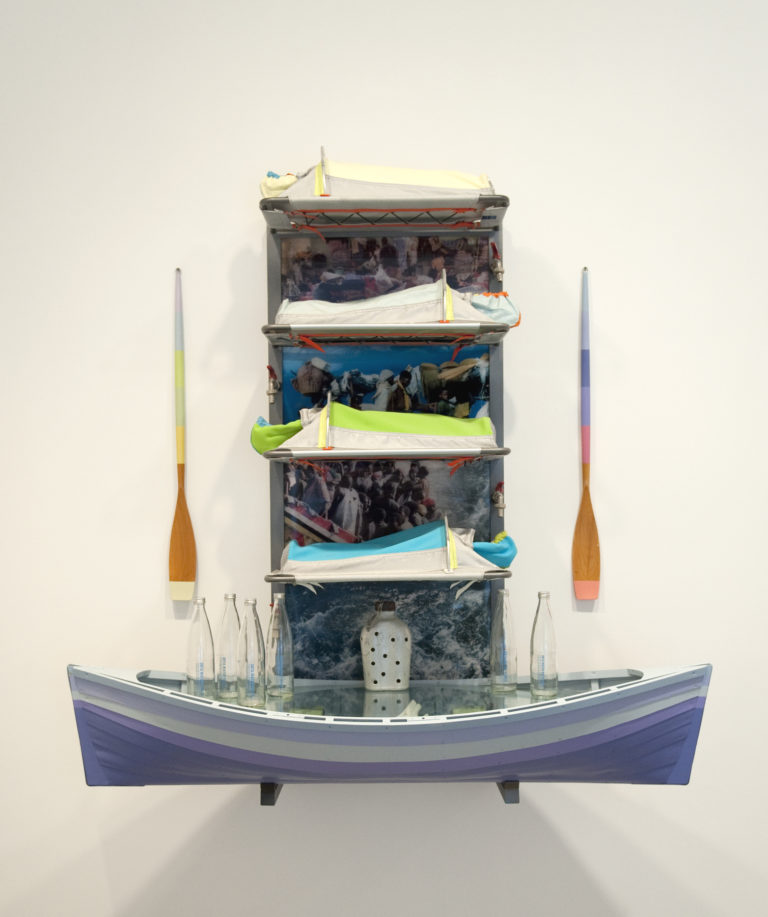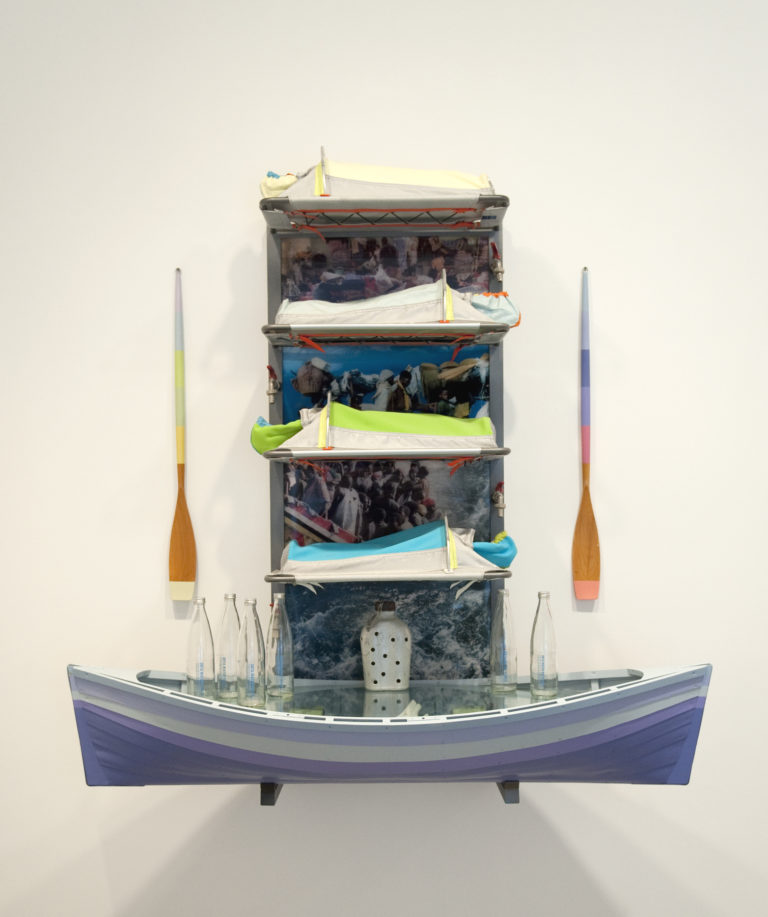 Join artist Lucy Orta and climate scientist Dr. Peter Gleick for a virtual conversation about water scarcity, a global issue exacerbated by climate change and other factors, as well as possible solutions for distribution, consumption, and conservation. Since 2005, Lucy Orta has worked in partnership with Jorge Orta, and the France-based artist duo has worked closely with researchers and scientists to create sculptures and installations that examine water and food security concerns, exploring speculative futures that might include a nomadic way of life. Dr. Gleick is a leading scientist, innovator, and communicator on global water and climate issues. His work has redefined water from the realm of engineers to the world of sustainability, human rights, and integrated thinking.
This conversation, moderated by Curator of Visual Arts Eileen Jeng Lynch, is held in conjunction with the exhibition Water Scarcity: Perpetual Thirst, featuring projects by artists Tahir Carl Karmali, Cannupa Hanska Luger, and Lucy + Jorge Orta, that raise awareness about the issue of accessing clean water resources.
Registration required, online or by calling 718.549.3200 x251.
Questions? Please email us at information@wavehill.org or call the telephone number and extension above.

Pictured above: Lucy + Jorge Orta, OrtaWater - Antarctica, 2013, wood, textiles, steel, laminated Lamda print, water flasks, OrtaWater bottles, Royal Limoges porcelain, oars, 59 x 59 x 23 1/2 inches (150 x 150 x 60 cm). Collection of the Herbert F. Johnson Museum of Art, Cornell University. Acquired through the Stern Family Contemporary Art Acquisition Fund.

Dr. Peter Gleick

Dr. Peter Gleick

Dr. Peter Gleick co-founded the Pacific Institute in Oakland, one of the most innovative, independent non-governmental organizations addressing the connections between the environment and global sustainability. He pioneered the concept of the "soft path for water," developed the idea of "peak water," and has written about the need for a "local water movement." Among many honors, Gleick is a recipient of the MacArthur Fellowship and the U.S. Water Prize, and he has been named "a visionary on the environment" by the BBC. He was elected to the U.S. National Academy of Sciences in 2006. In 2018 he was awarded the Carl Sagan Prize for Science Popularization. Gleick is the author/editor of many scientific papers and books, including The World's Water series, Bottled and Sold: The Story Behind Our Obsession with Bottled Water, and A 21st Century U.S. Water Policy.

Lucy Orta

Lucy Orta

Lucy Orta's practice investigates the interrelations between the individual body and community structures, exploring their diverse identities and means of cohabitation. She is currently the Chair of Art and the Environment at the University of the Arts London, UK. Artist duo Lucy + Jorge Orta's collaborative practice focuses on social and ecological issues, employing a range of mediums. Studio Orta are located in central Paris and Les Moulins, a cultural complex founded by the artists in Seine-et-Marne, France. Les Moulins is an extension of their practice, to establish a collective environment dedicated to research and production of contemporary art. Over the past two-decades, Lucy Orta (b. Sutton Coldfield, UK) and Jorge Orta (b. Rosario, Argentina) have exhibited at the 46th Venice Biennale International Art Exhibition, Italy; The Curve, Barbican Art Gallery, UK; Fondazione Bevilacqua La Masa, Italy; Museum Boijmans Van Beuningen, Holland; Biennial of the End of the World and the Antarctic Peninsula; Natural History Museum London, UK; MAXXI, Rome, Italy; Shanghai Biennale, China; Yorkshire Sculpture Park, UK; Herbert F. Johnson Museum of Art, USA; London Museum, Canada; Attenborough Arts Centre, UK; City Gallery and Museum Peterborough, UK; Emsherkunst, Germany; Ikon Gallery, UK; Palazzo Vecchio, Museo Salvatore Ferragamo, Museo Novecento, Italy; Les Tanneries, France; Drawing Lab, France, among others.

Eileen Jeng Lynch

Eileen Jeng Lynch

Eileen Jeng Lynch is the Curator of Visual Arts at Wave Hill, where she creates exhibitions and programming that explore the intersections of nature, culture, and place, including commissioning artists on site-specific projects. Jeng Lynch organizes the Sunroom Project Space solo exhibitions for emerging artists, thematic shows in Glyndor Gallery, and the Winter Workspace program. She has served as a guest curator of exhibitions as well as on panels and juries for various organizations over the past 15 years. Previously, Jeng Lynch worked at RxArt, Sperone Westwater, and the Art Institute of Chicago in the Department of Contemporary Art. She received an MA from the School of the Art Institute of Chicago and BA from Syracuse University.
What's happening at Wave Hill