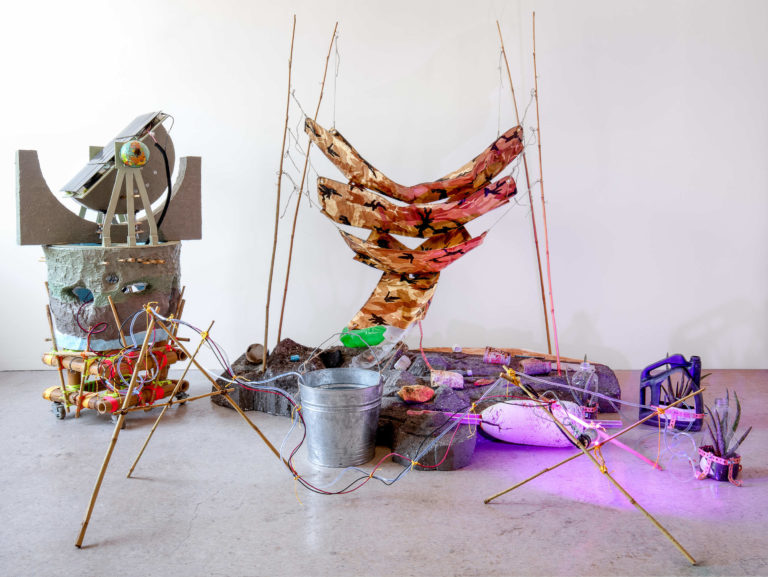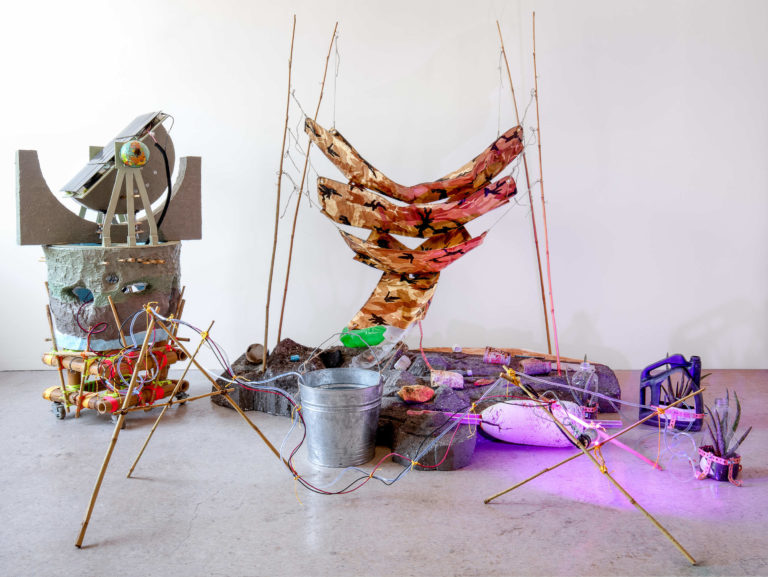 In the Sunroom, Zac Skinner's installation of paintings and sculptures explores ecological history, the Anthropocene and a dystopic future—consequences of land and water pollution, industry, capitalism, and other threats that have caused the displacement of vulnerable individuals and entire ecosystems. As an artist, geo-engineer, and backyard tinkerer, Skinner creates an immersive installation of invented makeshift structures, such as a nomadic hut, that resembles a temporary refugee camp in a post-industrial landscape due to climate change. A juxtaposition of creativity and destruction, his sculptures also promote survival and a DIY aesthetic.  
Within this barren landscape of a dried and cracked riverbed floor with riverbanks lining the space, Skinner's sculptures utilize natural resources that are available, such as the sun, rain and wind. The structures' surfaces are distressed and look wind- and sand-blown. Skinner explains that they resemble "relics out of time and allude to predictions about global warming causing increasingly violent storms and desertification with which we will have to contend." He posits that this situation will also cause a scarcity of resources and more climate refugees.   
Skinner incorporates materials and specific plants for their unique properties. For instance, aluminum foil reflects solar radiation in a solar-cooker, and Aloe vera plants offer medicinal and healing properties as well as the ability to retain water. Resembling an assembly chain, one structure collects water that is used for the plants, and another sculpture is solar or wind-powered. Skinner also incorporates detritus into his installations. Part of his artistic practice is to walk along the shoreline of the Hudson River to clean up trash and selectively collect driftwood. Along the edges of the Sunroom, his paintings hang precariously from dead branches and driftwood, showing traces of storms and currents across their surfaces. Inspired by the Romantic sublime, yet subverting it with his post-apocalyptic subject matter, Skinner's vividly colored paintings serve as sketches for structures and sculptures

Zac Skinner's recent exhibitions have been held at the Rockland Center for the Arts, West Nyack, NY; Garrison Art Center, Garrison, NY; The Gallery at the Ann Felton Multicultural Center, Syracuse, NY; Geo-Co-Lab, artist in residence exhibition at Matteawan Gallery, Beacon, NY; Unison Arts Center, New Paltz, NY; and CICA Museum, Seoul, South Korea, among others. Skinner holds an MFA from the School of the Art Institute of Chicago and BFA from SUNY New Paltz College.    
Meet the Artist: Thursday Nov 5, 2PM. See event details here.