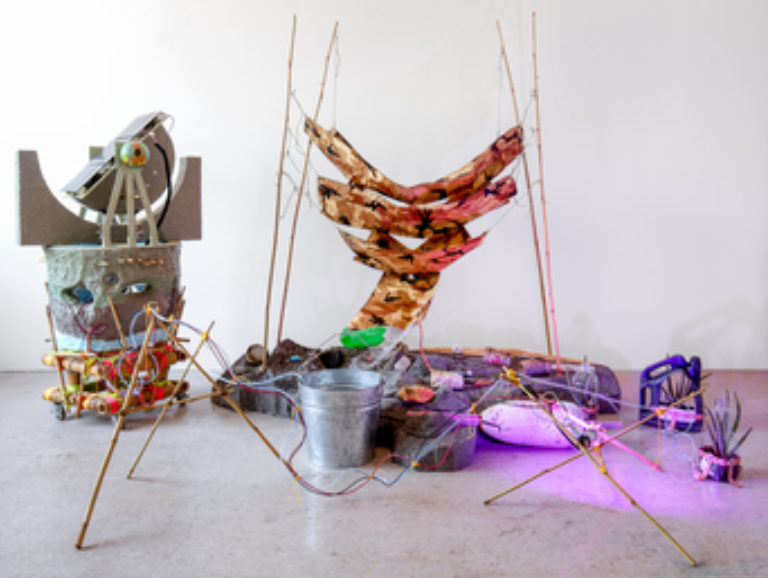 When
Price
Free
Livestream event
Sunroom Project Space artist Zac Skinner joins Curator of Visual Arts Eileen Jeng Lynch to talk about Skinner's exhibition Ecocide Drifter. Skinner's installation of paintings and sculptures explores ecological history, the Anthropocene and a dystopic future—consequences of land and water pollution, industry, capitalism, and other threats that have caused the displacement of vulnerable individuals and entire ecosystems. As an artist, geo-engineer, and backyard tinkerer, Skinner creates an immersive installation of invented makeshift structures, such as a nomadic hut, that resembles a temporary refugee camp in a post-industrial landscape due to climate change.
This program will be streamed live on Facebook and on this page.
Zac Skinner's recent exhibitions have been held at the Rockland Center for the Arts, West Nyack, NY; Garrison Art Center, Garrison, NY; The Gallery at the Ann Felton Multicultural Center, Syracuse, NY; Geo-Co-Lab, artist in residence exhibition at Matteawan Gallery, Beacon, NY; Unison Arts Center, New Paltz, NY; and CICA Museum, Seoul, South Korea, among others. Skinner holds an MFA from the School of the Art Institute of Chicago and BFA from SUNY New Paltz College.
What's happening at Wave Hill