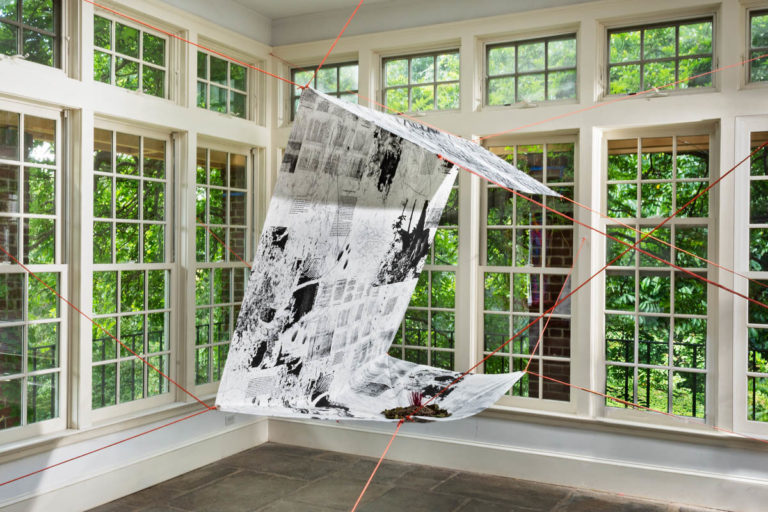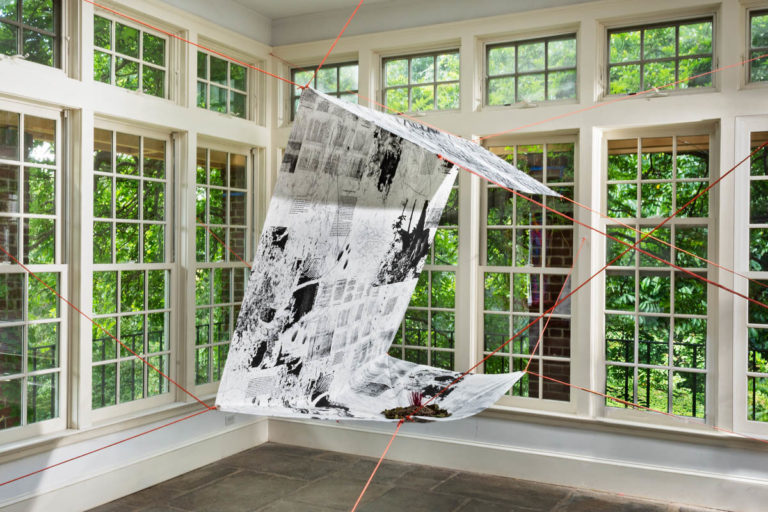 In the Sun Porch, Duy Hoàng creates a sculptural installation inspired by his research, material experimentation, and cultural upbringing. Hoàng uses paracords to suspend in the space a shelter made of a silkscreen print and drawing on Tyvek depicting imagery of fauna and flora sourced from his 2019 Winter Workspace residency and relics of his childhood home. Investigating how we observe minute details around us, he bridges connections to the larger environment and our responsibility in the world. Hoàng focuses on an inter-social ecosystem where humans and nature coexist. His installation explores topics of migration, scientific and natural histories, the potential of growth and inevitability of decay through themes of home, preservation, memory and survival.
The title Interarboreal suggests the state of being between or among the trees, a concept Hoàng incorporates in his project. The floating A-frame tarp references a tent or nomadic home—a survival shelter. Its silkscreen exterior is laced with patterns made by the water-damaged wallpaper on the ceiling of his childhood home in Vietnam. Inside the shelter are Hoàng's drawings of plant materials, including some found at Wave Hill and others from his grandmother's garden, which have migrated with him over the years. Hoàng explains, "The garden's health is in direct correlation to its caretakers, where they grow and decay with each other."
As a Vietnamese immigrant, Hoàng seeks settlement and a prolonging of living moments. Through his time-based work which incorporates the decaying process, Hoàng reflects on notions of life and death, making connections to the life cycles of people and plants. The artist's late father and grandfather received heavy concentrations of sunlight as a health treatment in a solarium—fulfilling a need not unlike that of plants' need for light. Viewing his project as a coping mechanism, Hoàng's process is therapeutic, exposing a private and vulnerable space.
Sunroom Project Space 2019

Wave Hill commissions a diverse group of emerging New York-area artists to create a new body of work or site-specific project for a solo exhibition in the Sunroom Project Space. The Sunroom provides an engaging setting for artists to contemplate, explore and ultimately transform the gallery using various materials and techniques. The seven 2019 artists represent a variety of approaches, including projects that relate to Wave Hill's grounds, history and architecture. They engage with the community by working with participants in our public education programs, and investigate the history of horticulture and botany in unique ways.