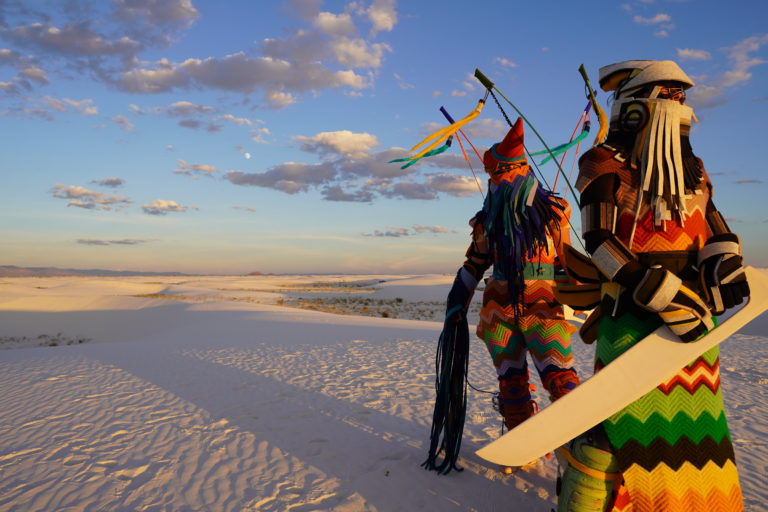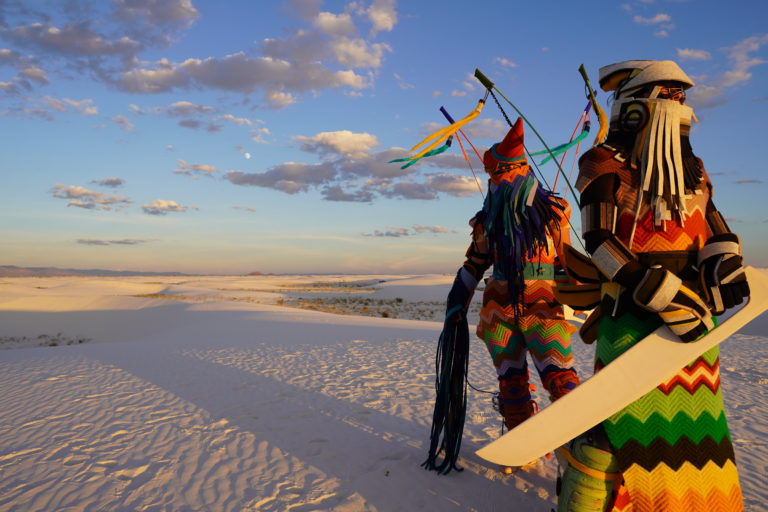 Water Scarcity: Perpetual Thirst features artworks by Tahir Carl Karmali, Cannupa Hanska Luger and Lucy + Jorge Orta, who use a range of approaches to raise awareness about the issue of access to clean water. The exhibition explores the impact of water scarcity on people's physical, spiritual and social well-being. Specific areas of focus include the climate-refugee crisis in Africa; adaptive strategies for sourcing, conserving and dispersing water; and speculation on how a world without potable water might create the need for a nomadic way of life.
Karmali's work focuses on refugees seeking asylum in Kenya, the artist's home country, due to the intense desertification of the areas surrounding the Sahara. In his interactive sculpture made of wood and sheet metal, visitors are invited to walk across the piece where speakers, amplifiers and bass resonators transmit a range of sounds that reference water.
Luger presents a video installation from his ongoing series Future Ancestral Technologies, which aims to harness science fiction's power to shape collective thinking, serving as a vehicle to imagine the future on a global scale. The project's narrative expands on the ways that Indigenous people have developed sustainable technology to live nomadically in deep attunement to land and water.
Presenting projects, including Antarctica, OrtaWater and Life Line, Lucy + Jorge Orta are motivated by ecological and social issues, developing sculptures that highlight a range of topics, including water scarcity, food insecurity and the consequences leading to human displacement. In Antarctica, they created an ephemeral installation of nomadic tent structures to highlight the fragility of the human condition faced with extreme conditions. In Orta Water they explore ways to purify and distribute clean water to communities in need, and Life Line refers to both physical or material survival and more symbolically to the spiritual needs of humans, such as affection and solidarity.
This exhibition is organized by Director of Arts and Chief Curator Gabriel de Guzman, Curator of Visual Arts Eileen Jeng Lynch and former Assistant Curator Jesse Bandler Firestone.
Don't miss the spring exhibitions opening event on Saturday, May 21 from 2–4:30PM.

Tahir Carl Karmali

Tahir Carl Karmali

The work of Nairobi-born and Brooklyn-based artist Tahir Carl Karmali spans photography, installation, papermaking, sculpture and sound and concentrates thematically on migration, landscape/geology, labor and belonging. His work has been exhibited at LKB Gallery, Berlin, Hamburg, and Copenhagen; Circle Art Agency, Nairobi; High Museum of Art, Atlanta; Kunsthal Rotterdam; The Shed, Cleveland Museum, Leslie Lohman, and Guggenheim Museum Bilbao, among others. Karmali was awarded a Pollock-Krasner Foundation Grant and a Lower East Side Printshop Keyholder Residency (both 2019–20). Recently he was an artist in residence at The Watermill Center (2020) and Montello Foundation (2021). He was previously an Artist-in-Residence at Triangle Arts Association, Pioneer Works, Trestle Gallery, the MacDowell Colony and BRIC. Learn more about Tahir Carl Karmali.

Cannupa Hanska Luger

Cannupa Hanska Luger

Born on the Standing Rock Reservation in North Dakota, Cannupa Hanska Luger is a member of the Three Affiliated Tribes of Fort Berthold and is of Mandan, Hidatsa, Arikara, Lakota and European descent. He has been the subject of more than 21 solo exhibitions and has participated in over 110 group exhibitions at venues such as Art Mûr, Montreal; Princeton University Art Museum; Washington Project for the Arts; Crystal Bridges Museum of American Art, Bentonville, AR; Gardiner Museum, Toronto; Orenda Gallery, Paris; Autry Museum, Los Angeles; and Museum of Arts and Design, New York, among others. His works are featured in the public collections of the North American Native Museum, Zürich, Switzerland; Denver Art Museum; Museum of Contemporary Native Arts, Santa Fe; Fred Jones Jr. Museum of Art, Norman, OK; Luciano Benetton Collection: Imago Mundi, Treviso, Italy, Yale University Art Gallery and other museums. He earned a BFA in from the Institute of American Indian Arts. Learn more about Cannupa Hanska Luger.

Lucy + Jorge Orta

Lucy + Jorge Orta

Artist duo Lucy + Jorge Orta's collaborative practice focuses on social and ecological issues, employing a range of mediums. Studio Orta is located in central Paris and Les Moulins, a cultural complex founded by the artists in Seine-et-Marne, France. Les Moulins is an extension of their practice, to establish a collective environment dedicated to research and production of contemporary art. Over the past two-decades, Lucy Orta (b. Sutton Coldfield, UK) and Jorge Orta (b. Rosario, Argentina) have exhibited at the 46th Venice Biennale International Art Exhibition, Italy; The Curve, Barbican Art Gallery, UK; Fondazione Bevilacqua La Masa, Italy; Museum Boijmans Van Beuningen, Netherlands; Biennial of the End of the World and the Antarctic Peninsula; Natural History Museum London, UK; MAXXI, Rome, Italy; Shanghai Biennale, China; Yorkshire Sculpture Park, UK; Herbert F. Johnson Museum of Art, USA; London Museum, Canada; Attenborough Arts Centre, UK; City Gallery and Museum Peterborough, UK; Emsherkunst, Germany; Ikon Gallery, UK; Palazzo Vecchio, Museo Salvatore Ferragamo, Museo Novecento, Italy; Les Tanneries, France; and Drawing Lab, France, among others. Learn more about Lucy + Jorge Orta.